Xesdra
Out of the Water
Join Date:

6/16/2010

Posts:

5

Member Details
Well, me and a couple guys decided to have a go at making the Imperial City from Bethesda Softworks' popular game, The Elder Scrolls IV: Oblivion.
Its still very not constructed but things are getting along.
We got the Arboretum and Green Emperor Way done, and currently are working on the Arena, White Gold Tower (Big Tower in center), and the walls, which will be an ongoing project because it gets really boring. The stairs looks a bit wierd, but everyone has trouble building stairs at a 60 degree angle on Minecraft :sad.gif: .
Here are some screenies:
Imperial City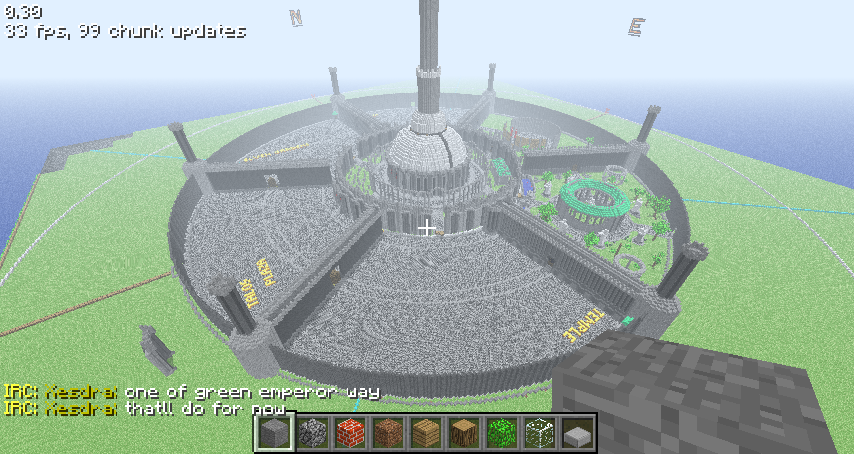 Arboretum
Green Emperor Way
One of the Walls
Don't mind me talking on the server IRC, my internet was playing up and I couldn't get on, got a friend to take them.
So, thats what we're doing, what do you think? Constructive Criticism is appreciated!
P.S. We used hacks, /cuboid or /fill or whatever it is where you came from (the thing that lets you fill loads of blocks) , the whole shebang. But just to let you know all the circles were hand drawn, and before you start spouting purist stuff, think about this, would you rather dig a hole with a shovel, or with your hands?
Oh and a last BTW, its not pixel perfect, I didn't make everything in EXACTLY the same spots, it would be way too hard and near impossible with the scale we are using :sad.gif:.
EDIT 1 17/6/10: I made a quick isometric image of the map. Ignore the random lines, they are for measurement and building stuff.
HUGE IMAGE HERE:
http://i558.photobucket.com/albums/ss28/Xesdra/Minecraft/imperialcityiso.png
You can see the credits board and the list of helpers, but the main builders are me and ollieboy!