Soto_Black
Zombie Killer
Location:

Redmond, Washington

Join Date:

10/17/2010

Posts:

234

Minecraft:

Soto_Black

Member Details
[simg]
http://i1194.photobucket.com/albums/aa367/soto_black/kinglogo.gif
[/simg]
The Kingdoms: New Dawn
Peace, War, liberty and the freedom of choice is what you will have in the land of The Kingdoms.
Upon entering the world you will find yourself in a neutral marketplace bustling with activity and commerce. From there you will venture out into the world to make your mark, but be careful, once you venture too far from where you started you will no longer have the divine protection from the wizards safe haven. Out there you will find thugs, pirates, bandits and even monsters.
In your travels you will come across towns, villages, kingdoms and nations. Make friends with them, make enemies. It is all up to you traveler. Help them build their empire, apply to be apart of their faction and join them in their great endeavors to become the richest and most powerful. Make a name for yourself in the kingdom as a fierce warrior and lead crusades for your king to conquer the enemy! Become best known architect building grand spires and walls for the kingdom.
City life not for you? carve out a life for yourself in the remote countryside. Mine and farm for your living. Travel to the markets every other day to sell your bread and iron. Make friends with fellow settlers and settle down together. Who knows your little shack in the woods may grow into a nice community one day. The politics of the kingdoms can be so convoluted and worrisome. Yep the simple life is the way to go to relax and build a nice house for yourself.
However you might like danger. Sneaking around at night when no one else would even think of stepping out due to of all the monsters and creatures out there. Those puny pests don't bother you though. You have bigger things to take on like the kings horde of diamonds hidden in the kingdoms vault. Now if only you can figure a way in...
The life is yours to lead. Make your mark here traveler.
We use our own in house mods. More will come in installments.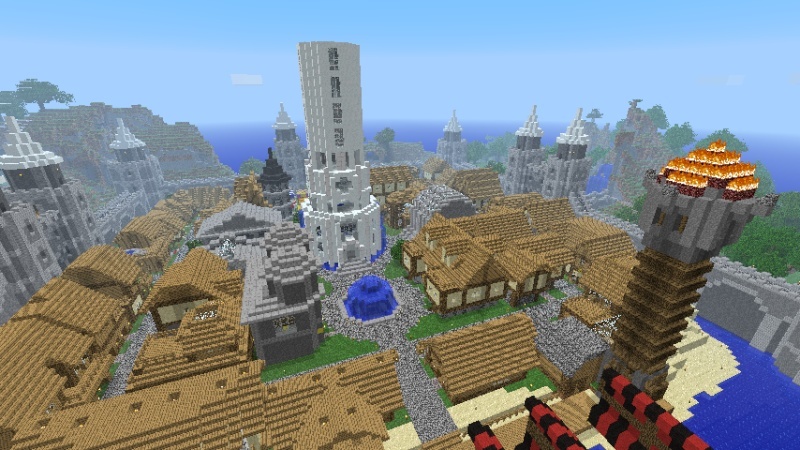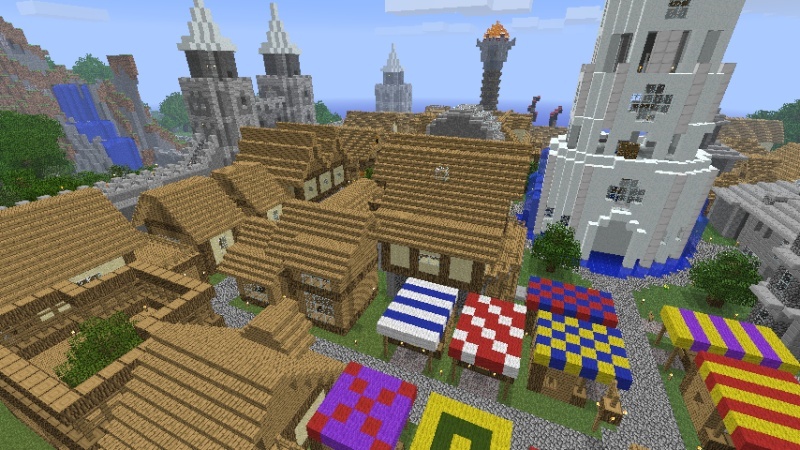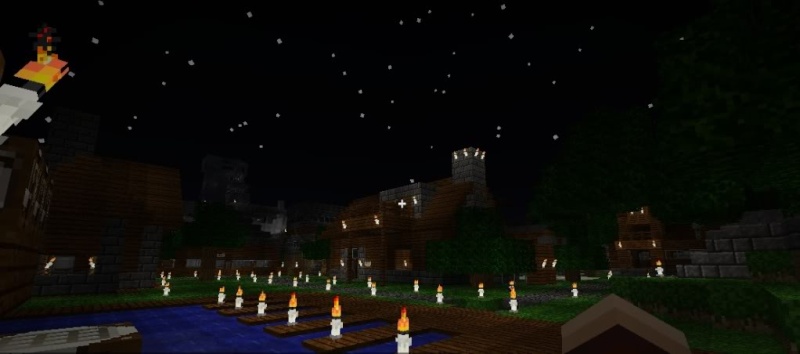 ----------------------------------------------------------------------------------------------
The Idea
The point of this server is to give the players the power to shape the world not just in a literal way, but in a much bigger way.
This is a role playing server and will require you to be in character unless in /ch ooc (out of character channel command) Which will only be briefly used by players. Not to be used as a general chat channel.
The players will have a greater influence on the way the game goes than in a lot of other servers. With mods such as iConomy. A player may become rich enough to pay citizens of another nation or settlers to fight in their wars. The Possibilities are only limited by the mechanics of the game.
----------------------------------------------------------------------------------------------
-Choose the path of the
Settlers
and align with no nation to live a free life wherever and however you wish. However this comes with consequences. You will not have the protection of the large walls of the Kingdoms nor will you have the support of fellow citizens. It can be a lonely life with little communication with other than those you meet on your journey. As a Settler you can make money by mining materials and selling them to the kingdoms for their construction projects. You could also make money through more... dubious means if you so choose.
-Align yourself with one of the
Kingdoms
to ensure economic prosperity and protection from the outside world. Together under a Kingdom you can accomplish great things. Level mountains for resources and use the remaining land for farms. Smith weapons and armor to prepare for war. Navigate the world to establish outposts. Make yourself into a famous warrior for your Kingdom, or the hardworking miner that keeps everything moving. Help the kingdom stay healthy and farm for the baker. You have the freedom to do any job at any time. There is no classes or castes here, only hard working people of many talents.
-The
Wizards
(moderators/admins) are a small group of characters. They use their magic to help people out people from all over the land no matter what their affiliations are. They will help you out of a hole if you were to get stuck, or use their wisdom to enlighten those who ask. Wizards are good friends to make. They may help you with your construction projects and fight in your wars. However the Wizards curse is that if he helps out a Kingdom or Settler in anyway, he will loose his ability to use his protective magic and will be as vulnerable as any mortal man because a wizard can only have magic if he is neutral to all men. (note: application process required. Space limited)
----------------------------------------------------------------------------------------------
Griefing and Rules - You must read this to join
(What is Griefing to us?)
Griefing is a gray area and is looked at differently on each server. We have a simple philosophy that will dictate what griefing is and is not on our server.
Basically griefing is anything that is affecting the gameplay in a negative way and is done with little to no purpose. For instance a bandit finds a way into one of the kingdoms and starts destroying everything with a pickaxe. That would be griefing. There would be little reason for a bandit to do that. However a bandit who breaks down someones front door and goes into their house to steal stuff out of their chest, and make a run for it. That is not griefing.
Another form would be abusing game mechanics. For instance a player builds around another so that they are stuck inside of the enclosure. The player however could dig themselves out, but this would still be considered griefing because of the lack of purpose to it. Another form of this would be continually killing someone at the spawn. That would be a form of abusing the game mechanics for griefing.
The same philosophy will apply to building as well in the server. Make sure everything has purpose. We wouldn't enjoy seeing lots of 1x1 towers or incredibly huge structures in which most of all of the space within it is not even being used. Towers that reach as high as they can and take 5 min to reach the top to find that the builder is rarely in there.
The basic gist of all of this is to just use simple common sense. We are not going to have a big list of black and white rules dictating exactly what you can and cannot do, but we do have a few things that that must be stated to clarify, and they are posted below. Just use your head and make sure there is purpose to everything you build and everything you do.
____(Rules)____
Raiding
- When raiding your only goal is to steal from another player or kingdom, unless it is for some Role Playing purpose that is apart of the game play. Senseless destruction of their property for the sake of being a nuisance or getting some sort of revenge is not allowed. You will steal and then you will leave the way you came back.
When can you kill someone?
- This is a free world in which you can do almost anything you wish. However there are certain guidelines to killing someone and almost completely pertain to griefing. You
MUST
have a legitimate reason to kill someone. You cannot run around randomly killing people looking for loot. You must be aware of your goal when killing someone. Enough so that the player killed even knows why you killed them. If a player puts in a dispute for a random killing and the reason you give is something simple like "I saw them walk out of their house" Is not good enough.
Swearing
- Swearing is allowed if it is within context of the game. The only time swearing is not allowed is when it is being used to berate another player or being used in a fashion that is not in character. If you become angry at someone simply join the help channel for help and we will help you deal with the issue. You do not need to curse out another player because you are angry.
Skins
- You are free to choose whatever skin you wish assuming it is not offensive or completely ridiculous. What is considered ridiculous may be subjective, but if it is obvious to everyone around you will be asked to change it.
Texture packs
- Texture packs such as painterly and such are fine. Any X-Ray packs will not be allowed, and is considered cheating. You will be banned if you are using one. We have a very tight community, and if anyone has the least bit of suspicion you will be kicked giving you a chance to reload an unmodified client. We can see who has modified and who does not, if you come back to the server after being warned with a still modified client you will be banned.
----------------------------------------------------------------------------------------------
Joining the server
To join the server you will simply need to apply on our website. The link provided below will take you directly to the page to sign up. Please also sign up with the website if you wish to use all of its features such as the forum and so fourth. Some future features will include stats and leaderboards for the server so it would be in your best interest to sign up!
To log into the server simply put the address below into where you would put a servers ip.
TheKingdomsMC.com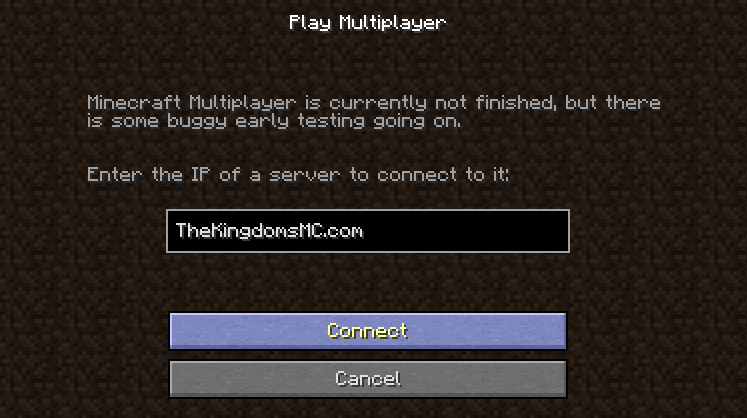 Please click the link below and send us a Donation!
With Donations we can build a more powerful server with a higher speed connection to allow more players on lag free! We want to make this server the best massive faction based RP server out there. Lend us a hand and lets expand the world together!
Everything is subject to change. New factions, new chat channels, and new mechanics may be implemented at any time.