SkuxxLand
Carpenter
Join Date:

2/22/2012

Posts:

67

Member Details

What is SkuxxLand? SkuxxLand is a economy ran minecraft server that centers around survival and prosperity. The players are put into a massive map, extending 4000 blocks in each direction from spawn. Unless you join a town, the first few days will be a time of hiding and fear of other players. Any house or farm found out in the wild is allowed to be robbed and destroyed so it is advised to build away from other established towns. Once you have enough money from selling items to the server you can purchase a town which protects your land. For information on starting a town, selling items, and navigating through the spawn city, see the Towny guide and Chestshop guide. SkuxxLand is ideal for minecraft players and groups who want to play a server in selective peace, or to compete with other players. You can keep to yourself or converse with the other people on the server, helping other players and towns forming alliances or enemies.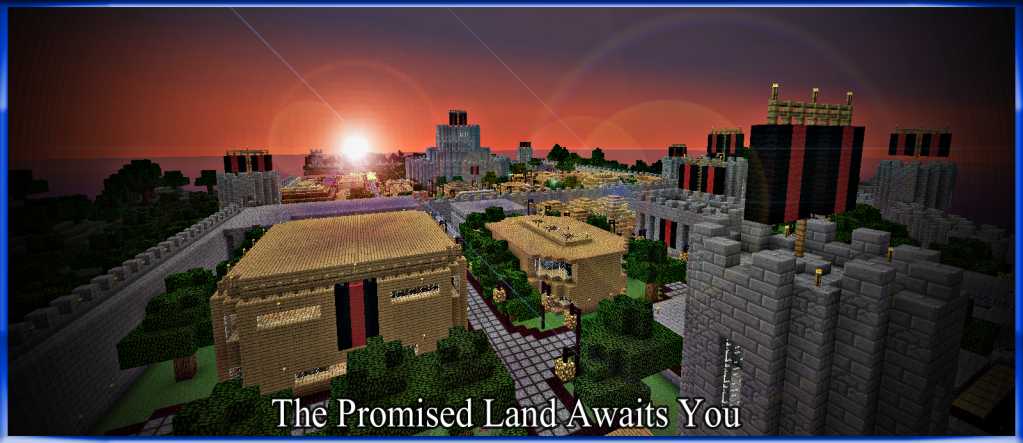 Default
This is the rank when you first join, this rank can only look around.
Regulars
These are the every day people that inhabit the server.
The 1%
These are the people who acquire more than $1,000,000 and are given special commands
Fighter
These are the people who compete in the Maw.
Knight
This is the winner of the Maw fighting competition.
Donator
Those who donate $5 get the following abilities.
[Donator] rank ingame.
$15,000
Access to kits
Teleport to spawn
Set and warp to home
afk
Clear inventory
Create Display case
DisguiseCraft:
Sheep
Pig
Chicken
Cow
Donator+
Those who donate $10 get the following abilities.
[Donator+] rank ingame.
$30,000
Blockhat
DisguiseCraft:
Wolf
Ocelot
Spider
Mooshroom
Squid
Donator++
Those who donate $20 get the following abilities.
[Donator++] rank ingame.
$60,000
DisguiseCraft:
Zombie
Skeleton
Creeper
Villager
Warps
Commandsigns create

TrialMod
Applicants being tested to become mods

Mod
Moderators of the server, help out players and make sure rules aren't being broken.

Admin
Administrators of the server, they're second in command to owners.

Owners
One generally friendly fellow and one grumpy guy.
Owners
Admin
ADMpyro
Andreas_Darlton
violentvega
Mod
None

TrialMod
Accepting applications soon.
Liam5557 - $10
mitsu30o0gt - $20
CAZADORMARRK- $20
Step One: Starting your town.
After acquiring the money needed to start a town ($5000) use this command, replace townname with what ever you want your town to be called. After You make your town you can expand it by claiming more land with the claim command. The more members in your town, the more land you can claim.
/town new townname
/town claim
Step Two: Keeping your town alive.
After starting your town you'll have to place money from your bank, to your town bank to keep it from falling to ruins the next day. The server taxes all towns $50 each day to stay alive.
/town deposit amount
Step Three: Making it a real town/plots.
Town are made up of plots which you can sell to members of your own town. Each plot of land in a town is 16x16 and extends from bedrock to the sky.
/plot fs amount (fs-for sale nfs-not for sale)
Step Four: Taxes.
To have your residents pay a tax for being in your town use:
/town set taxes [$]
To monitor your towns standing type
/town
For additional information on towny commands see
http://code.google.com/a/eclipselabs.org/p/towny/wiki/Commands
If you want to open a chestshop somewhere in the world, ask an admin. If you attempt to use a Chestshop as a protected chest the contents of your chest will be wiped.
The spawn city is a non complicated city where players are able to sell their items and mingle around in peace. It is the only safe-zone on the map, with a protective zone extending a hundred blocks out allowing players to reach an appropriate distance from spawn before being able to build. When you leave the city's protective zone you will be greeted with a message notifying you so.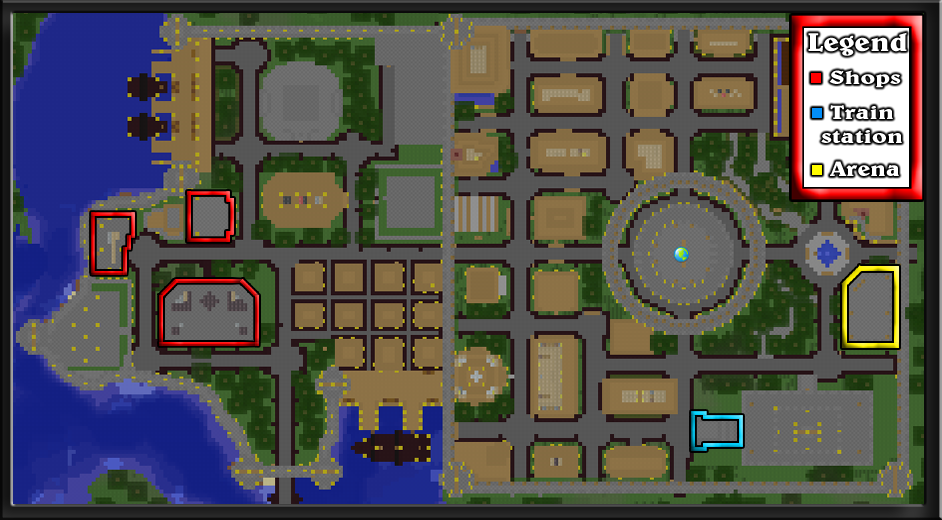 The Maw, is a sub-level of SkuxxLand's main city, it is an arena where 1 citizen from each city shall fight to the death every week for a chance to become a champion and receive prizes for themselves, and their city.
How it works
-
1: No outside weapons or armor will be allowed inside the arena.
2: The competition will be done in a tier system leading to the final 1 on 1 fight to the death.
3: The winner of the competition will be awarded the title of Knight.
Knights
-
Those who pass the challenge of the Maw will be awarded the title of Knight and will receive a stimulus to there cities economy. Knights will also be granted a cash reward of $5,000 to be used in any way they wish.
Fighter
-
Fighters will be chosen from each city by their mayors or will volunteer on there own, the only requirement to participate in the competition is you must be part of a town to enter the tournament.
This server utilizes a traincart plugin and four large sets of train tracks giving all of it's user a mean of transportation. Train carts will automatically connect to each other, just right-click a furnacecart and you'll be off and away.You can ride the train in with a train full of chests to sell at the shops, or take a train out to quickly get to your house in the wild. Stealing from a train traveling to and from spawn is permitted however, stealing from a train in the train station or after it's crossed into the city is prohibited.
For every person that marks you as a having referred them to the server, you are granted $300 in game. That means if you join the server with a friend of group of friends, you have an easier time starting a town.
[center]
1) IGN:
	2) About you: (Helps us get an idea of what kind of person you are, put what every you want, short or long.)
	3) Do you have any experience with towny?
	4) Have you read all the rules?
	5) Who refered you to the server? (Type their IGN here, If no one referred you to the server mark none.)
    [/center]
The membership is regularly updated so you may be promoted in-game prior to a forum post confirming your acceptance to the server. If you have a complaint or suggestion feel free to post on the topic page.
Donating
Each donation has a specified duration.
$5 Donation perks will last 3 months
$10 Donation perks will last 6 months
$20 Donation perks will last forever
The perks of each donation level are listed above under Classes