Harry_on_P
Tree Puncher
Location:

Christchurch

Join Date:

9/17/2011

Posts:

38

Minecraft:

Harry_on_P

Member Details
People from New Zealand and Australia were are hosting a 24/7 free* Minecraft server running CraftBukkit with all the top plugins, to date.

Search (using ctrl+f):


Address 1.0
Plugins 1.1
Member-list Criteria 1.2

To gain member-list simply enter your In Game Name, Why you want to join,re-type rule number 9 :tongue.gif: and what is going to be your favorite part of the server.

Rules 1.3
Ranks 1.4
Rank Commands 1.41
Media (Videos & Photos) 1.5
Tutorials & Help 1.6
Donate 1.7
Server Goals 1.71
-Address 1.0
The address is 119.17.161.130:25568
-Plugins 1.1
-
LWC
, Protects your chests, furnaces, dispensers, doors and more!!!
-
iConomy
, Adds money/currency to the game where you can use that money to create shops.Buy and sell to and from shops.Make wager matches in Spleef games :wink.gif: [Ben09 will jew you, be warned]
-
nSpleef
, Allows players to play
Spleef
.Players are teleported to and from the arena of there choose.Instant mine is set within the arena so no need of shovels or unfair advantages.Players are notified when they won or lost a game of
Spleef
on the public chat, for everyone to see.
-
McVote
, Vote for day and night.Simple and Easy.
-
Essentials
, Allows access to more commands (tp,warp,home,kick) making the Minecraft experience even better.
-
ChestShop
, Allows player to make shops out of chests using signs.This creates a player to player economy.
-
Parties
, Players can join and create there own parties for chatting and teleporting convenience.
-
Regios
, Regios is the newest and best region protection system for the protection of your buildings,farms,houses,shops,ect... Make sure to look up tutorials on YouTube before using this or just search Regios tutorials on this forum :smile.gif:
-
PermissionsEx
, PermissionsEX is the permissions plugin used on this server which is configured by the Owner, Harry Spicer (Harry_on_P)
-Member-list Criteria 1.2
To gain member-list simply enter your In Game Name, Why you want to join,re-type rule number 9 :tongue.gif: and what is going to be your favorite part of the server.
-Rules 1.3
Rules

No Griefing.
No Spaming Chat.
Do not kick people (VIP+) unless the server is full or a player (Member) is not obeying the rules.
Regios land claims must be in a reasonable space (250x250 max).
Always LWC protect your stuff using the command /cprivate (unless you are making a public chest /cpublic)
No Spawning Items (Instant Ban)
No Flying (Instant Ban)
No Xray Vision Texture Pack.
No Mods or Hacks Enabled
Play or learn how to play Spleef :smile.gif:
-Ranks 1.4
-Default (24 hour period to see if you like the server if so you will be upgraded to member if not post a reply a post on the forum "Non Member")
-Member
, As a member you can, build structures, play Spleef :laugh.gif:, Use LWC, Use iConomy (30000 dollars), Join/leave/chat in Parties, have Member next to your name, Vote for day or night, Buy and sell from and to shops to create money.
-VIP
, As a VIP you can do everything a member can do + Create your own shops (make more profit), Use Regios to protect your land,buildings,farms,ect..., have VIP next to your name in bight yellow, can /sethome and /home, making it easy if you get lost.
CAN JOIN SERVER WHEN FULL!!
-
Moderator
, As a Moderator you can do everything a VIP can do + Create Own Spleef Arenas, Can Teleport (To and From Users),have Moderator next to your name in Blue, can create their own parties
.
CAN JOIN SERVER WHEN FULL!!
-Administrator
, As a Administrator you can do everything a Moderator can do + Set warps for the community or personal gain, use back (can spawn back to where you died), Start votes for the time of day and set the time according to the vote, have Administrator next to your name in Red, Teleport others if needed.
CAN JOIN SERVER WHEN FULL!!
-Rank Commands 1.41
Member
/spleef help <page>
/spleef ready
/spleef list
/spleef leave
/spleef join game
/spleef creategame game arena <money>
/pc [Text]
/party leave
/party join
/party list 
/party accept
/party decline
/cpublic
/cprivate
/cremove
/money ?
/money
/vote (or) /vote info - Get info on current vote
/vote help - Display vote help
/vote <yes|no> - Cast your vote (When a vote is active!)
/help
/plugins
/time
/tpaccept
/tpdeny
/warp <Name> Teleports you to the warp
/warp (Shows warp names)
VIP + All Member Commands
/kick <playername> <reason>
/regios set
/regios create <Name>
/regios cancel
/regios help
/regios protect-all <Name>
/regios expandmax <Name>
/regios delete <Name>
/sethome
/home (teleports you home)
Moderator
+ All VIP and Member Commands
/spleef define arena 
/spleef deletearena <Name>
/party create [PartyName] <open|invite|leader>
/party invite [PlayerName]
/party list
/party disband 
/party leader [PlayerName] <- (if your leader)
/party disband             <- (if your leader)     
/party kick [PlayerName]   <- (if your leader)
/save-all (helps the server)
/tp (playername) [otherplayername]
Administrator
+ All Moderator,VIP and Member Commands
/setwarp <Name> <--The Best
/back <--Back to the point of death
/vote <cast|create|call> <Vote>
/vote create day
/vote create night
/vote close
/time day Bukkitworld
/time night Bukkitworld
Will add weather commands and more voting commands soon :smile.gif:
-Media (Videos & Photos) 1.5
-Photos
Ben09's Igloo
Harry_on_P's Spawn Area Estate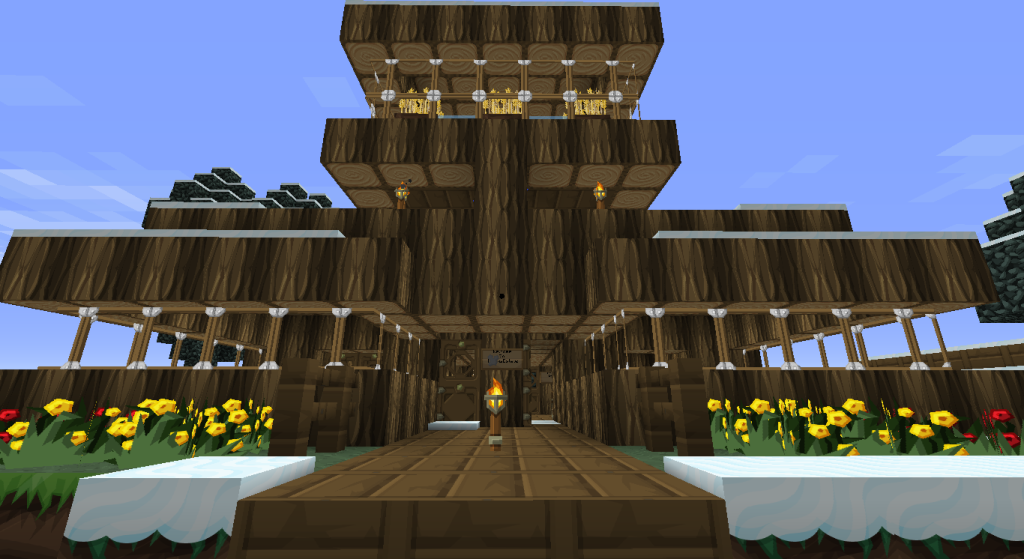 The_Freemanator's Castle
Buchananmang's Place
The Town Map
-Videos 'Coming Soon'
http://www.youtube.com/user/HarryOnP/videos
-Tutorials & Help 1.6
-Regios Tutorials
-LWC Tutorial
-ChestShop Tutorial From ChestShop's Forum
How to create a ChestShop.
- Place a chest, if you haven't already.
- Place a sign 1 block near the chest (for example, above the chest)
- On the sign, write:
(Item name can actually be item ID or alias)
First line will be filled in by the plugin automatically.
Price is a combination of buy and sell price.
You have to have B near buy price (people buy from you), and S near sell price (people sell to you).
If you have both B and S, separate them with a colon - :
For example:
USING SHOPS
You could buy and sell by right and left clicking the sign for a long time.
Now it's the only way to use the shops.
It's SIMPLE!
Just LEFT-CLICK to SELL to shop, and
RIGHT-CLICK to BUY from shop.
Note:
If you are having difficulties make sure to ask an admin or moderator as they will know the solution.
-MCVote Tutorial
-nSpleef Tutorial
-Donate 1.7
-VIP costs $3.00-4.99NZD a month
-Moderator costs $5.00-7.49NZD a month
-Administrator costs $7.50-$10.00NZD a month
Note: All prices are in NZD (New Zealand Dollar), but thanks to paypal its made easy :smile.gif:.If your not sure here is a currency converter and feel free to ask questions about anything.
http://www.xe.com/ucc/
Donate Here!!!
Make sure to check out my website for more information such as the terms and conditions
http://chchminecrafters.yolasite.com/
-Server Goals 1.71
As a Kiwi run server we are not for profit but are wanting to have a server that gives players/users the chance to improve there server experience with Ranks and the benefits that come with the ranks
Our Server hopes for a 2-6 Slot growth per month :smile.gif:, with your help we can get there.
To gain member-list simply enter your In Game Name, Why you want to join,re-type rule number 9 :tongue.gif: and what is going to be your favorite part of the server.