Satashi26
Tree Puncher
Join Date:

3/21/2011

Posts:

13

Member Details
Hello everyone, and welcome to the City of Gods, where the sun always shines.
We would like to welcome everyone to our new city in hopes that you would like to join our close knit family of friends for a minecraft server that will always be there for you. Now that the cheesy opening is out of the way, welcome everyone to our humble server. We are a group of friends who have an age range large enough to be sure that you'll fit in there somewhere. We are a survival/creative server based around legit gameplay and having fun. We all help each other and contribute to our community as a whole. We offer a few starting tools to get you on the right track, as well as a handful of torches so you can always find your way back.
We are a beginning community with a small village made, as well as a city in the sky for those with more ambitious game play in mind. We have a white list to prevent random griefers from wrecking havoc, and our server is backed up constantly to ensure that even if a griefer does slip in among us, the damage can be replaced almost immediately. Our login and registry system allows us to trace who did what and where, to pinpoint any acts of hate. So rest assured that we will always be there for our members. More damage control comes from fire being unable to spread. So even if a griefer tried to put a bucket of lava down, no harm will come from it. Also, this allows for more creativity for your houses!
As a legit, creative server, you won't find mods spamming out items for their own gain, or sneaking other members items to build their own houses. We believe in pride and honest work in our structures, and work for that. However, there are a few exceptions to this rule. As the nether is currently down, we offer a trade of 1 coal for 1 glowstone to help light your house. On the same note, trading a sapling will grant you a handful of leaves to help put that finishing touch on that hedge row you have going. If fire is your thing, then some simple dirt can be traded for some netherack.
To make moving around easier, and to ensure that everyone can easily show off their house, we have some warps set along our land to ensure your travel safety. These can be accessed by typing "/warp" in game. We offer locks for chests if you so desire, but also have a community chest area where everyone gives and takes of their spare items. Future mods will be added as we grow as a community, to make sure the game still has the spice needed to keep everyone at home.
The majority of us communicate over Skype during game play, but a ventrillo server will be purchased and made free to the members once we reach that point. Also, a bulletin board system will be in place shortly for our own community news.
To join our server, please message me here on the forums, or on skype (my contact name is: Satashi26 ) with your in game name. We will add you to the white list as soon as possible so you too can be part of the family.
Server IP:
66.69.248.47
Spawn Hut: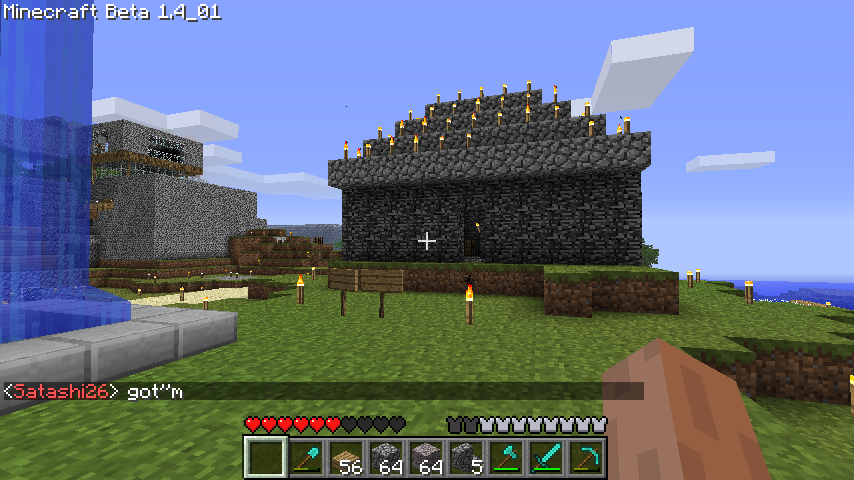 Community area:
Beach house project recreation: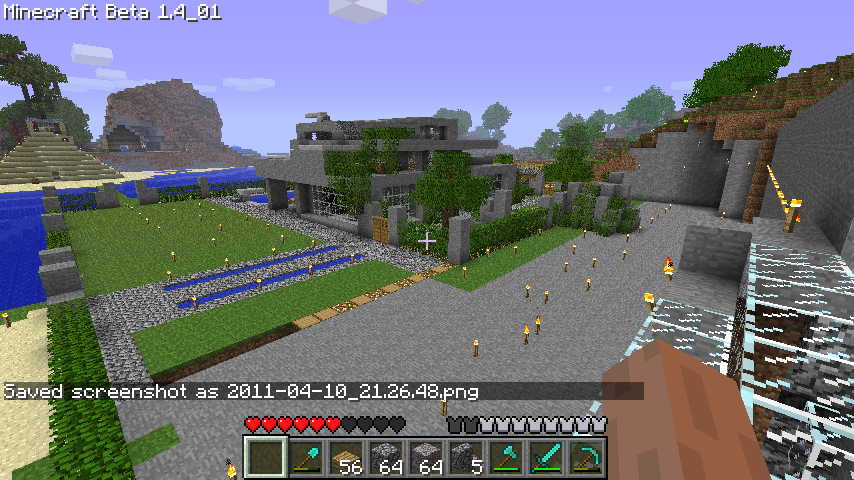 Igloo and Pyramids: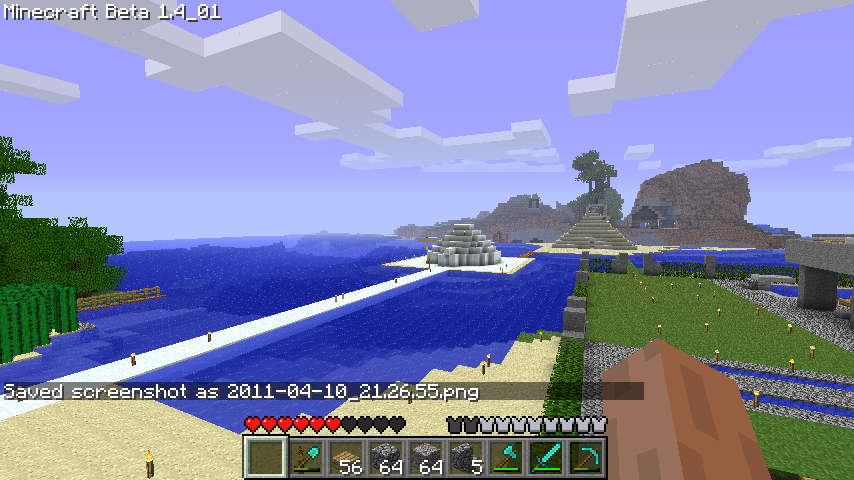 Loki3's cake shop: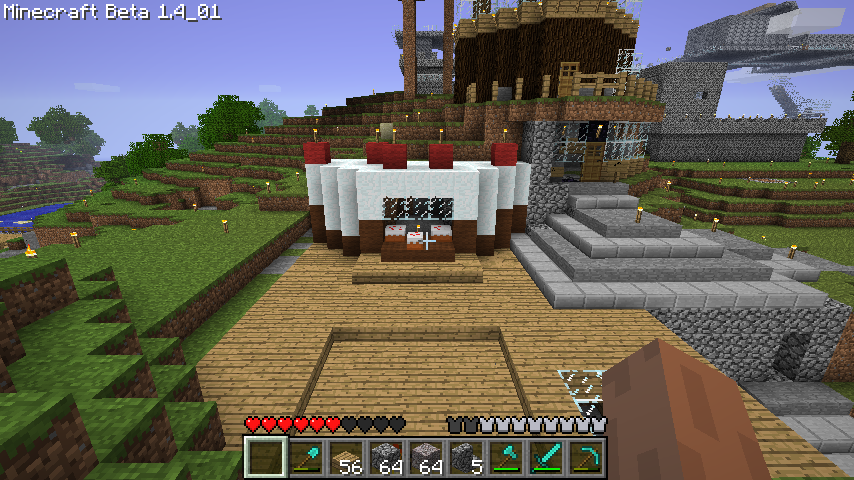 Skystate, Cities in the sky:
North island