Thiefzer0
Coal Miner
Join Date:

3/10/2011

Posts:

130

Member Details
★Temperance★ [24/7][1.5][Bukkit][No Whitelist][Anti-Grief][TS3/Forums][iConomy][LWC][BigBrother]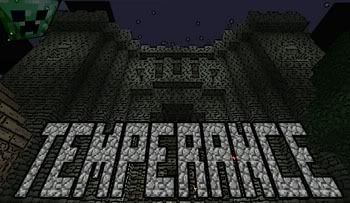 NOTE
WE ARE NOW LIVE WITH MINECRAFT 1.5 (CRAFTBUKKIT RECOMMENDED BUILD 733)!!! SO UPGRADE THOSE CLIENTS AND COME ON IN! ALSO, IF YOU HAVE QUESTIONS AND AREN'T GETTING THEM ANSWERED ON OUR FORUMS, YOU CAN USE THIS THREAD AS WELL FOR COMMUNICATION WITH THE STAFF. THANKS!!
"Everything in moderation... except cookies, we has them you know!"
IP
: tzer0.dyndns-server.com:25603
Teamspeak3
: voice1.brohoster.com:9033
Forums
:
http://temperance.forumer.com
Basic Info/Introduction:
Hey guys! Myself and a few friends have had a server going for a few weeks now and we've all agreed it would be awesome to have some more players! This server started out on my personal computer and as of last week was moved to dedicated hosting (
24/7 uptime hurray!
). We also have a
Teamspeak 3
server as well so if voice chat is your thing, you're more than welcome to come on in!
The server is always being worked on by myself (
ie tweaking plugins, making little adjustments here and there
) but I generally do so from my personal test server and thereby try to keep uptime at
99%
if possible (
down once a night or so just long enough to upload all changes after they have been tested
).
Server Info/Concept:
Temperance is the literal opposite of gluttony. We believe that everything, in moderation, is healthy and productive. That's why here at Temperance we're going for a server thats more or less light on rules, and heavy on fun (
and cookies
)! True we have rules but the rules are ALL more or less, don't do things so stupid that you force the admins hand into ip banning you (
after a
bath of course
).
World Info:
24
slots (
can upgrade in the future if anyone wants to donate
)
MULTIWORLD
(NEW)
Short (very short!) spawn "tutorial" with signs explaining basic rules, etiquette
Protected central town with shops, a bank, an inn, purchasable homes, etc
PvP enabled (
In the gladiator arena arena, use /warp arena
)
Craftbukkit support with various plugins (
see below
)
Craftbukkit, Current build 766
Using several plugins, here are just a few
:
AutoMessage
AutoSave
BackupPlugin
BigBrother (
the most important part of our anti-griefing arsenal
)
BorderGuard (
5000x5000 in the main world, 500x500 mining world, unlimited nether, as of 05/16/2011
)
Citizens
(disabled as of 1.5)
CommandiConomy (
ie, typing /heal will deduct 100 coins and heal you to full!
)
Essentials / Essentials Protect / Essentials Spawn
FoundDiamonds (
server-wide alerts when you find diamond/gold, as well as admin monitoring
)
GravelClay (
any gravel dropped in or placed adjacent to water turns to clay!
)
HeroChat (
custom chat plugin, multiple channels, prefixes/suffixes, etc!
)
HeroicDeath (
hilarious messages on death... makes dying FUN
)
iConomy (
implements the COINS system
)
iConomyChestShop (
easy to use shops, players can make their own!
)
LightVote (
players can vote to change day into night or vice versa
)
LWC (
players can lock their chests/furnaces/doors/etc!
)
Minecart Mania Core (
core functionality of minecart mania, may remove soon
)
MultiVerse (
currently running a weekly reset mining colony!
)
NEW
NoCheat (
breaks flymod, speedhacks, etc for anyone except mods/admin/premium donators
)
Permissions
Quickbelt (
quickly reload your hotbar for those big projects!
)
RealShop
(disabled as of 1.5)
Residence (
protect your homes! very powerful protection plug-in
)
SignColours (
donators can color their signs with any color!
)
WolfPound (
use in-game signs to spawn wolves!
)
WorldEdit (
Admin/Moderator ONLY: for fixing chunk errors primarily
)
Yeditor (for updating permissions in realtime)
RULES:
Trying to keep it as simple as possible. We're going with three tiers of rules.
RED
,
GOLD
, and
WHITE []
. Please also keep in mind, that in keeping with the
theme
of the server, try to keep all building projects as realistic and interesting as possible.
Also,
no floating trees
, and other terrain blemishes if you can help it. Oh, and
PLEASE
do not go randomly digging/defacing the terrain. Most of the land around the central town has been carefully landscaped for aesthetics.
RED
rules are things like griefing, hacking, and other detrimental things that will get you a ban almost immediately.
GOLD
rules are things along the lines of being rude/disrespectful, insulting the mods/other players, and other general douchery. Break those rules and you will be kicked from the server. Three strikes and you're red status (
BANHAMMA!
).
WHITE []
rules are the little things, such as being a general nuisance, pestering mods for tp's and other things that we don't do, spamming chat, etc etc. In breaking these rules you may get spawnjailed, you may get
dumped on your head by a mod, you might get kicked (
possibly in the nuts
), it really depends on what the mod/admin online feels like doing, you douchebag!
APPLY:
http://temperance.44.forumer.com/viewto ... t=2&p=2#p2
Anyways that's basically it for now. This post will be updated/revised over time.
OH YEA, BEFORE I FORGET
... if you STILL want to join (
and who wouldn't, right?
), you need to do one of two things! You can:
1) Head on into the server (
we're not sporting one of those annoying whitelists, derp ><
), spend two minutes in the spawn tower/tutorial thingamajig, then go exploring and decide if you like the place. If you like what you see and who you meet, head on over to the forums and apply (
http://temperance.forumer.com
)!
2) If my wizardry
with words has thoroughly enticed you and you just CAN'T WAIT (
AHHHHHHH
) to join, skip the first part and go
STRAIGHT
to the forums (
do not pass GO, do not collect $200
), and apply! As soon as myself or another admin/mod review your app, you're approved (
unless you're a retard who can't answer 8 easy questions
) and TADA, you're good to go!
Well, that about wraps it up! Thank you for reading and I hope to see you in game real soon
Administrators:
~
thiefzer0
~
Andehhh
Moderators:
~
Pyromatic18
~
Srchak
~
kev0333gamer