zoram
Redstone Miner
Join Date:

9/4/2010

Posts:

644

Member Details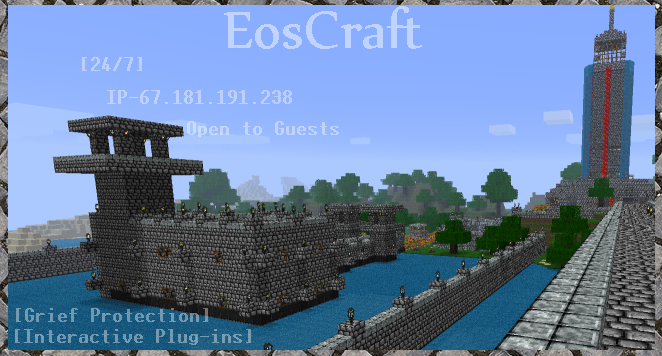 *For you Copy/Paste Folks* IP: 67.181.191.238
All Update Information on Post #2
Interactive map viewer
Click on the following links to see our map!
Top view Day
Oblique Night
Welcome To EosCraft, a world of builders and gatherers. this server provides quality service with somesnazzy hardware and lighthearted folks(except for me). The server is semi-vanilla. We choose to leave only friendly mobs, and health doesn't factor. We do use several plugins for safety, anti-griefing and to enhance gameplay.
Anything about this server may change!
Rules
Rules also subject to change
The Golden Rule
: When in doubt, look here, when in more doubt, ask a moderator(green name) or an Administrator(red name).
0.Behave
!This is the most important rule of all. No discrimination. We don't discriminate you, we expect the same behavior. Any racism or discrimination of malice . Excessive profanity is also not allowed. We like to keep our mouths clean. Fiddlesticks is not considered a bad word, so use that instead.
1.Guests are allowed only to build in the guest zone
. "realms" enforces this, you have no choice.
2. no 1x1, 2x2 etc towers and holes.
We hate ugly landscapes. No one wants to see your eyesore of a scaffolding from building. Please remove all towers. Holes are also bad, we hate falling into huge holes on your quest to find diamond. If you dig a mine, do it underground and away from other people's buildings.
3.No cheating/griefing/bothering.
This is a surefire way to get a ban. If you have found a hole in our security, don't exploit it, report it so we can fix it. Griefing is the act of ruining work others have done, or impeding movement or defacing the map in anyway. Don't spam chat, or knock people off their building towers. Its rude, and it makes people have to do things again, its annoying, so please go find a better way to express your boredom.
3b. Don't steal. If you find a chest that isn't protected and that doesn't have a sign saying otherwise, leave it alone. It isn't your chest and the items within aren't yours.
4.Don't build near other players' projects
. People need building room. you don't know how much extra room they intend to use. If you really want a space near them, ask before you build. Assume all city plots require permission from the owner before building unless otherwise stated. When in doubt, ask a moderator if the owner isn't online.
5.Keep our world clean!
One huge problem people tend to have is littering out of place blocks, especially work benches. Please pick up random blocks, torches, cobblestones etc. If you see a random block, pick it up. If in doubt, let it be.
6.Label your structures!
It is impossible to know who something belongs to without a sign to tell us. If the structure is a nuisance, it will be demolished without warning. It has happened before. This IS your one and only warning.
7. NO BEGGING!
This is a major taboo in our server. If you beg or even indirectly beg, your membership status may be delayed as a guest, and as a member you will be scorned. We take this seriously, this is grounds for a temporary kick or a ban.
8."Don't call us. We'll call you."
As our server creator would say. Don't ask for promotions, if you are seen as a contributing member, you will be considered and asked to be promoted. Same penalties apply as rule 7.
9.No trespassing.
This isn't the legend of Zelda or pokemon or some other game where you can just barge into someone's house and steal from their personal things and invade their space. If someone welcomes visitors, you may enter. If you intrude when a no trespassing sign is up, this is even more punishable. This could be grounds for a ban if the intrusion is as such. Use your brain, you know what buildings are public, and which one's aren't. When in doubt ask.
10.Be friendly, helpful and have fun!
This is the point really, isn't it? We are trying not only to have a competitively awesome server, but also to create a community bond. The penalty for this is your not being able to partake in our lively conversations and helpful community efforts.
What is your in-game name?
*How often will you be playing?
*How old are you and where are you from?
*Will this be your primary server? If not, what is your main playing server?
*Have you ever been banned from another Minecraft server? If so, why?
*What have you built in the past? This can be from singleplayer or another minecraft server.
*Do you agree with the rules?
*Do you prefer to use a mic to talk or write in game.
*Do you like pie?

Interactive Plug-ins
Plugins subject to change
Elevators(US)/Lift(UK)
The greatest alternative to stairs and ladders. Vertical movement can be instantaneous! All you need to do is have two blocks, that are aligned one above the other of the same material. Then put a sign on each. Type "[lift up]" or "[lift down]" on the second line of the sign. To travel simply right click the sign. Now, there is the ground floor/1st floor controversy as well....
Gates
Want a large gate like they have on castles? Maybe you just need a wider door than a double door, or taller. Gates can be 8 wide and long. Simply put some fence posts at the top of the entry, and place a sign next to it saying "[gate]" on the 2nd line. Right click and it will go up and down. I use it to keep dagnabbed animals out.
Light switches
With a fence and a few torches, you can save the environment by turning off your torchs! All you need to do is make a sign, on the 2nd line, write [ | ] (shift + \) (No spaces) then right click to toggle on/off the light effect of torches. The radius is 10 across and 5 high. Side note, you need a torch above the sign as a reference so the plugin can work its magic.
Books
Have you ever been angry with bookshelves not having books? Now they do! Sort of...Small sayings pop up randomly if you right click any bookshelf.
Chest Protect
The most useful of all our plug-ins and widely used. Simply type in "/cprivate" and left click your chest and it should pop up saying your chest is only viewable by you. HURRAY! Just remember to use this on all of your chests. I also recommended trying to re protect them periodically incase something happened or we got an update that interfered with chest protect.
Currency
A lolcat once said, "I haz a money...Wut I do with it?" You spend it! You make it! Type "/money ?" for a list of commands for money. You can do anything from announce a public auction("/auction ?" for more details) to setting up a physical shop("/shop ?" for more details) or buy from others. Using our stargate system uses 1 coin per use to encourage other means of travel if you get too jumpy. Fret not, you get 3 coins every 10 minutes of gameplay.
Skeptical of lag or the server shutting down? Don't be! Our server is great. Don't quote me on these specs because I scribbled down the specs hastily. And although I don't know what it all means, I am pretty sure I got it mostly right.
Your server is now diamonds
:Diamond:Dual xeoncore
16 cores 32 threads at 2.8Ghz per core
Overclocked processor
48Gb RAM DDR 3 RAM
RAMdrive at 1200 mb/s read/write time
GDDR5 1GB Ati Radeon HD 5970 graphics card
Java 1.8 beta proven to have a 48% performance boost
Map backed up every half hour to 2 different locations
the plugins and mods
-BedrockGapInsurance (To Avoid all Voids and Flat Earth)
-BorderLands (To limit world generation for reduced lag)
-ChatChannels (For Faction Chat and Reduced Spam in global)
-ChestProtect (To Protect you from Thieves)
-CraftBook (For all gates, light switches, elevators, and more)
-CuboidPlugin (Area Ownership)
-DSMail (Offline Messaging)
-GriefAlert (To Push away all griefers)
-iConomy (To buy land and items from shops)
-MineGate (An easy way to teleport)
-Realms (Area ownership for towns)
-SMWorldEdit (Admin Capabilities to Allow/Disallow Area Protection)
-TimeRift (To set a specific time in the day) *Only used on special days*
-Towny (The capabilities to join or start your own town to rule minecraft)
-Whoisonline (A Simple plugin that stats all known players online as you login)
-Llamacraft (Another anti-grief mod)
When in game type "/motd" to get an overview of ranks and rules.
white-This is a guest. They may only build in guest areas. It is a trial period, if deemed worthy, you will be allowed to be a member.
cyan-This is a member. Members are the normal average player. No special out of the ordinary privileges granted.
yellow- This is a builder. Builders are members that have been granted the ability to generate items for building of large artistic cities. This is a rank we have yet to decide upon since abusing item give outs to other players may occur.
green- This is a moderator. They have powers to teleport at will and get rid of misbehaving players.
red- This is an Administrator. Note that these are the deities of our map and they have omnipotent powers. Don't get them angry with you. Infact, I would go as far as to ask them of nothing at all if possible, we tend to pester them a lot. :biggrin.gif: Don't make them teleport you to jail. But they are your friends, so make sure you alert them of any illegal behavior.
Donator ranks:
as of now the donation ranks are not fully enabled because almost nothing has been donated.
Donation ranks give special privileges. Depending on the amount, you will get more privileges and for longer periods of time. Rank 1 provides donation benefits indefinitely.
Here is how the ranks will be broken up.(most likely)
rank 5: $10
rank 4: $20
rank 3: $30
rank 2:$40
rank 1:$50+
Donations are
NOT
mandatory. Donation is optional although very much appreciated. Even $5 would help. All donations go directly to making the server better. At the moment we are working toward a dedicated website for one year. Why? Well, the cheapest near upgrade at the moment is very expensive. Donation will never grant inventory items EVER.
Quote from

If you do donate PLEASE leave your in-game name as a note so we know who to thank!

Disclaimer-
*** The whitelist is a TRIAL list - if the player does not mesh well with the community, we will not keep that player whitelisted. Out of the 100+ players who have been whitelisted, only 6 or so of them were let go due to immaturity or not following the rules.

Generally we are a mature community but we like to goof off just as much as the next guys - spamming chat with things like "failtroll" "umadbro" "trololo" etc... will get you muted, kicked or banned. Not everyone will fit in here, if you constantly annoy, berate, or harass other players - you will be taken off the whitelist and blacklisted. (Founders/Admins reserve the right to refuse access to the server to anyone, for any reason)

Don't fall in love with the map. We will wipe every month to two months due to how fast people build. Typically when the map size is 3-5gb, it has been a month. Any trolling about wipe/fresh start will get you temporary suspended. Second offense is a ban. Deal with it, enjoy a fresh start.