Ujayim
The Meaning of Life, the Universe, and Everything.
Join Date:

8/22/2010

Posts:

42

Member Details
Hello and Welcome!
The server IP is Brohemoth.jestservers.com
You're only able to join if you post your IGN on this thread so we can whitelist. Whitelisting typically takes a minimal amount of time due to several admins constantly checking the forum post daily.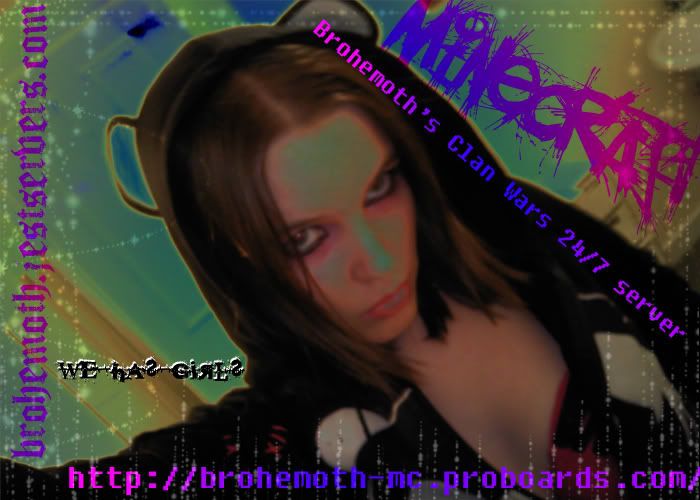 Our server specs are Quad Core Xeon 3.46GHz, 12GB + DDR3 ECC enabled ram, Raid1, dedicated 100mbps uplink of mixed premium bandwidth
To become a member of our server all you need to do is merely post your IGN on this thread and we'll whitelist as soon as we can. We check this thread multiple times daily so wait-time before you can play will be minimal.
Our server has been going strong since 2 days after SMP was released. We pride ourselves on keeping buildings completely legit( I.E No hacking in cobblestone among other items with the exception of snow for snow clan).
We currently have a zero tolerance policy for griefing/duping items so if you are caught in the act you are banned no question whatsoever.
Once Notch manages to implement pvp,we will be an entirely PVP Based server, using the idea of Clan Wars. The area inside Broville will be safe as well as clan bases on select days.
We'd like to implement a scheduled raiding time possibly a couple days a week for an hour or so, where other clans are able to loot an enemy's base and kill whoever is inside.
As of now we have 7 clans, And after long debate we are going to stay at this number.
Updated pics coming soon.
Desert Clan
Snow Clan
Jungle Clan
Sky Clan
Ocean Clan
Mountain Clan
Obsidian clan (Admin Only.)
(Still open to ideas for other clans).
Server mods
Hey0 mod
Llamamod
Various hey0 plugins.
We now also have a mumble server so that we can talk to each other w/o typing in game. For when you join mumble info is on the Server Discussion board on my forums.
We also, of course, have our Individuals whom have chosen to simply become Nomads and build wherever they choose. These people may eventually become a form of Mercenary, or simply enjoy free all around PVP.
Our Rules are as Follows:
We will not allow griefing, glitching, duplication, or cheating in any form. If as an Admin I am not allowed to Create a Diamond Castle in my name, neither is anyone else. We are all equals, we can all build and harvest as such.
If you're in a clan you must follow what the clan leaders says in the aspect of where you are to build, and what material you are to build with to keep with the look of your surroundings.
Essentially, beyond that, there is none. We enjoy the fact that everyone is friendly, even though we know we'll be killing one another soon enough.
We currently have our own Dedicated server, capable of housing easily 50+ People on at all times without any form of Lag.
If interested apply on our forums under Server Registration at brohemoth-mc.proboards.com.
The IP once again is brohemoth.jestservers.com which you'll be able to login to once whitelisted.