Travis
Farlander
Join Date:

7/25/2010

Posts:

17,311

Member Details
Pigmen Research Central
A few of us were discussing Pigmen, and how they are coded to learn and react to different things in different ways that are quite intelligent.
All discussion and debate takes place here: http://www.minecraftforum.net/viewtopic.php?f=1016&t=73115

Requirements to be a researcher:
- Relatively good grammar and English skills
- Minecraft, of course
- Some sort of video or picture capturing device
If you want to sign up to be a researcher, fill in this form:
When you finish an experiment, post a new post on this thread with:

A. Your name: Either Minecraftian or RL.
B. The experiment: What are you doing?
C. Your hypothesis: What do you think the results will include?
D. Data: Pictures, diagrams, tables, paragraphs, and/or videos.
E. Conclusion: So what did you learn? Was your hypothesis correct?


If you are good with tech, PLEASE post your experiment as a document of some kind that can be opened up on another site or downloaded, this thread can't be a massive wall of text.

Lab complex
(To avoid ghasts interrupting experiments):
COMING SOON.
List of experiments:
Experiment #1
Name: qlmaX5
First research:
I watched the pigmen in the closed environment, and recorded their behavior, seeing how they react under very different conditions.
Hypothesis: I was rather sure the pigmen were going to be quickly killed off, and the closed-off pigmen would survive.
Notes:
Wandered around a lot
was susceptible to running into open fire and dying
not a tight community
Then, I went topside, and while avoiding Ghast fire, I examined the pigmen on the surface:
Notes:
They were avoiding the fire dotting the ground rather easily. I did not see any pigman on the surface alight.
The three/four tribes on the surface were bundled together, but did not defend.
The pigmen that had their tribe killed, when I was there or not, wandered around aimlessly.
It seems like there is a survivalist reaction going on with the surface pigmen, who have their lives threatened every "day", and some even started mingling with different tribes after theirs got killed. But the pigmen near my spawn and completely safe from any outside error seemed to not know that fire would kill them and didn't keep near each other.
Evidence:
I'm not sure what happened, but after writing my notes (with the game paused) ALL of the pigmen in the enclosed space disappeared. They could have fled to the surface, or simply died by running into the fire.
The outside is a different story, however:
I was attacked by three ghasts on the surface. Note the massive amount of fire.
The pigmen are avoiding fire very well for such a clumped-up group. Only a few have been pushed into the fire.
There were small groups of pigmen running around like this pair. It could possibly be the remnants of a tribe.
Sadly, I died shortly after recording this evidence. I will write up a conclusion, but I consider this to be ongoing research.
Conclusion: The pigmen performed exactly the opposite of what I expected. The surface pigmen survived (for how long I can't be sure), and the enclosed pigmen died, or, even more interesting, could have gotten to where the other pigmen were on the surface.
So after a while, all the fragmented tribes came together to survive. Survival is funny in this game: Animals can't reproduce, only stall their own death or despawning.
UPDATE:
I have done more research after dying, and more pigmen had spawned in the closed area, and are now grouping just a little bit. This would seem to show that where they spawn has an effect on which tribe they are part of.
I also had a pigman hanging around in my tunnel, just out of sight from the 5 Ghasts outside.
Conclusion: The pigmen will stay in packs or "tribes", but once their tribe is destroyed, they will either start going around with another tribe or just go into hiding to prevent the tribe from being wiped out.
Pigmen will stay together to survive in dangerous areas, but spread out when there aren't Ghasts around. Fire is an issue and pigmen on the surface do seem to avoid it a bit better.
Experiment #2

A) TiloXofXTanto
B)Testing Pigmen affinities for


and

C)I believed that the pigmen would show no interest but be attracted to the furnace while lit.
D) Experiment done in closed enviroment with sheltered pigmen (In other words, I didn't experiment on Surface pigmen.)
Uploaded with
ImageShack.us
Pigmen just wander around like normal ignoring the created blocks.
HOWEVER!
When once a ghast attacked (and shot me in the face) The pigmen fled behind the diamond wall.
E)It appears I was right, but they aren't even attracted to a lit furnace, however, they recognize the safety of a diamond wall.
Experiment #3
A. Your name: NoNamed
B. The experiment: I've been testing if Pigmen are willing to sit in minecarts.
C. Your hypothesis: They would act like any other living creature, towards minecarts.
D. Data:
Data
E. Conclusion: Pigmen are willing to sit in minecarts, if the minecart is placed on the square they are standing on. They did not seem to note the minecart being there otherwise, and they weren't exactly fighting over getting to try it.
Experiment #4
Name: Andreas H33
The Experiment: I am testing how pigmen react to lava.
My hypothesis: I think that pigmen try to avoid lava and when they fall inn they will try to extinguish theirselves by finding water.
Data: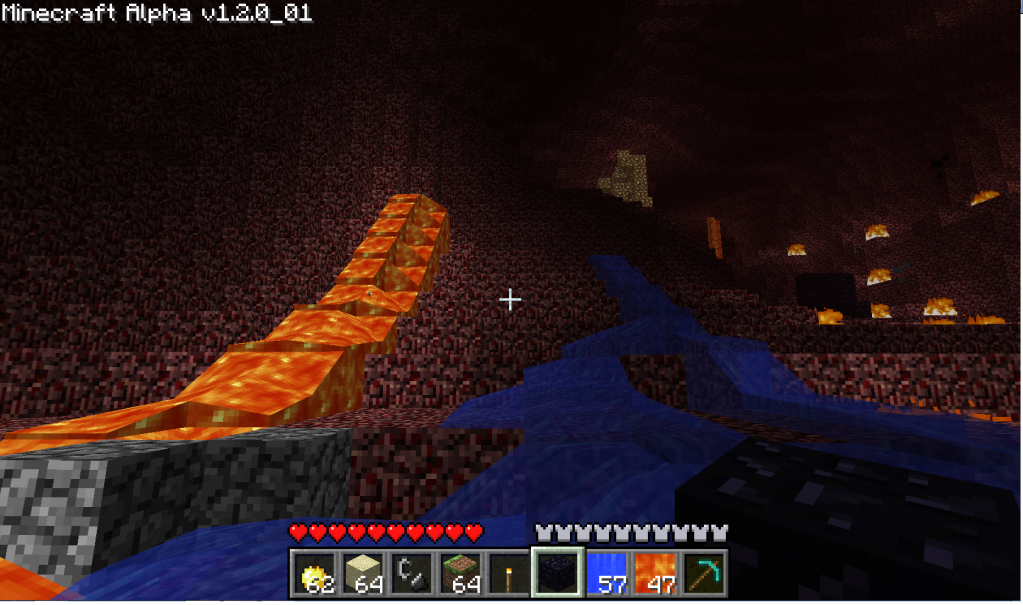 If he gets caught in magma he can run into water if he wants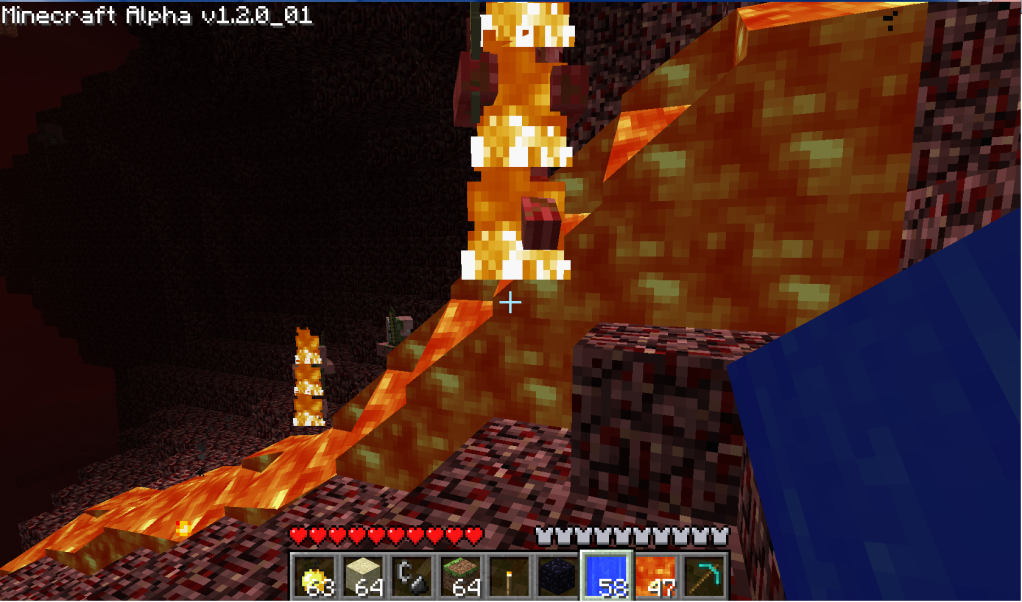 he doesnt care about the water
Conclusion: The pigmen tried to say away from the lava as much as they could, but when they fell in they had no intension of putting themselves out.
While they were burning they was running around as usual.
Experiment #5
A) TiloXofXTanto
:cool.gif: Testing


for possible affinities, specifically for

C) I predicted that the


would react to the

the same way they react to


and

(ignoring it completely)
D)REEEEEAAALLY WEIRD FINDINGS!!
This shows when I first placed

in their enviroment. As you can see, subject A flocked directly to it. In fact, he actually called subject B over there too, and they both stood around a bit.
Then I got them away and blew it up, filled up the wall and placed another block.
As you can see, Subject B flocked towards it like before, but he appears to have learned something, as I approached...
Subject B began to run away, as though he knew what was about to happen... I reapeated a couple times, walking away and walking back, and there was only one instance of inconsistancy. (and even then, Subject B kind of looked like he was trying to run away, jumping into a wall and such)
E) I've concluded that


are able to recognize the danger that

has but have some natural affinity for it. (at least mine do anyway)
List of researchers:
Name:
Nci
First Researching:
Testing reactions
Name:
Apv301
First Researching:
Pigmen AI and learning
Name:
ExplosionSlash
First Researching:
Pigmen reaction to water and light
Name:
VoidWhisperer
First Researching:
Pigmen reaction to goldstone
Name:
qlmaX5
First Researching:
Pigmen activity in a closed, safe community vs. a "topside" community threatened by lava, fire, and other hazards
Name:
Man-EatingHam
First researching:
Pigmen response to inanimate structures/objects, as well as learning behavior through example by the player
Name:
JuiceHead
First Researching:
Pigmen reaction to standard pigs
Name:
Andreas_H33
First research:
Pigmen's reaction to lava
Name:
M4CHIAVELLI
First experimenting:
How long certain pigmen will keep a grudge against you
Name:
MikkoK
First research:
Pigmen and Ghasts
Name:
fearofshorts
First Researching:
Pigmen self-defence logic, pigmen social mentality, and pigmen curiosity
Name:
Golbolco
First researching:
Pigmen and buildings
Name:
TiloXofXTanto
First researching:
Pig-man affinity for block types created by player
Name:
PlanetNiles
First Researching:
Observing Pigman behaviour in their natural environment
Name:
Kirby
First Researching:
Pigmen jukebox reactions
Name:
wisekil1
First Researching:
Pigmen reaction in a world environment
Name:
Winguh (Oakles)
First Researching:
Testing if Pigmen will take shelter if they see a Ghast, if proven, will test different structure types to see if pigmen prefer a specific material
Name:
disierd
First researching:
Pigmen combat and safety efficiency
Name:
NoNamed
First Researching:
Can Pigmen use minecarts?
Name:
_RGC_Pablo
First researching:
What pigmen do when the player isn't there
Name:
Lunagron
First Researching:
Pigmen reactions to being surrounded by fire, lava, and water
Name:
Figglewatts
First Researching:
The Pigmen's behavior and reactions towards redstone mechanisms/constructs
Name:
Gk40000
First Researching:
Pigmen and man-made obstacles(blocks,fences,stairs,ladders)
Name:
Spanda
Researching:
Interactions with other Mobs.
Name:
Pryex
First Researching:
How pigmen overcome certain obstacles in the environment around them, whether these be natural or man-made
Name:
SkyPiecers!?
Researching:
Pigmen Combat Tactics
Name:
Sam123486
First Researching:
Test whether or not zombie pig-men will learn to trust you over time.