TacticsAndNiblics

Gold Miner
Join Date:

7/9/2010

Posts:

396

Minecraft:

Niblic

Member Details
I've sprite-edited these shitty swords in attempt to show you what we would be able to make with new biome ****.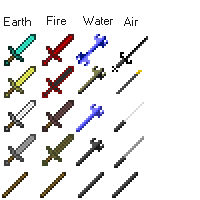 Here's what I named most of them.
Earth: Diamond, Gold(A.K.A Impractical Materal), Iron, Stone, Wood Stick/Wood Sword. (Wow, did I really do that?)
Fire: Fire-sword, Heatened Stone-sword(A,K.A Equivalent to stone sword but can set **** on fire.), Hellstone-sword(those red **** on the ground in the screenshot), Soulstone-sword(the one with creeper faces), Wood Sword
Water: Sapphire Double-trident, Coral sword(A.K.A Impractical Sword), Sapphire Trident, Metal Trident, Metal Stick
Air: Regisword(2 points if you get reference), Golden Edge Sword(A.K.A Impractical Dagger), Iron Ninja Sword, Chrome Ninja Sword, Metal Stick
Explanations for them:
Earth swords are shitty swords you store in refrigerators because they don't make them explode or anything.
Fire swords are 20 times stronger and have a chance of setting **** on fire.
Water swords are stronger than fire swords and they can catch fish.
Air swords are in between Earth and Fire but they allow you to double-jump, run and climb walls.