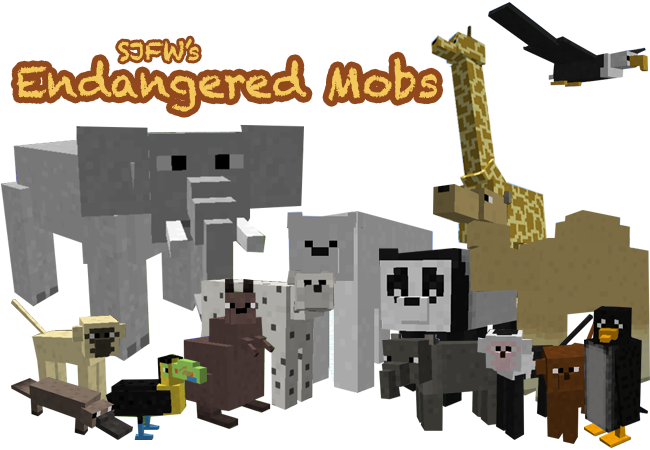 This mod adds endangered species to Minecraft, along with over 40 new items.
1.3.2+ Update
Unfortunately I don't really have the time to update it at the moment. Well, I do, but I have more important things to do than sift through code finding and fixing bugs and errors. It's not as simple as hitting an 'update' button and uploading the new version to the forums. There are countless errors that have to be ironed out and whole classes that have to be re-written due to the change of source code. And that's just to get it running, let alone functioning properly. I'm sorry to all those who have asked for the 1.3.2/1.4 update, but I'm afraid it won't be coming. You've got to remember that I'm only 15 and I have a lot of exams, controlled assessments etc at the moment. In July I'll have a couple of months off school before I start college (school is different in the UK) so I might, MIGHT, be able to have another go. Until then, I'm afraid it's staying as 1.2.5. Sorry guys!
Mod review/spotlight
Big thanks to everyone who made a spotlight/review! I try to keep the topic up to date, so post the most recent video on here. Sorry I can't include all of them.
Download
Manual Install
http://adf.ly/1386106/endangered-mobs
You will need
ModLoader
and
AudioMod
for this mod to work.
Automatic Install
http://adf.ly/9vH4a
Currently only for windows (thanks to
Skydaz
for the installer).
To download: click your preferred link above, wait five seconds, and then click the 'Skip Ad' button in the top right corner.
Mobs
- Penguins
- Camels
- Eagles
- Toucans
- Pandas
- Elephants
- Giraffes
- Howler monkeys
- Capuchin monkeys
- Gibbon monkeys
- Snow leopards
- Tapirs
- Polar bears
- Platypuses
- Wallabies
Items
Install
Manual Install
First, you will need to install
ModLoader
and
AudioMod
.
1) Download and unzip the Endangered Mobs folder.
2) Drag the contents of the folder 'classes' into /.minecraft/bin/minecraft.jar.
3) Drag the folder 'sounds' into /.minecraft/resources/mod.
Automatic Install
1) Download the .exe file.
2) Open it, and click 'Install'.
3) When installed, it will display a message telling you that it's done. Easy as pie.
Support
If you like my mod, you can support it by:
- Hitting the
in the bottom right of this post
- Sharing my mod with your friends and fans
- Putting this in your signature
- Or, if you're feeling extra generous, feel free to donate. Huge thanks to any donators, any amount is greatly appreciated!
Mod Packs and Links
If you would like to include my mod in your mod pack, send me a message with a link to other mods you plan to include and, if the mod pack already exists, a link to the mod pack itself. For the most part, I'm fine with people using my mod in mod packs so long as I'm properly credited for it (with a link to this topic as well). If, however, you plan to take donations or make money off my work in any other way (including AdF.ly links), I'm not okay with it.

If you create a mod review, or anything that contains the link to my mod, please use the link to this topic. Do not provide direct downloads.

Disclaimer
I do not garantee this mod will work. However, if it does not work, you are probably doing something wrong during installation. By installing this mod, you agree that you are at your own risk. Back up your .minecraft before installing.
I reply to every comment, good or bad, so feel free to leave one below!