EDIT:
I've decided to post all of my MLP pixel art pictures here. Enjoy the view.
So I finally finished my MLP pixel arts :3
I'll post 4 pics
(out of 31) and a vid of some of the the MLP pixel arts i've made in this post.
First I'd like to say that i've made a total of 29 pixel arts of MLP, all of them are original and have never been attempted before.
Everypony(Spike also lol) is above 10K blocks. Some are even 50K or more. Haven't counted them really lawl.
So I'll post 4 pictures in this thread, if you want to see the rest go watch the vid which is in the end of this post
or you can visit my DeviantArt page(which will also be linked in the end of this post).
Anyway, here is some of my work:
My first MLP pixel art
Just to let you know, these are the only 'small' MLP pixel arts I've made. They aren't big as the other ones i've made so yeah.
Latest MLP pixel art:
Currently planning a gigantic pixel art project on the MC Xbox360 edition.
And now a 8min vid of some of the ponies i've made(Prove that it's done in MC and not in photoshop lol)
The vid offers better view of the ponies i've made.
Here's my DeviantArt profile which features all the pixel arts of MLP i've made so far :
http://thegoon3.devi...rt.com/gallery/
AND NAOW, sexy men and gentlemen... I present you the new version of [insert new project name here]

TEH 3D DERPY SEXY MAN! [Now with one sexy eye]
Once, a child said to me: "WE NEED MOAR AZZ, ABYSS!!"
And I answered him: "AND AZZ YOU SHALL GET!"
So here is the azz.
v
Thegoon3, on 26 September 2012 - 07:18 PM, said:
Hello. I am Bob Cock... At your service. :3
AND SEXY TIME IS BACK IN TOWN!
On topic -So I decided to move form giant pony pixel arts to giant 3-D Derpy... stuff.
So here's the progress: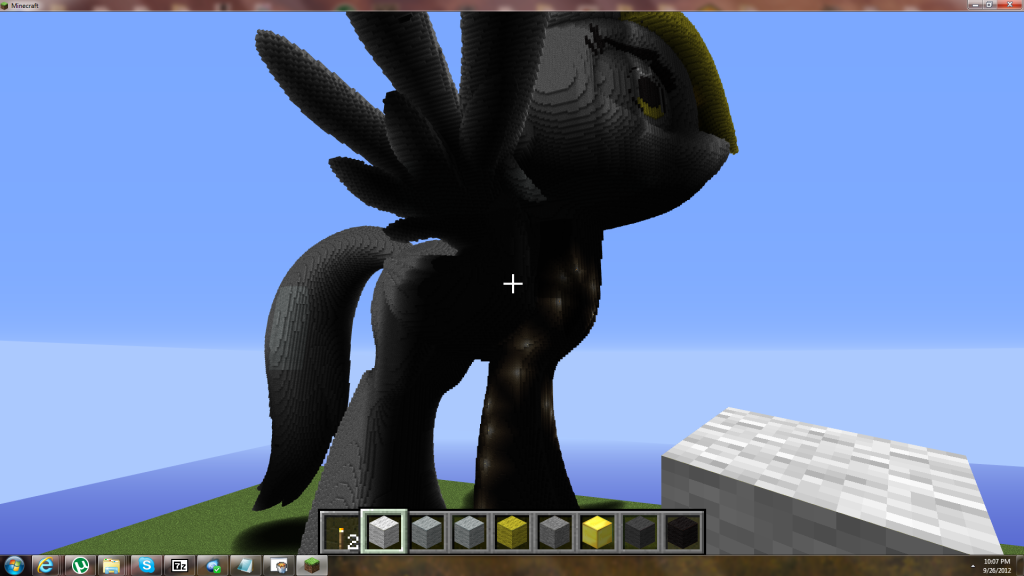 WORK IN PROGRESS, PINGA MEN! NOT DUN!
Yes, I know that's not the way to make pics in MC but I don't really care. Gonna make legit pics when this is done.
I'm starting with her hair and then eyes, tail, body and then the legs.
If anyone has a suggestion on what texture pack I should use(The default texture pack is bad.), please share your thoughts.
Going to make a public server once it is built. I was thinking of letting people join while I build, (although the server is anti-grief) but I'd rather not before I release a vid of this. Some people might make a video and pics and claim they made it. Anyway, i'll probably add a public server with this map once this is done.
If you got any questions connected with the 3-D Derpy, post them here.
NAOW LET THE AZZ TIME BEGIN!
Oh and, just because I love sexy time... and just because I love Doctor Who... I made this picture... Just for the time.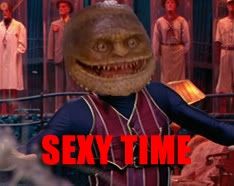 EDITZ:
Finished the first eye and the hair/tail.

Tommorow I'll do the second eye, and the mouth.
Also, I'll change the stone into grey wool.
Going to search for some good texture packs(DAMN! DAT DEFAULT ONE IS REALLY BAD, BRO!), although I don't think I'll find a good one. If you know some that would suit Derpy, POST THEM NAOW(For a chance to gain a free azz time.)
You can follow that thread for the new lol'z... Or ponies. Link --->
http://www.minecraft...1000000-blocks/