Planet Xinus v0.1.3
200+ DOWNLOADS!
Wow, now we reached 200+ downloads! This is awesome! However, and unfortunately, I am beginning to lose interest in programming this game...this doesn't mean that I'm quitting the project, updates will just come at a slower pace...still, thanks for 200+ downloads!
Hello!
I am currently creating a text computer game called
Planet Xinus
.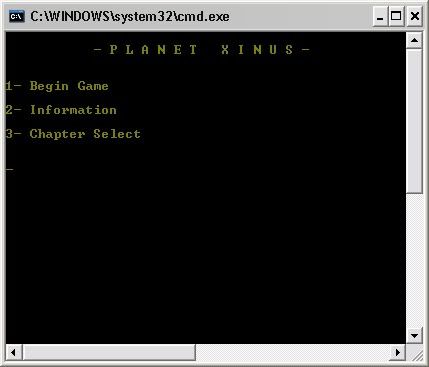 An excerpt from the game:
DOWNLOAD [mediafire]
You need windows to play it!
Since the Mac version I put up didn't work, I deleted it from the post. Sorry Mac users!
If the game closes, that just means that's the end of the programming, or it hasn't been programmed yet.
Change Log:
Report any bugs, glitches, etc, and come back frequently, to check for more updates!
Put this in your signature, and support the game!
[url="http://www.minecraftforum.net/topic/961949-my-wip-computer-game-planet-xinus/"][IMG]http://i1084.photobucket.com/albums/j402/wannabelennon254/xinusbanner-1.png[/IMG][/url]
It should look like this:

If you like it, tell me in the comments, or in the poll! If you DON'T like it though, please tell me why.