i had an idea for a scythe. originally it was an idea for having multitast tools, in this case it would have been sword/plow. but i changed the idea around allitle
the scythe when used on crops will produce twice the amount of gain and seed you get from it, eventually leading to a mass crop production.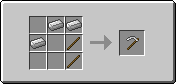 More art and ideas to come.