v1.6.4o2 --
12 October

For a full description of each penguin species and all the other features of this mod, including armor, weapons, and crafting recipes, go to the
Rancraft Penguins Wiki
, developed and primarily maintained by
randalpik
.
If you are fluent in another language and would like to help us make Rancraft Penguins speak your language, too, click
here
, and follow the instructions at the bottom of the page.
Thanks to:
CaveJohnson212
for translating to Russian
alex212058
for translating to Chinese (traditional characters)
Rancraft Penguins adds fifteen different species of penguins to your world:
Emperor Penguins

King Penguins

Yellow-Eyed Penguins

Magellanic Penguins

Galápagos Penguins

African Penguins (new in 1.6.4)

Chinstrap Penguins

Gentoo Penguins

Humboldt Penguins (new in 1.6.4)

Adélie Penguins

White-Flippered Penguins

Little Blue Penguins

Flame Penguins

Ninja Penguins

Cloud Penguins
New in 1.6.4o:
African and Humboldt Penguins and their hats

Real life penguins now swim in water instead of bouncing vertically

Penguin feathers can be used in place of chicken feathers for crafting arrows

Penguin skins can be used in place of leather to craft item frames

Added Penguin Shears (see wiki)

Reduced the power of Flame Penguin armor, Flame Penguin repeater, and penguin katana

Penguin chicks no longer have proportionally larger heads than adults

Darkened the shade of brown for brown feathers and hide
New in 1.6.2n: Anvil repair for some penguin armor and weapons
Penguin bow can be repaired with a black penguin skin

Flame Penguin repeater can be repaired with a Flame Penguin scale

Cloud Penguin boots can be repaired with Cloud Penguin down

Flame Penguin armor can be repaired with a Flame Penguin scale

Little Blue Penguin hat can be repaired with a dark blue penguin skin

Yellow-Eyed, White-Flippered, and Galápagos Penguin hats can be repaired with a brown penguin skin.

All other penguin armor can be repaired with a black penguin skin
Meet the African and Humboldt Penguins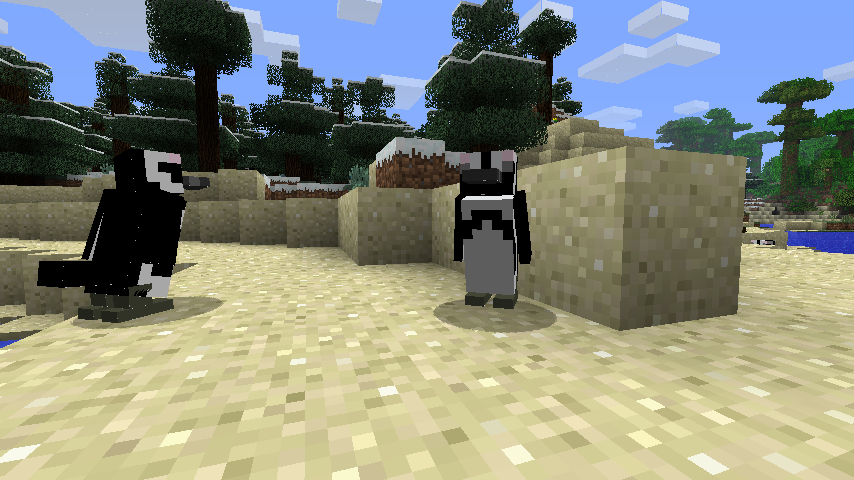 Wild African Penguins.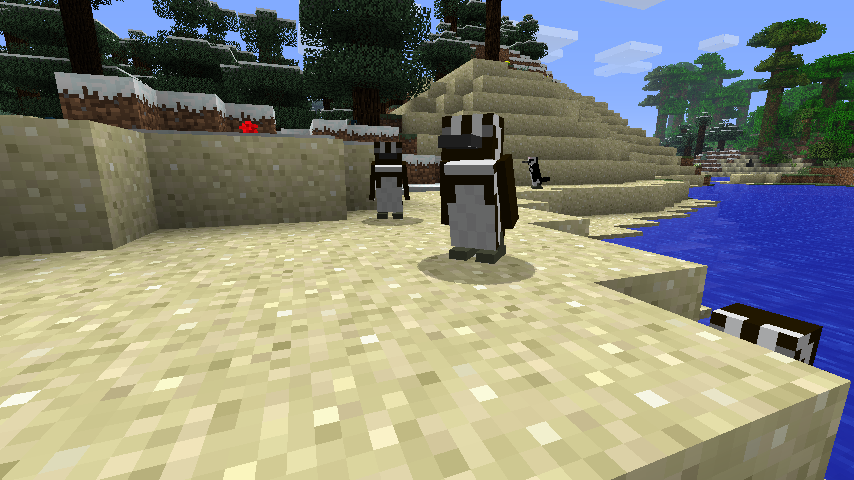 Wild Humboldt Penguins
Penguins and custom biomes
The configuration file
A few facts about Rancraft Penguins
1. They can be tamed and bred

A tamed Emperor Penguin with its chick.
2. Penguin Armor and Weapons
Rancraft Penguins adds four enchantable weapons and several types of armor with special characteristics (swim speed, air use, etc.). The most powerful of the penguin weapons is the Flame Penguin Repeater, which shoots regular arrows and is fully automatic, although the Penguin Katana and Shurikens have their "good points" as well.
3. The penguins are compatible with other mods
Have you ever wondered what a pony would look like wearing a full suit of penguin armor?
This image is from an excellent description of Rancraft Penguins on a
Taiwanese gaming site
.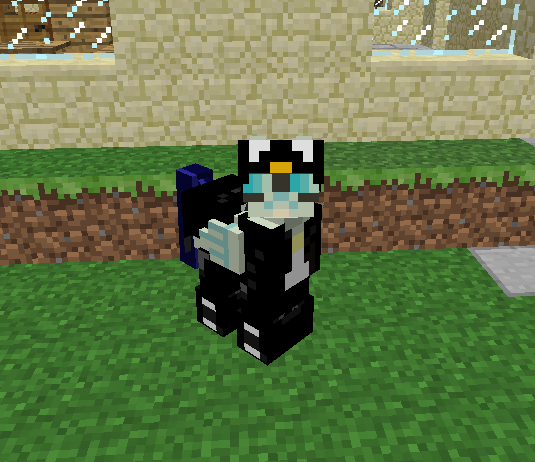 More Screen Shots
Demo Videos for 1.6.4o
IPocketIsland
TheDiamondMinecart
EncrypPlaysMinecraft
Penguin11145
Demo Videos for earlier Versions
Installing Penguins
All Downloads
Penguin Banner