Hello!
Since May of 2011, I've been crafting a Flash game named "Mine Blocks"!

Mine Blocks is, in short, a free 2D Flash version of Minecraft. See below for details!

Click here to play!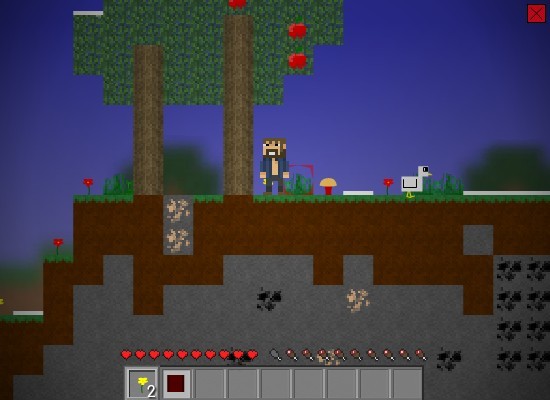 This game is still being updated and in every update, there are many new and
features!
Here's some of the biggest features:


- Random world generation with seed numbers!
-
The ender dragon boss fight!
-
Nether!
- Experience and enchantments!
-
Crafting! (Hundreds of recipes)
-
Mobs! (Including monsters... SSSsssss!)
-
Redstone! (Pistons, dispensers
, note blocks
, redstone dust, ect.)
-
Save/Load worlds!
-
Day and night, and weather!
- Riding pigs!
-
Creative mode!
- Afro!
And
much
much
more of course!
By: Zanzlanz - Zanzlanz.com
FAQ:
- I get asked a lot on how to place blocks, use the crafting table, or craft something.
An easy answer is that because Flash doesn't allow for right-clicking, so you have to instead Shift+click
- Will there ever be multiplayer or texture packs?
There will not be those features, but I do plan on adding all three of those in Mine Blocks 2.
- A second version!? What's Mine Blocks 2?
Yep, Mine Blocks 2 is a more ambitious version of Mine Blocks. I plan on having multiplayer, skins, texture packs, tons of bosses, awesome AI, and an actual story line. It's not coming very soon, but the project is started and slowly forming. You can play the alpha versions here.
- For further help, go to the FAQ or help section in-game.