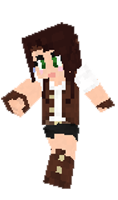 Hi! I'm Pandaraze and I love making Minecraft skins. I mostly make female skins, but I sometimes make male versions too.
Usually I don't do requests, but if you have a good and creative idea for a skin you want made I might be up to it!

I use SkinEdit and Photoshop to make my skins.


Currently not doing requests.

Female skins
Male skins
Others

More skins on my PlanetMinecraft profile!