Hi all!
I´m not used to post in the forums, but read everything you do, and found amazing stuff here.
But now I have a little project and got stuck, due to my lack of knowledge in redstones.
So i´m posting it here, and anyone can help, or even improve the idea.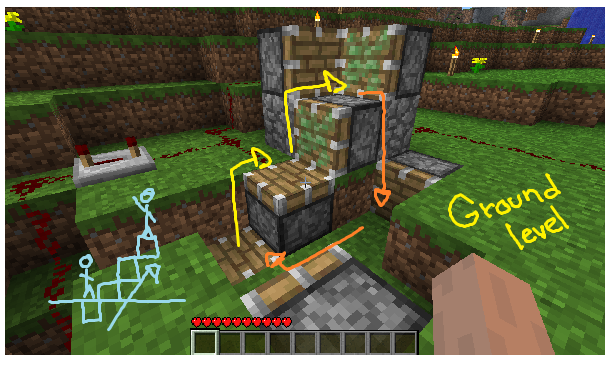 The idea is to make a scalator... A block of sand put in the lowest piston (where the yellow arrow start)is lifted one level, then the sticky piston grabs it and pull. After that the next piston lifts again the block, and the other sitcky pushes again, and so on... At the end of the scalator another piston pushes the block out of the system,since its sand, it will drop to the bottom, to be pushed back to the inicial position. And the cycle restarts. If this is possible, you step in a piece of sand and are transported to any high, smoothly and no need for buttons. I should work automatically, in my opinion.
The problems:
I really don´t know the use of redstone to manage the timing between pistons for it to work.
As you see in the picture, at the last level, theres no way to put a piston to make the sand go up.
Do you think this is possible to make? Can help?
Thinking of any way to improve it?
Thanks in advance.