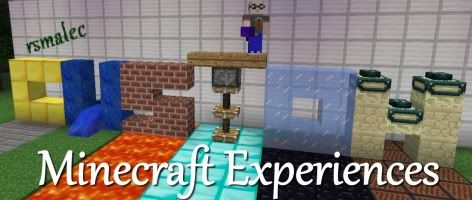 YouTube: www.youtube.com/rsmalec
Twitter: @rsmalec
MAP RATING CANDIDATES
Status: FULL
I am not auto-accepting review requests at this time, but please feel free to post your links here for the consideration of the community.
What will catch my eye are truly unique maps that are designed with quality. The shorter the better. Must have screenshot(s) or video.
Maps in progress
Looking back on custom maps month by month, from 2011 - 2014!
RECENTLY REVIEWED MAPS
Apr 14
Perfect Vacations
, by Vagosssssssssss:
19
(4+4+3+4+4)
vid
, Fantasy, 4 hrs
Apr 13
Moblympics
, by Golgot100:
14
(3+2+3+3+3)
, Zombie follower, .5 hrs
Apr 7
Frost Breath
, by Ermin Caft:
15
(3+3+3+3+3)
vid
, Arctic, 2 hrs
Mar 9
Legend of Blocks: Heist
, by sicarius_19:
11
(2+2+2+3+2)
, Modern, 1 hr
Curious about what I'm playing most recently? I try to change my skin for every LP. Here's the latest! http://www.mcskinsea...om/skin/rsmalec

You can find other ongoing series on my YouTube channel ( http://www.youtube.com/rsmalec ) including mod reviews, map making tips and vlogs, survival series, multiplayer servers, and more!
Full list of adventure map ratings moved to second post
Full list of ratings for all other map types moved to third post
Ratings explanation and guidance moved to fourth post
MY PUBLISHED MAPS
... have been moved to the bottom of the 4th post.
If you enjoy my maps and ratings, please consider donating so that I can keep improving!