Your blocks will move with...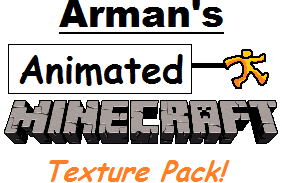 (ALSO SEEN IN THE MINECRAFT 1.5 SONG! Thank you YourMCAdmin!)
A brand new animated texture pack I made with Paint.NET! It is compatible for Minecraft 1.5 and 13w11a, and is downloadable. More animated textures will be coming soon in next updates.
What's New?
Download Arman's Animated Minecraft Texture Pack
:
CLICK HERE
Compatible with Minecraft 1.5 and 1.5.1
Do you want to know how I did this texture pack? Well then here's the tutorial:
More junk coming soon! (Published in 14, 2013)
This will also work in other snapshots of Minecraft 1.5 which supports animated Texture packs.