[1.5.x / 1.6.x] Backpacks v. 1.22.25 SMP + SSP (updated 01.12.2013)
This is a rewrite of MigthyPorks Backpack Mod. Unfortunately he no longer supports this mod. But he put all his code to the net so others can resurrect it.
This is nearly a 100% rewrite of the old mod because the old code was extremely dirty and this is a version for Forge.
If you want to report a dupe bug please PM me.

Don't

post it in the thread.
All other bug reports go to the bugtracker now.
You have a feature wish? Go to the bugtracker, click "new issue" and change the template to "feature wish"
Requirements:
MC 1.5.2: Forge 7.8.0.686 or greater
MC 1.6.2: Forge 9.10.0.776 or greater
Download:
Vanilla (Client and Server) / MCPC+:
If you want to support my work please use the adf.ly Link
MC 1.6.2+
Download
Alternative Download
MC 1.5.2
Download
Alternative Download
Bukkit / MCPC Port (Server):
Thanks to ExtremeAsus for making the bukkit port.
MC 1.4.2
(Direct)
Installation (Client):
Install Forge if you haven't done it yet (for 1.6 watch this tutorial)

Download backpacks from the vanilla section

Put the zip in you mods folder (don't extract it! Leave the zip as it)

Play
Installation Videos:
Mac:
Texturepacks 1.5:
32px backpacks made by
steevmau
:
http://www.mediafire...bx249gtgg46u00d
Texturepacks 1.4.7:
128px Sphax like backpacks made by
Zernicalo
:
http://bdcraft.net/f.../backpack-mod-0
128px Sphax like backpacks made by
DeRigeurEx
:
http://www.planetminecraft.com/t...95/
64px backpacks made by
Marmax1111
:
http://minecraftcomo...e-de-modos.html
32px backpacks made by
steevmau
:
http://www.mediafire...5lhxep15xsrwdx0
How to craft the backpacks:
Normal backpacks:
Colored backpacks:
Ender backpack (was Magic backpack before):
Workbench backpack:
Recolor backpacks:
Upgrading backpacks:
Bound leather:
Tanned leather:
How to use them:
Simple hold a backpack in your hand and right click to open it.
For the combined GUI sneak click on a block that has an inventory. You can than transfer items directly between the backpack and the other inventory.
You can put any backpack in a separate slot. You access the slot be sneaking and pressing the key to open a backpack (default 'B'). When wearing a backpack in this slot the backpack can be opened by pressing the 'B' key. You can change the key in your controls.
When you wear a backpack it will show a 3D Model on the back of the player.
If you want to rename a backpack sneak and right click. You can enter a new name then.
Special Config Options:
FAQ:
Q. Can you make a version for ModLoader?
A. No. I think ModLoader is outdated and it is a lot more work to make a ModLoader version of a mod. But if someone has ModLoader experience and want to port this mod to ModLoader this person can write me a PM and I will give permission to port the mod to ModLoader.

Q. The backpacks are too huge can you make them smaller?
A. You can change the size of the backpacks in the config

Q. Im playing on a server. When I try to craft a backpack I see the result but can't take it out of the crafting slot.
A. Install the mod on the server too.
Screenshots:
Here an image with all backpacks and the materials you need for them: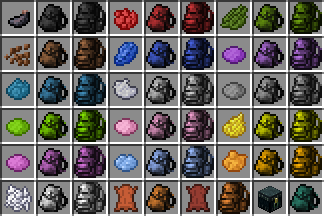 Known bugs:
Priority in [ Brackets ]
Please see bugtracker for a list of currently known bugs and their status
Incompatible with:
Smart movement (broken 3D Model, won't crash your game)

Animated player (broken 3D Model, won't crash your game)
Support of other mods:
InventoryTweaks


Supports the inventory tweaks sorting in all backpacks

NEI (Not enough items)


Hitting the ? button when NEI shows a recipe will show the shadows in a workbench backpack

Hitting Shift + the ? button when NEI shows a recipe will fill the crafting grid with the recipe out of your inventory
Currently working on:
furnance backpack (0%)

new secret backpack (0%)

forestry like feature for picking up and refilling (0%)

improvement of the workbench backpack (90%)
Feature ideas:
Here are some ideas of my own or other people. I will just list them here this does not mean that I will implement them, it only means that I'm thinking about it and that I maybe will try to implement them.
Make a quiver like backpack (soveda31)
Version Log
Mod reviews:
Previous Versions:
ModPack Permission:
If you like my work and want to support me it would be nice if you make a little donation.