Lockdown Prison is a minecraft prison server for the rest of us. We try to be differenent from most other Prison servers because are a completely different prison. We DO NOT run in a block format. We have different tiers that you will unlock on your way up the ladder. We have live events, challenges, PVP, Mob Arena, Sports (soon to come), and TONS of other fun things for you to do plus all of what you'd come to expect from a prison server, but done the right way.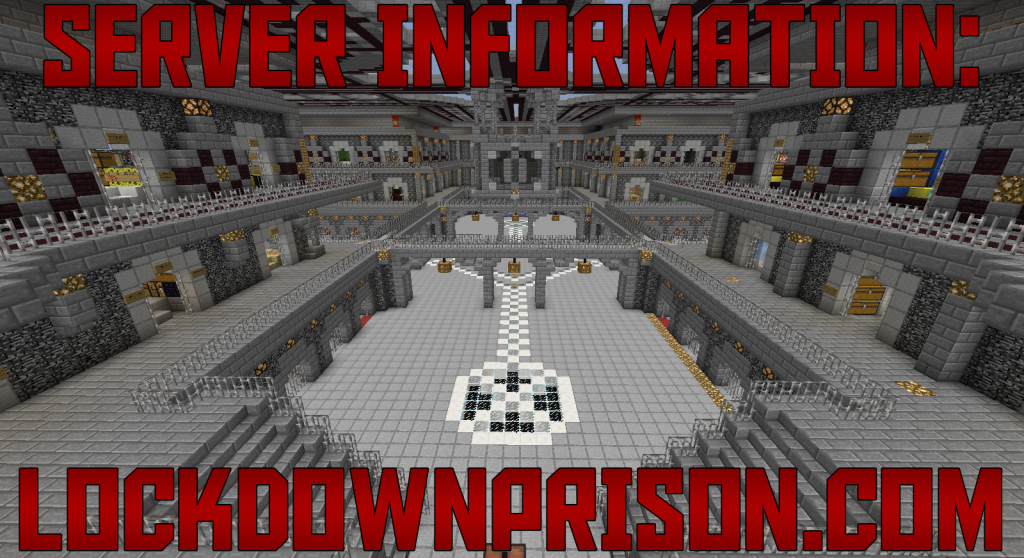 =Owner=
=SrWarden=
=Wardens=

The following rules go into effect every time you join this server. No one is exempt from the rules. Do NOT complain if you break a rule and you are punished for it.
PvP Abuse: If you kill more than 10 people in less than 2 minutes you will be automatically jailed. The only exception of this rule is if a guard or Warden is not online. Jail Time 5 minutes (+5 minutes each additional time).
Camping: Standing outside of a PvP zone and waiting for someone to walk into it to kill them is known as Camping. You will be killed and/or jailed 5 minutes for this offense.
Having visible contraband: There are reasons items are labeled as contraband. Your goal is to get around this rule by hiding your things. If a guard sees you with a contraband item he/she will ask for the item and give you 5 seconds to throw it at their feet. If you do not hand over the item you will be jailed 5 minutes.
Trolling: Trolling comes in many forms. Walking up to someone and hitting them once and repeating the cycle for 5 minutes would be considered trolling. Yes it is fun to screw with some people. If a guard see's you trolling another player, or you troll the guard you will be jailed for 5 minutes.
Trespassing: Did you glitch outta the prison? Maybe your on the roof or maybe somehow your in a restricted area, or a different tier. It's happened and it's going to happen. If this happens to you report it. If you are caught trespassing in an area you are not supposed to be you will be jailed for 15 minutes.
Building in the treefarm: It's annoying, and it's ugly. Most of the times its just random blocks everywhere. You are more than welcome to place crafting tables, or furnaces inside the treefarm. DO NOT build a home!!! It will be destroyed and you will be jailed for 15 minutes.
Placing lava in the mines: If you bring a bucket of lava with you into a farm it better be for a furnace. If you can caught placing lava in the mines you will be jailed for 30 minutes no questions asked.
Splash potions in a safe zone: If you are seen doing this by staff you will be subject to 1 hour in jail and/or a tempban. It's a safe zone for a reason. Take that out to the courtyard!
Wanting a transfer from another server?
Fill out the form below and attach a picture that shows your rank IN GAME!
We accept transfers from:
ANY Prison Server Such as:
Killion
Convicted
Sparatacus
Behind Bars Prison
And more..
IGN:
Name of server your transferring from?:
Have you been banned from the server your are transferring from?:
Picture of your in game name in the chat:
(Must provide a picture. Will be denied otherwise)

Starting Block - This is our only rank that is in the typical block form. You have a multilevel tree farm, a stone mine with coal and iron, and a small pig farm right off spawn. This block is no PVP so players can get started without worrying about losing everything they have.

Rank up price $20,000
Once you rank up from E you will unlock the first tiers of the rest of the prison. This includes the first mining tier which is a Sandstone mine, the first tier of the hunting grounds (mobs), and the first farming tier which has a self planting wheat farm, and melon farm.

Rank up price $55,000
Ranking up from D to C unlocks the next levels in hunting, farming, and mining. The C-Mine is a netherrack mine. The C farming level includes cacti, sugarcane, and a small cow farm! And the C hunting is skeletons to test how good you are with a sword or bow.
Rank up price $100,000
Ranking up from C to B is one of the biggest rankups. You have access to the first mine with diamonds. It is a log mine! Block B hunting is nether themed equipped with magma slimes, pigmen, and even ghasts so you better be ready! B farming is a pumpkin farm and a larger mob farm with sheep and chicken.
Rank up price $150,000
The A-Tier is the final tier before your free. It has a mooshroom cow farm, coco bean farm, and a squid mob farm! The A-Tier hunting is end themed but i'll leave the mobs up to your imagination.... Lastly the best mine in the default tiers, a snow mine loaded with ores.

Rank up price: $200,000
Veteran is the first level of the Prestige system. The higher rank you are.... the better you are and the more you unlock. BUT, we can't go into detail about these ranks.
How far will you push yourself?


Rank up price: $500,000
Rank up price: $1,500,000

Rank up Price: $3,000,000

Rank up Price: $4,000,000

Rank up Price: $5,000,000
Rank up Price: $6,000,000

Rank up Price: $7,000,000

Rank up Price: $50,000,000
Your the best rank of the server. People know not to mess with you now.


SO you wanna be security huh? Theres a few things you better have before you apply.
Security Rules:
1. Don't abuse the powers you have.
2. Don't hand out or sell guard kits.
3. DO NOT attack a player for no reason.
4. Do not jail over 5 minutes for small offenses.
5. Be clear about what contraband you are expecting.
6. Do not PvP for fun or just to kill someone.
7. Keep your gummy bear attitude in check.
8. Don't let your anger get the best of you.
9. Must use the hidden word in the Security Rules in their application.
10. Must be in good standing with other players!
Guard Requirements:
- Active for at least 2 weeks.
- Block D Or above.
- Cannot have any permenant bans on record.
Guard APP Format:
IGN:
Age:
Time Zone:
Date Joined:
Do you understand and agree with the Guard rules?:
What times are you available to guard?
Are you available to be online during weekends? (Friday-Sunday):
Why should we pick you:
Are you staff on any other server?:
Attach a photo of your current rank from ingame (MUST BE FULL SCREEN/ NOT CROPPED):
What makes you different than other applicants? (Include the hidden word in this section):
[By Applying for the guard postition you will not request an admin to look at your app]
Moderator Requirments:
Must be Veteran.
Must be ACTIVE on the server at least 1 month.
Must be recommended by at least 1 current Moderator and 1 Maintenance or Warden.
Must have a good use of the English language.
Must have a good attitude.
Must be respectful.
Must treat all players equally.
Must be liked by other players and staff.
Moderator APP Format:
IGN:
Age:
Time Zone:
Do you understand the rules?:
What times will you be available to be online?:
Can you be online during weekends? (Friday- Sunday):
Current Rank:
Are you staff on any other server?:
Why should we pick you:
[By Applying for the moderator position you will not request an admin to look at your app]

Wardens are hand chosen. Very few! Most dedicated/trusted members of the Prison.

IGN:
Why were you banned?:
What day were you banned?:
Who banned you?:
Was the ban justified? (Honesty counts here):
Why are you appealing?:
Why should we accept your appeal?:
How do we know you won't do it again?:

We have SO many donation packages! My main goal when making these was to make sure you we
very rewarded for supporting us! We have over 40 different donation packages all for you to choose from. Check them out!
Regular Benefits:
- Mob Grinder.
- Snow Mine loaded with diamonds.
- Pumpkin/Wheat/Melon.
- Netherwart Mine.
- And more!
Uber Benefit:
- $150,000 in-game money.
What are you waiting for???