EDIT: My computer cannot handle it.
But: I found someone to host it. For now. Since he can't port forward (like me) I'm still searching for someone to host it. What I need:
-12 hours+ uptime per day
-No lag
-30 spots
-No hamachi
If you're intersted, please add me on Skype. (djdeadk4t)
EDIT 2: DON'T ADD ME ON SKYPE UNLESS YOU WANNA HOST IT, AS THE SERVER WAS TAKEN DOWN ALREADY.
Server details:
It is Hamachi, but I'm not going to tell IP here.
To join:
-add djdeadk4t on Skype.
-Help me test it out
-Be rewarded
After 3 testers, server will be up and public!
What is hack/mine?
Hack/Mine is a mod that completly changes Minecraft into and RPG-style game.
Main features:
-Spells
-Levels
(not lost on death)
-Classes
(re-rolls too)
-New mobs
-ALL found weapons are unique
-Dungeons and towers generated
-Keep inventory on death
-Upgradable stats (with levels)
-Learning spells (with levels)
-Better health system
-No hunger bar!!! (
)
-Minimap included
-New biomes
-Mini-Bosses
How to get it:
http://mirror.techni...nicLauncher.exe
(direct download)
-Drag it on your desktop (or anywhere you will find it)
-Launch it
-In the mod selector, select hack/mine (look at picture)
https://lh5.googleus...uTZnu6hKScd3N5A
-Login with your usuall username and password
-The launcher will now download all required files (Takes a while)
-Once all files are downloaded, the hack/mine window will freeze, close it, run it again with the launcher.
-ENJOY!!
Pictures:
Inventory and stats
Scorpion
ROFLConda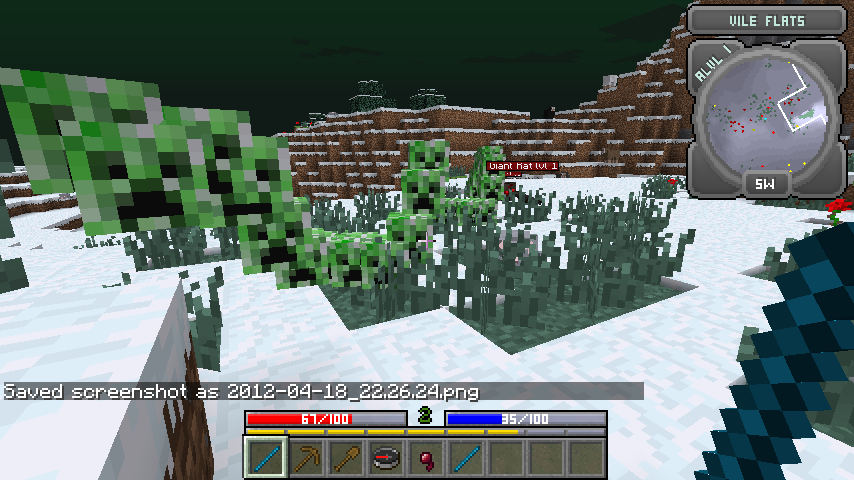 Edited by dsiXLent, 31 July 2012 - 07:59 PM.