SkyBlock PVP(1.1)
What is new?
3 more starting islands, a sand sphere, 4 more resource islands and 4 nether portal islands
V1.1 Standard Download link
Changes
V1.1 2 player (Corners edition) Download link
Changes
2 player (corners edition) pictures
Recommended 4 players. (If you have more why not make teams?)
This is a general overview showing the 4 starting places, the sand sphere, 4 resource islands, and 4 nether portal islands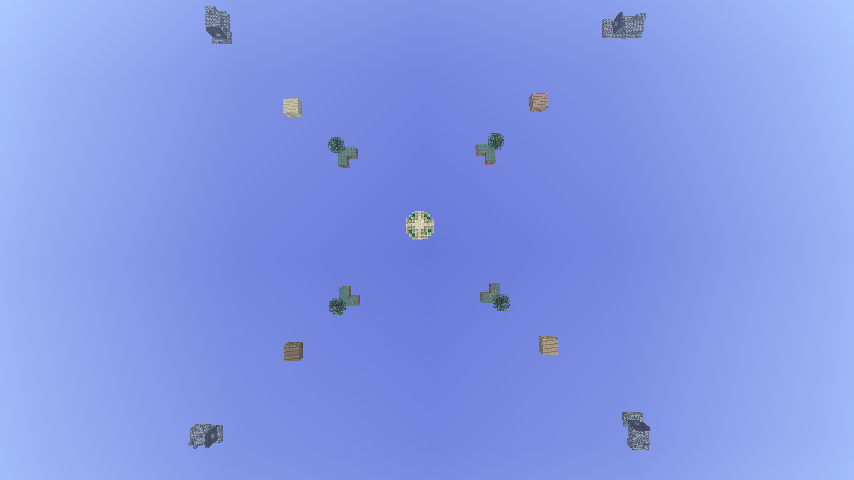 Objectives
Last one standing wins!
Rules
You must do whatever it takes to win (however suicide counts as a loss)
You may modify the rules to your own liking (ex: race to the nether, several lives, no weapons, no cobblestone etc.)
Islands
Your starting island has a hidden chest (very easy to find) with basic starting materials

Your second island has some resources you will need late in the game as well as wood

Your nether island will be used to go to the nether and acquire good materials


Sandsphere
This sandsphere contains valuable materials as well as sand, sandstone, and cacti
​
Where will you go first? The sand sphere? The resource island? Make cobblestone on your own island? Cross the 40 block gap to get your opponents right away? The decision is yours!
Hints
Projects
Signature: (remove **)
[**url="http://www.minecraft...-new-islands/"][**img]http://i1206.photobu...1/signature.png[**/img][**/url]
Download count -206