This mod corrects the spread of water source blocks (springs) so that the surface of water deeper than one block will fill in correctly.
Background
Minecraft will create a water source block (spring) at an empty location if that empty location is adjacent (horizontally) to two or more water springs and the material below is "solid".
Minecraft currently has a bug that prevents a water spring from being created if the empty location is directly above another water spring. In the picture below, the empty location between the water springs will not become a water spring itself.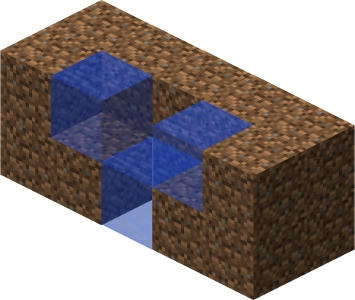 This leads to annoying currents and
painfully tedious ways of fixing them
. This mod corrects this problem, so that, in the picture above, the empty location between the water springs
will itself
become a water spring.
Download Water Propagation Fix for Minecraft 1.3.2 (Client and Server)
Client Installation
Server Installation
Older Releases
Details for developers and those who care