Left 4 Dead 2 - Minecraft Edition Playthrough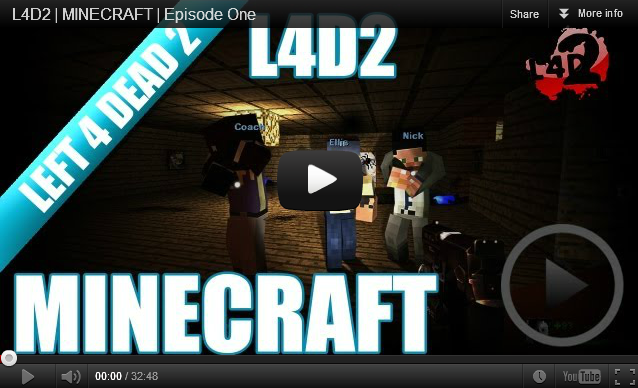 Following in the footsteps of yesterday's "Left 4 Dead" theme, we bring you a detailed, half-hour playthrough of the Left 4 Dead 2 Minecraft conversion, "Deathcraft"! Even if you don't own a copy of the popular zombie shooter, you can still see your favorite Minecraft critters (and others) in an entirely different environment - give it a look!



________________


MineTV, Episode 2: YT Video Producer, Direwolf20




Episode two of MineTV is tomorrow, featuring special guest and video producer, Direwolf20! Want to be in the studio audience for episode two? Signup is even easier than the first time! Just click this link (or the MineTV banner, above) to signup for entry into the LIVE studio audience, which is present on-set during the broadcast of the show! Become famous! Wave at your friends! Get your picture taken with Direwolf20, and the MineTV crew!

Not familiar with Direwolf? Now might be a good time; he makes tons of awesome videos about mods, tutorials and Let's Plays, all with his signature delivery style! Click his name above, and find out what sixty thousand subscribers already know!

The show will broadcast LIVE at the usual channel; schedules and links are below:

Showtime

7:00 pm EST
6:00 pm CST
4:00 pm PST
11:59 pm GMT

Livestream channel: Click here

Having some trouble with timezone conversions? Click the link below, and align the green slider until it says "7:00 pm" for New York - the time listed for your timezone is when the show goes live!

Timezone conversion made easy



________________


Minecraft 1.3 Update Goes Live Tomorrow!

Had a chance to test out the 1.3 update pre-release yet? If not, the wait for 1.3's official release is nearly at an end - it goes live tomorrow! When the patch goes live, the client should prompt you to update automatically. If it doesn't, you can force the update to patch correctly by clicking the Options button on the Minecraft launcher, and pressing the "Force Update" button - easy!

We will be posting any updates that may have been included with the official 1.3 update; however, it is expected that the pre-release contained all the features present in the live version, to ease the transition for mod makers and texture pack artists into the new version.

See you in 1.3 soon!