Darxidium
Out of the Water
Posts:

6
Everytime I try to start Minecraft, I get the error shown in the picture at the bottom of this post. It just started doing this randomly two weeks ago. I had not changed anything at all with Minecraft or Java before this started happening. I've been playing Minecraft on this computer for the last 6 months without any issues at all.
I have tried deleting Minecraft completely, downloading the launcher again, deleting and reinstalling Java entirely, I just don't know what else to do.
I downloaded a program called MagicLauncher to play Minecraft with. It shows the same error when I try to start it, but then Minecraft opens afterwards in spite of the error. However MagicLauncher seems to make Minecraft run slower on my computer and I just want to be able to play the game properly.
Any ideas?
EDIT: For the record, I know this looks like a Java error, but this problem ONLY happens in Minecraft, and not anything else that uses Java.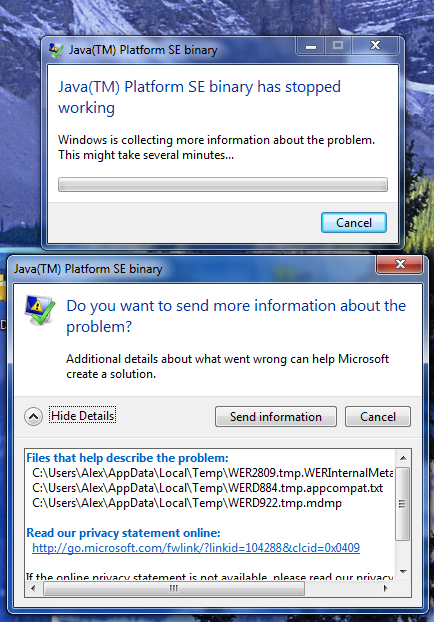 Last edited by
Darxidium
: 2/18/2013 12:21:50 PM