Toffeegerbil
Zombie Killer
Location:

United Kingdom

Join Date:

3/3/2012

Posts:

166

Minecraft:

ToffeeGerbil

Member Details
'Can't Connect To Minecraft.net', 'Took Too Long To Log In': MASTER THREAD
Problem:
After updating to 1.2.3 the user experiences a blank grey screen when running minecraft. In addition they can no longer log in using the client, nor can they connect to ANY servers, running 1.2.3 or otherwise.
Hypothesis:
All of the symptoms: grey screen, unable to log in, unable to connect to any servers are most likely caused between a lack of communication between the client and minecraft.net. (Which may have to do with uses running a 64 bit OS - read on)
WHAT IS THIS THREAD
I am almost adamant that this is a problem on Mojang's end rather than that of the user. There have been 15 threads relating in some way to this problem in the days since 1.2.3's release yet no official response. This is a thread to link them together to try and attract some official attention.
I will update this thread with any new information as and when it comes out.
---
The Problem: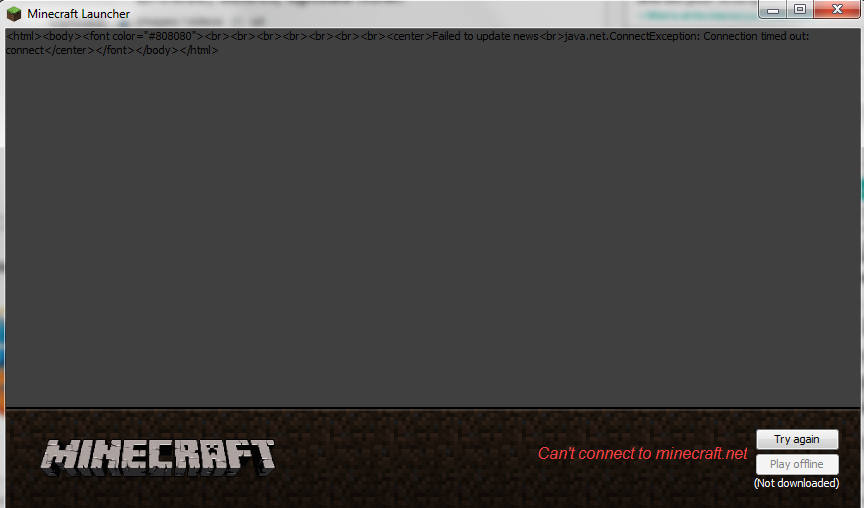 "<html><body>






<center>Failed to update news
java.net.ConnectException: Connection timed out: connect</center></body></html>"
No MC splash screen, it takes 20 or so seconds to "log in" where the user will get the error: Unable to Connect to Minecraft.net In addition, if the user presses "play offline", when trying to connect to any server they will experience the error: Took Too Long To Log In
(Note that play offline is greyed out in my picture because I reinstalled windows in an attempt to fix the problem, and the MC files dont download to your /appdata/roaming/.minecraft folder until a successful log in - so i'm without singleplayer too! - Edit: This can be cured by playing singleplayer once, using the browser - that still works)
Error when trying to join any server: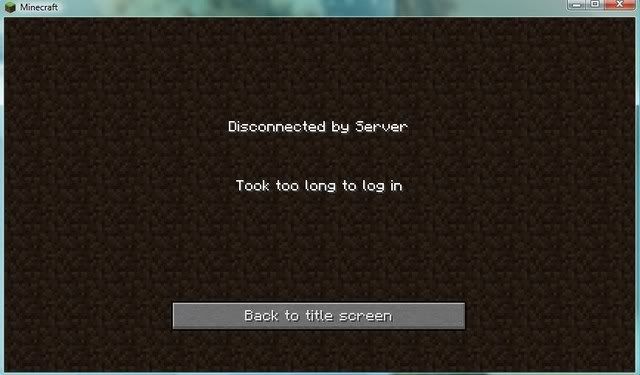 Why are we getting the problem?
From what I have seen, and my own experiences this is because we are using 64 bit Operating systems, browsers and java etc. It would make sense as I believe 1.2.3 had some sort of update for 64 bit clients included. This is what has gone wrong in my opinion. In regards to connecting to servers, this is NOT because the server host has or has not updated to 1.2.3 the problem is present when trying to connect to ANY server. This, and this is a hypothesis, is because your client connects to minecraft.net to authenticate your account when logging into every server. This is why illegally downloaded copies cannot play multiplayer - as they dont have a premium MC account.
Solutions Tried by the Community:
Disable Firewall: X
Disabling anti virus: X
Download 64 bit Java X - Personally I have tried 6 update 31, 6 updated 29, both 32 & 64 bit.
Upgrade to Java 7 update 3 X
Update Java X - Across the threads 20+ different Java releases have been tried.
Reinstalling MC by deleting /.minecraft folder and re-playing X
Reinstalling the Operating System X
Using a previous Jar file, for say MC 1.2.0 X
Downgrading an online server to a previous build X
Running MC in 32 bit mode, or any compatibility mode X
Receiving the .exe from a x64bit windows 7 that works X
*Users can still access the game through the browser, but will be unable to connect to any servers regardless of which version the server is running.

If you have tried anything else, please post below and I will add it to the list.
Other Threads Relating to This Issue:
(I would list the 'users' experiencing the issue but the list would be too vast)
Most state they are using a 64 bit OS.
It would be great if you guys could head over to some of these topics and direct them here. As a new member (just made this forum account because of this bug) I only have 8 more posts today, and I would like to save those for this thread.
My Current Java and System Specs:
(And other resources that may help Mojang)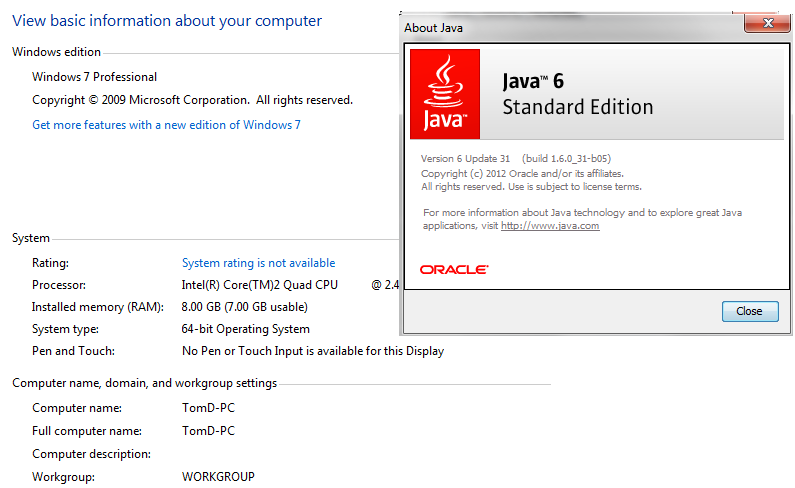 TerraSleets' specs:
OS: Windows 7 64-bit
Java: SE 1.7
ISP: UWE Bristol's ResNet
Proxy: uni custom proxy .pac
Oakelys' specs:
Windows 7 Ultimate 64 bit
Intel Quad Q6600 2.4Ghz
5GB RAM
Nvidia 8800GTS 512MB
Java Version (Tried 6 and 7, 64 and 32 bit - no difference)


Isaacs' specs:
Windows 7 Home Premium 64-bit SP1
Intel i7 2720QM @ 2.2GHz (3.0 turbo)
8GB dual channel DDR3 RAM
Dell/Alienware
Alienware M14X
NVIDIA GeForce GTX 555m (3GB) and Intel HD Graphics (1GB)
*At this stage, almost without any shadow of a doubt an issue exclusive to those running 64 bit Operating Systems
Video of the issue, uploaded by Mariofan1:
-------
Please could you direct all other threads to this master thread. If we make it a hot topic it may get noticed by Mojang. There has been no official response yet, but buckets and buckets of topics - often poorly written with ridiculous solutions offered by the community. I myself play on a fast paced griefing server and my stuff is getting destroyed as we speak, we all have our reasons for wanting to get back to playing this great game. Mojang, help us!
Posting system specs and Java versions here will also help.
Mariofan1:

IMPORTANT

Everyone who has twitter should tweet this message:

@notch @jeb_ @jonkagstrom @carlmanneh @mollstam @Kappische

http://www.minecraft...-master-thread/

This is important, huge minecraft bug.