Creeperhost
Curse Premium
Stuck at Home
Join Date:

9/12/2011

Posts:

454

Member Details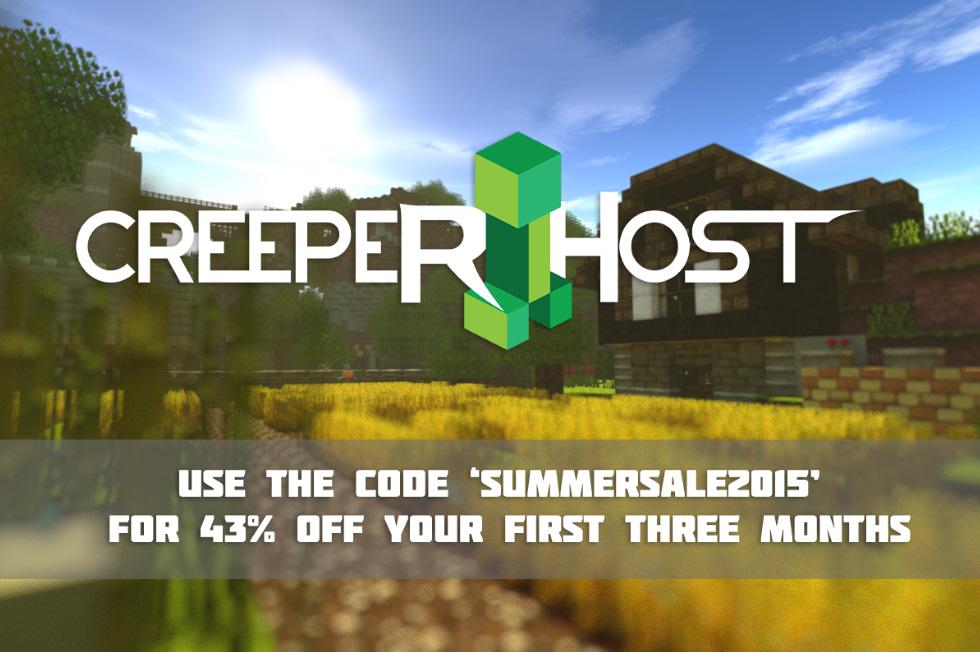 CreeperHost is an English company that specialises in low contention linux gaming VPS, allowing you to run Minecraft, Terraria, Starbound, Starmade and more from one package. Servers coming with full root access and a dedicated IP as standard, allowing you a powerful platform to build your gaming empire.
All of our servers come packed with features, we hold the latest Minecraft server files for one-click installs so there's no need for you to upload, we have the latest (and of course earlier versions) of Vanilla Minecraft, latest Bukkit (stable, development and beta), latest Spigot, Latest MCPC and Legacy. We are the official partners of Feed the Beast and support their private mod packs as well.
Our VPS servers are set up in minutes (barring external circumstance), our support is super fast, and all our VPS's come with tools for installations and monitoring, gameplay and world control that are easy to use and configure.
Website
|
Official Facebook
|
Official Twitter
|
Our Community
|
Our Partners
Get one, get in and get playing!



What can you give us?


At CreeperHost, our main goal is to only charge for the resouces you use, not make as much money as we can from each customer.
The majority of users won't be playing Minecraft, GarysMod and Starbound at the same time... Why do you have to buy 3 game servers? Buy one.
Buy one from us, you'll get access to a library of games, you can even run more than one at once if you purchase enough resources, you get our trained support staff, an average response time of 15 minutes, and our industry leading "
Satisfaction Policy
"
How can I pay?


Paysafe card, Paypal, Direct Debit & Credit & Debit Card
If it's broken, how long will it take for help?
We have a 15 minute average response time, a live chat where you can discuss issues with all our existing customers, a self service forum where correct answers provided by other customers result in you earning money towards your server bill. And last but not least, 24 hour telephone and ticket support




How would I manage my service?
CreeperHost run's a custom built panel called 'CreeperPanel', this is not a custom frontend to popular third party panel software, but an entirely custom software which we develop and bug fix in house.

At this time version 2.5 is current on a feature freeze while version 3 is being developed, version 3 is expected within the next 3 months and continuing development on version 3 after release to expand it's feature set.

If our CreeperPanel is not to your taste, don't panic! You are given FULL ROOT SSH access, this let's you install any Linux compatible control panel, however, as our staff are not trained in these, support will be limited.




Do you use SSD's?
YES! Of course, it's nearly impossible not to have block lag without either a RAM drive or Solid State Drives, RAM Drives are volitile and a loss of power could cause total data loss, so we use Solid State Drives and RAID 10 to try and ensure data consistency through even the worst possible situations




Okay, I'm sold, how long will it take for my server to be set up?
Don't worry, we're pretty fast, almost all our services are up within 10 minutes, if there are any issues, we run 24 hour support who will assist you with any issues in the setup process.




I live in X, do you have servers near here?
We have servers in many places, if you need help picking a location, we'll be happy to provide pre-sales support.


What slot packages do you have?
This is where it gets more complicated, we believe hosts cannot reliably sell servers by slots, because 10 players, playing in a city on a Vanilla Minecraft server, does not use the same amount of resources as 10 players living as far apart as possible on a Modpack, we sell you resources, you will ALWAYS get what you have paid for that way, no short change!




Okay, so what packages DO you have?
That's pretty easy, we have quite a few, most are +100mb memory more than our rivals due to the fact virtual machines require memory for their own operating system!


Magma Cube
768MB memory and 8GB storage
Starting at £5.99 per month



Silverfish
1024MB memory and 10GB storage
Starting at £8.99 per month



Chicken Jockey
1536MB memory and 15GB storage
Starting at £11.49 per month



Zombie
2048MB memory and 20GB storage
Starting at £13.99 per month



Cave Spider
2560MB memory and 25GB storage
Starting at £16.49 per month



Spider
3072MB memory and 30GB storage
Starting at £18.99 per month



Spider Jockey
3584MB memory and 32GB storage
Starting at £21.49 per month



Skeleton
4096MB memory and 34GB storage
Starting at £23.99 per month



Zombie Pigman
4608MB memory and 36GB storage
Starting at £26.49 per month



Wither Skeleton
5120MB memory and 38GB storage
Starting at £28.99 per month



Creeper
5632MB memory and 40GB storage
starting at £31.49 per month



Blaze
6144MB memory and 44GB storage
Starting at £33.99 per month



Enderman
8192MB memory and 50GB storage
Starting at £50.99 per month




Customisable Dedicated server
This is a dedicated server! Completely yours to customise, we have budget dedicated servers and premium dedicated servers. You can find more about our dedicated packages here -
https://www.creeperhost.net/configure-dedicated.php




Please keep in mind that our packages are VPS', which means you get full root access, and the ability to install other game servers, websites, mysql, etc,

Also keep in mind, we won't block use of offline servers, however we are not willing to provide technical support towards them.


Features and Information

Our new control panel, CreeperCP is almost complete, it is integrated with dev.bukkit.org to allow you to search their site and install plugins with one click, options for installing MySQLd, Apache HTTPd with PHP and Mumble VoIP Server onto your VPS with one click, aswell as a File Manager and PhpMyAdmin built in.

We are always looking for new features to add to our control panel and as such we have a Suggestions ticket area for our registered customers, so you can help shape the features you want or need on the control panel.

We have options for off-site backups so you can store a copy of your information on a secure, remote server, should anything ever happen to your server.

CreeperGuard© is our propriety technology which is capable of logging into Minecraft servers, this allows us to give accurate information as to if a customers server is online, or has crashed/frozen and kept it's ports open, CreeperGuard also attempts to recover a crashed/frozen server in under 30 seconds, so you can rest assured your server will never be down, even while you sleep!

We have data centres located in Europe and America, allowing us to provide servers to most the world, if you have questions about latency, please send a support ticket and we will advise you how to check.

Our standard location procedure is we will pick the closest available location to your billing address.

We run a guaranteed 12 hour maximum response time, if we take longer than 12 hours, we will give you a partial refund, our average response time is under 15 minutes for support tickets, and we will always help you if we can, even if it is outside your support package.
*Subject to terms and conditions outlined in our terms of service

I am a representative
of CreeperHost