GladiusCrafter19
Carpenter
Join Date:

9/15/2012

Posts:

59

Member Details
IP: BraveTekkit.No-Ip.ORG
COMMENT ON WHAT YOU THINK WE SHOULD ADD TO THE SERVER!
SECTIONS:
1. Introduction
2. Rules
3. Economy
4. Commands
5. Protection
6. Locking
7. Voting and Donating
Brave tekkit is a very unique minecraft server made by experienced minecraft server owners. We currently run a very HUGE server called the brave network (average 90 players online), and our community wanted a new tekkit server! So this is how brave tekkit was born! It runs solely off donations and voters, we have 50 slots and will upgrade if we get some donations.
Just like most servers, our server has a set of rules to keep game-play
stabilized
Please read over these rules, and be sure to follow them to keep everything running peacefully
1. No Griefing
If something is not yours, don't break/place blocks around it.
2. No Hacking
Do not use mods to fly, x-ray, etc! Don't abuse glitches either.
3. No spamming
This means do not use caps, send the same message, etc.
4. Respect everyone
Swearing at other players, calling them names, and bullying is not allowed.
5. Do not ask for staff, items, or OP
Doing this is very annoying for our staff.

6. No stealing
Do not steal from chests, furnaces, etc even if its not locked

8. No advertising
This is not cool, you will be auto-banned by our auto-ban system instantly
Economy Commands:
/econ - Check how many BUX you have (BUX is our currency)
/econ pay - Pay someone BUX
/jobs browse - See a list of jobs
/jobs join - Join a job from the browse list

Economy Info:
Economy is used to purchase protection, buy from chestshops, trade with eachother, etc. Our currency is called BUX.
You can vote every 24 hours for upto 900 BUX by typing /vote

ChestShops:
First, place a sign above a single chest. On the sign you place the info like this
First Line: empty (It will auto place your name)
Second Line: (Quantity #)
Third Line: (Buy price) : (
Sell price)
Fourth Line: (Item ID)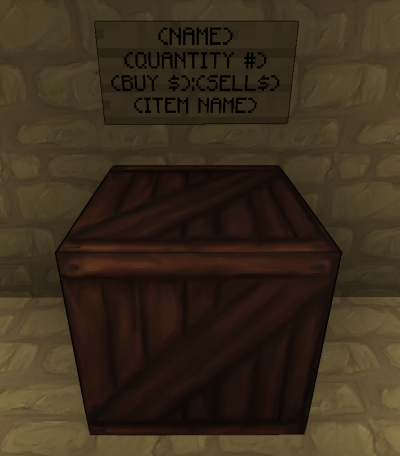 When complete, the sign will look something like this: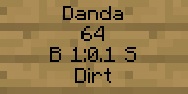 /tpaccept - accept a teleport request

/who - list of online staff and number of players

/spawn - teleport to the spawn point

/sethome - set your home to your current location

/home - teleport to your set home location

/warp - warp to a specified location

/vote - vote for up to 15 diamonds and 900 bux every 24 hours

/prot - learn how to protect your land

/msg - whisper to a player without anyone else seeing it

/kit starter - get a few items to start off with

/tpa - request to teleport to a player
To protect your land, you must place a protection stone.
The biggest protection stone is only available for VIP, get VIP: /getVIP

/prot1 - 11x11x11, 100 BUX
/prot2 - 21x21x21, 500 BUX
/prot3 - 41x41x41, 1000 BUX
In our server, everyone gets to lock their chests, furnaces, doors, etc.
To do this, just right click the object with a sign.
To add a friend to your lock, type /lockette <line number> <text>.

Our server needs everyone to vote everyday, we know you can do it. The more votes we get the more players we get, the more players we get the more donations we get, the more donations we get, the more slots we get, and so on.

To Donate, type /getVIP in game. To see what VIP gets type /warp VIP
To Vote type /vote, you get 5 diamonds and 300 bux for each site you vote on

Thank you, and we appreciate you for your taking your time to read through this!
- Brave Tekkit Team