Osterlitz
Obsidian Miner
Join Date:

6/5/2011

Posts:

1,334

Minecraft:

Austerlitzer

Member Details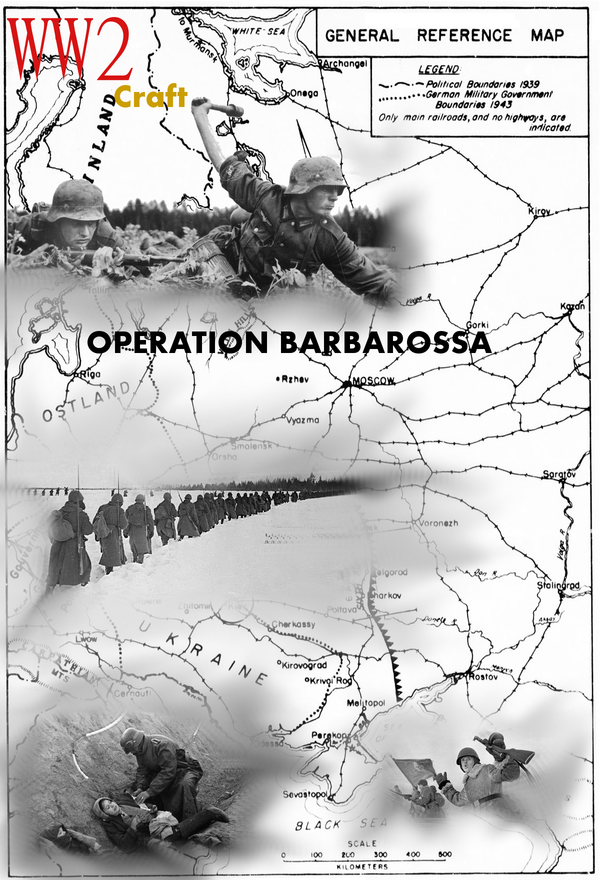 What is WW2Craft Operation Barbarossa?
Operation Barbarossa is the largest invasion that any army has conducted in human history, both in terms of casualties and manpower. It started in June 22, 1941 when forces of Nazi Germany invaded the Soviet Union in a daring gamble to capture Eastern European land to gain more Lebensraum (German for living space). Hitler and his field marshals gambled on capturing the fragile Soviet capital by mid November, however the turn had turned when the autumn rains and winter mist crept into the clothes of the German soldier. This server attempts to create a brilliant portrayal of the Eastern Front through what we call our 'grand campaign'. If you like planet side 2 or even world war 2 online then you would know how we are structured; more or less.
The server switches between maps 'sector campaigns' depending on which team won the last campaign. Each map is huge in size and spans miles (literally) in order to get that feel of total war and total destruction. WW2Craft comes here to offer all campaigns in the history of world war 2! From the Eastern Front to Pearl Harbor even! We are that inclined in making sure you, as a mine craft player, get the best experience possible. Why settle for Ace of Spades, when you have WW2Craft?
The Teams and Equipment
Equipment is quite important to each country, but the way you use them really influences how effective they are in combat. Just take a list at the weapons available to each team and thus to every player. Please remember though that there is a re-spawn timer for everything so don't waste your ammo, or assets!
Gross Deutschland (The Greater German Reich)
Infantry Weapons
*Kar98k
*Kar98k Sniper
*Mp40
*Mg42
*Luger Pistol
*Panzershreck
Vehicles
*Kubelwagon car
*Opel Blitz truck
*Wirblewind Mobile AA Unit
*Hummel Mobile Artillery
*Panzer G
*Panzer H (Side armor)
Aircraft
*Bf 109 E4
*Ju 87 Dive bomber
*Ju 87 G (Anti tank gun)
*Heinkel 111 Bomber
Fixed Artillery
*Flak 88m Anti Air
*Flak 88m Anti tank cannon
*Flak 88m Anti tank cannon with camo
Union of Soviet Socialist Republics
Infantry
Weapons
*Mosin nagant
*Mosin nagant Snipe
r
*PPsh 41
*Dp28
*TTT33
*Bazooka
Vehicles
*Jeep
*GMC Truck
*T 34
Aircraft
*Yak 3 Fighter
*Lancaster Bomber
*Hawker Hurrican
e
Fixed Artillery
*
Flak 88m Anti Air
*Flak 88m Anti tank cannon
*Flak 88m Anti tank cannon with camo
What you should remember is that equip takes time to spawn in bases and that you shouldn't waste your supplies since that could be the downfall of your army. Anyways hope you enjoy this display!
The Capture System
http://s374.beta.pho...aebbc1.png.html
The building to the left of the picture is an army base capture point, whereas the fort to the right is where people from that CP spawn.
http://s374.beta.pho...249819.png.html
The building to the left is an army barrack capture point, whereas the building to the right is where people from that CP spawn. Please note that this capture point provides infantry, transportation and anti tank supplies whereas the Army barrack provides vehicle supplies in addition.
There are is a third type of capture point that is exactly like an army barrack however it is of historical significance; it is still considered an army barracks. One example would be Brest fortress.
The Open Beta
In order to test the new server functionality out before re-release, we have been opening the server sporadically for beta testing, which is open to anyone willing. You may visit to see if the servers up! For now we are testing weapons so it is tdm.
IP: ww2.minecraftserver.net
[servers up to the public 24/7 and you don't need manus pack right now! Just ww2 and simple parts!]
http://www.minecraft...oad.php?list.41
Remember you must have flans mod and the content pack above (also Ww2 flans content pack and simple parts pack)