SuperSpartan555

Coal Miner
Join Date:

5/29/2011

Posts:

123

Minecraft:

SuperSpartan555

Member Details
"Nothing is True, Everything is Permitted...
This is The Creed we follow and it will not die even if we all die"
I made this clan for the people of Minecraftia who want to join a good Assassin's Creed Minecraft Clan
Ranks
When you join the clan you will start out as the rank of Novice. You will rise up the ranks by being active in the clan and the form, following The Creed, and carrying out your Assassination Contracts.
You May Pick from 3 specialties; Spy, Fighter, or Free-runner. Spys are the best hidden assassins. they hide in the crowd until the moment is right better than any other assassin. Fighters are the main fighting force for the assassins. They are the strongest assassins and do the most damage and have the most armor. Free-runners are the rooftop assassins. They are the best free-runners and can run the fastest and jump farther than other assassins, but have very little armor.
The Ranks are as follows:
Complete all 3 specialities
4. Master Assassino
Spy:
3. Master Assassin Spy
2. Assassin Spy
1. Spy
Fighter:
3. Master Assassin Fighter
2. Assassin Fighter
1. Fighter
Free-runner
3.Master Assassin Free-Runner
2.Assassin Free-Runner
1.Free-Runner
If in the clan download a skin according to rank:
1-3:
http://www.minersneedcoolshoes.com/2011/03/08/assassin-recruit-2/
4:
http://minecraftskinshare.com/skin/assasins-creed-altair
The Creed
The Creed is an Assassin's way of life. He or she never deviates from it while under any circumstances.
The Creeds Maxim
"Nothing is True, Everything is Permitted" is The Creeds maxim. The maxim is the main line of The Creed and is most known, but The Creed has The Three Tents are also followed by the Assassin.
Stay Your Blade From The Innocent
Do not kill any Minecraft Players that you do not have a contract to do so unless you are defending yourself.
Hide in Plain Sight
Hide among civilians and stalk your target. Go for the kill when the time is right and slip back into the sea of people.
Never Compromise the Brotherhood
Never embark on a rout that might reveal the clans location on an MC server. After an Assassination, if your being chased loose the target first then retreat to your hideout.
Assassination Contracts
You will be assigned Assassination Contracts on other players or NPCs. If you complete the assassination you will get money and rank points. You will be assigned different contracts based on your speciality.
Servers
Brothers of the Creed has 2 servers. One is an Assassins Creed RPG server and the other is a Creative building server. Both IPs are at the bottom of the post. Here is the link to the RPG server:
http://www.minecraftforum.net/topic/551025-assassins-creed-online-minecraft-rpg/page__p__7275799#entry7275799
Application
Fill out this application and I will get back to you.
Minecraft Username:
Speciality:
Assassins Creed History:
Why Should We Pick You?:
Members
SuperSpartan555: Master Assassino
Lilnoik1: Novice
BishopBisharps: Free-Runner
TN55: Novice
Zephonman: Novice
ShavedPuppy: Novice
Slipknotfan567: Free-Runner
Wolfzs: Novice
xExiLeZ: Novice
Pinkshadow41: Novice
Hunter_Gunther: Novice
Dotum: Novice
Valderock: Novice
Topgunner720: Novice
taikiji: Free-Runner
Valderock: Novice
Topgunner720: Novice
Bryce300: Novice
penguin7: Novice
jorisborra: Novice
LeChosenOne: Free-Runner
FE1998:Novice
Stealthwolf29:Novice
jeffewing997:Novice
littlecezer:Novice
Sbbu:Novice
Xtreme921:Novice
percy795:Novice
aaaad1122:Novice
zerokhaos:Novice
ii_GoldDigger_ii:Novice
falfurasman:Novice
Zuixa :B:Novice
UTommieTanka:Novice
neatfreak11:Novice
lordkill566:Novice
Beholdenfire:Fighter
TwistedMixed:Novice
princetonlax21:Novice
xMarkycraft47:Novice
MelvinT:Novice
grazingcow:Novice
PawelLipski:Novice
ghostlink123:Novice
ryot333:Novice
MRDEATH10:Novice
TaylorStriffe:Novice
Xakama:Novice
xepicxmonkey:Novice
BattenBang:Novice
maximas1244:Novice
craftypotato:Novice
dariel111:Novice
dustinvdh:Novice
AzNGhOsT99:Novice
zombiekiller232:Novice
Isaac_12:Novice
GStepler:Novice
AgentMac:Novice
Put ether of these on your Signature: http:
http://i.imgur.com/14UlB.jpg
[url=http://mag.racked.eu][img]http://mag.racked.eu/image/261/Brothers+of+the+Creed/mca.png[/img][/url]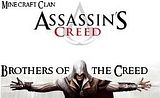 http://i1105.photobucket.com/albums/h341/SuperSpartan555/th_Untitled-1.jpg
Creative Server
IP: 46.20.119.8:28665

Assassins Creed RPG Server
IP:
Nulla è reale, tutto è lecito. Requiescat in pace