RobgersHabit
Zombie Killer
Location:

England, UK.

Join Date:

3/14/2012

Posts:

228

Xbox:

Robgers Habit

Member Details
I've noticed plenty of these tutorials on here that don't fully explain where to find the individual block & weapon codes. Having spent time earlier in the hex editor, I think I may have worked it out.
Once in your level.dat (using your hex editor), scroll down & you'll notice the 'Slot', 'id', 'Count', 'Damage' reappearing down the right hand side in the yellow area. On each 'id' line is your code that corresponds to a block in your inventory, & they are all in the order that they appear in the games inventory.
In this picture I have highlighted the Brick Block (hex code - 2d). You'll notice that on each 'id' line, in EXACTLY the same place as the 2d code, are your codes for the blocks that appear before/after the brick block in your inventory. They appear in the exact same order as they do on the set in game inventory list.
So now you have the order of your items in your inventory, & also their codes. Note that where you find the brick code, the other codes are directly above/below this code on their own 'id' line. Here is a screenshot of the hex values for each block, & with this you'll see the numbers popping up every 'id' line: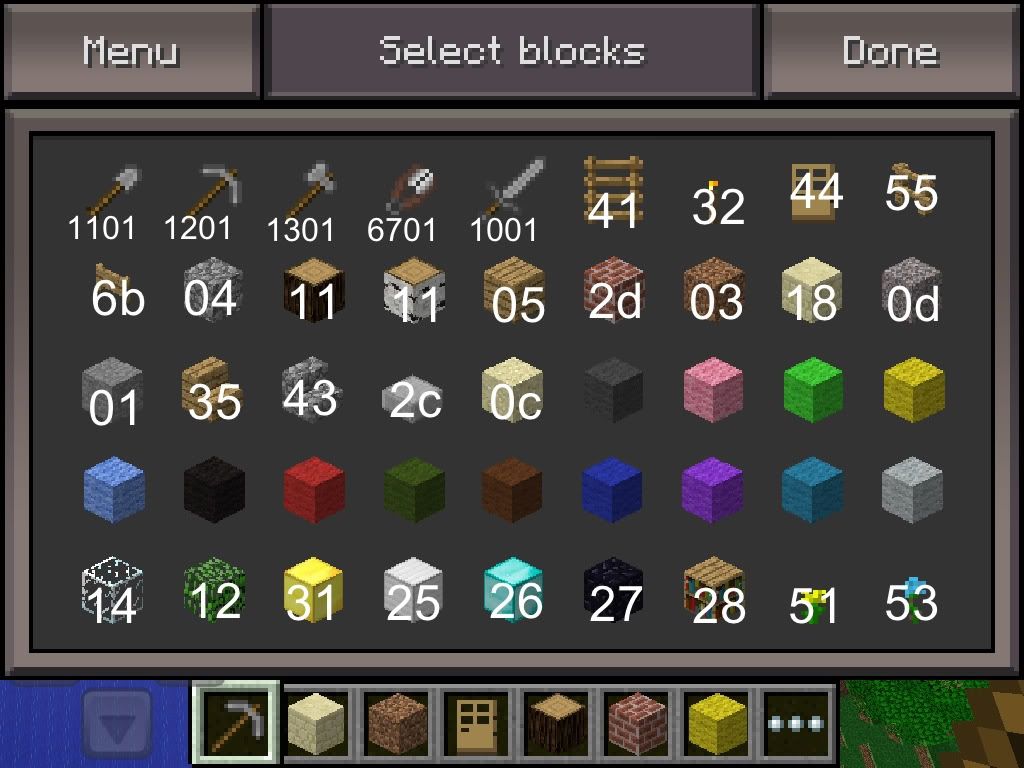 Once you've found your way up the list from the brick block to the ladders ( hex code - 41), you'll notice you have different numbers on your 'id' lines, these are your weapons/tools. Again they appear in exactly the same order as the inventory. The 'id' code for the weapons/tools is now 4 digits long, not 2 like the blocks.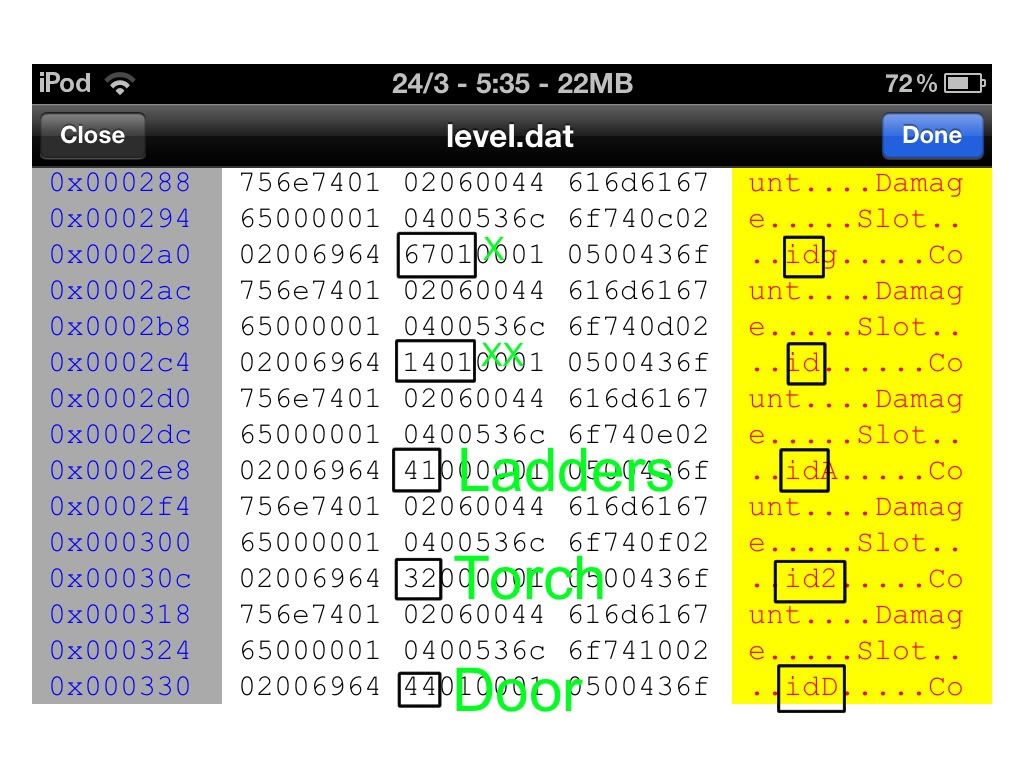 Notice where it says 1401 on my screenshot (XX), it will say 1001 on your list (110 is the code for your stone sword, which translates as 1001). I have changed the stone sword into a diamond sword (hex code - 114, which translates into 1401)
Then above you have the shears (X), which have the hex code - 167, which translates to 6701. This continues up the 'id' list till you have changed all your tools/weapons into the material of your choice.
The full list of values are listed here :
http://www.minecraftwiki.net/wiki/Data_values_(Pocket_Edition)
If you have any trouble working out the weapon/tool/item value just message or post & I'll gladly help out.
I'll do some examples here to get you started:

114 = 1401

117 = 1701

116 = 1601

115 = 1501
When you start the game back up, if your items picture has disappeared don't worry, just click the blank space where the weapons/tools/blocks usually are & there you go.
I am now wondering how to change the damage of the weapons, is this even possible, & do you know the range of values?
Anyway, I hope this helps, have a great weekend.