HardBop
Zombie Killer
Join Date:

8/2/2010

Posts:

163

Member Details
We have plant farming and pig farming, etc. Why don't we have apiaries?
I think that on trees there should be a chance for there to be a bee hive hanging from a leaf block and you use a smoker to put the bees to sleep so you don't get stung to death. Here is the recipe for a smoker
[] [] []



[]

[]
The smoker would run on wood planks and they would burn up in 20 seconds. The way you use the smoker is your right click on a beehive and the bees around it would all fall to the ground, the bees would be knocked out for 30 seconds which would give you time to break the hive, take the honeycombs, and run away. Now you do have the choice of not using a smoker but that would mean having a whole beehive after you. This would be an ailment like fire and jumping into water would be the only way to get rid of them or wait 25 seconds for them to give up on you. The bees model would be a simple 3 pixels that would go like this (they would move very fast so their models wouldn't have to be complex)



When you smash the hive you would have a chance of getting 1 to 3 honeycombs. You could use these honeycombs to start an apiary or they could just be eaten raw. If you put them on the crafting table it would turn it into 3 honeycomb meals (ground up honeycombs) and you could put those in the furnace and turn it into honey.
The option of choosing an apiary would be like farming, so you would have control over the amount of honeycombs you would be getting. The success rate of an apiary would be based upon how many flowers there are in a 10 block radius of the bee box. So a lot of flowers means a lot of honeycombs , the idea is 5 flowers=1 honeycomb a day, so if there are 15 flowers around it you will be getting 3 honeycombs a day . Harvesting honey combs would be similar to getting them from trees but there would be a larger quantity of honeycombs. The way you would build a bee box would be this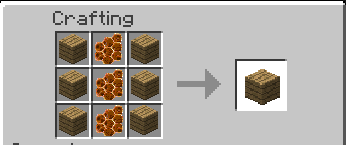 (the final product is unfinished, I am still working on it, it will probably be a white box with a hexagonal beehive pattern on the top)
The interface for the bee boxes would be like an chest only you would not be able to put things in only take out honeycombs. You would not be able to take all of the honeycombs from the bee box, you would have to keep one inside at all times to keep the bees thriving. They would look like this
The stats of bees, honey, and honeycombs are up for debate, as not to make this idea too overpowered/underpowered.