potato1
Tree Puncher
Join Date:

11/15/2012

Posts:

14

Member Details
Hi everyone or should I say...yaarrrr!
After playing 3 months of minecraft ( new player here ) here the suggestion I could make for diversifying the game ( I hope....gulp! )
New mob called : pirate ( trying to respect the sword fight of minecraft and Im sure there alot castle builder around

So far at day time its really quiet in the overworld. Beside killing cows,chickens,pigs,building stuff and mining there is no bad guys ( excluding nether and the end ). I can go underground for action but what if I prefert sun light? The way I see my idea is, pirates, are going to random spawn during day time as neutral ( the way squeletons and zombies does at night ) and will despawn at night time.
Since pirates spawn as neutral creatures they will not interfert when you build like the zombies pigmens do in the nether. Giving a chance to news players in the same way.
The pirates should be include in all the sun light area explored. I put emphasis on explored because of the witch I never seen in explored area on my server. ( To be more realist, they can spawn at day time near all water source ). Same spawn radius of squeletons and zombies around the player. Random pirates spawn will make a fun way to go re-explore your castle / house area every days.
If they are attacked they will defend themself like the zombie pigmen do and multiple pirates close to each others will help the attacked pirate.They use sword and axe as weapons and leather armor.
They have 11 hearts of life since they are alive and more stronger than zombies.
They do 2 hearts – 4 hearts of damage.
Experience 5
To respect the pirate general idea, drop can be as follow :
1.Raw fish ( because they love sea ).
2.Cocoa beans ( because pirates love jungle area ).
3.Paper. ( because pirates draw treasure map )
4.Iron shovel ( because pirates bury treasure chest ).
5.Gold nugget ( because pirates love gold )
6.Fishing rod ( because they eat fish! )
7.Iron sword.
8.Leather armor.
9.Iron Axe.
10.Compass ( because pirate travel alot and they need to find back there treasure ).
Number 1 is common, 5 uncommon and 10 rare.
So, this is the basic idea. I tryed to make a balanced mob, nothing godly with realistic drop. The main point for is creation was for populating the day time overworld area. I know nothing about game developement and not include news items in drop. My primary language is french and did my best to explain my idea. Thank you.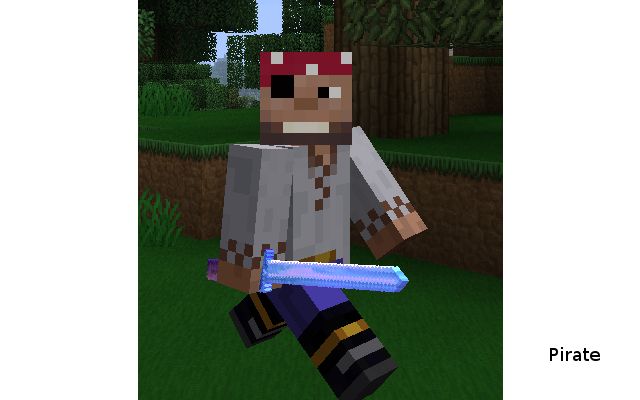 Edit : A minimum number of water blocks is required to allow pirates spawn. Ex : 400 water blocks.
Last edited by
potato1
: Nov 18, 2012