user_1259045

Blaze Extinguisher
Join Date:

4/13/2012

Posts:

4,030

Member Details
I'm not sure if this idea isn't original, but I'm posting it anyways 'cause I think it is.
The Collar
is an item that is deployable (?) on a tamed dog or a cat to rename your adorable pets.
A collar can be crafted like this:
A tamed wolf would have a default name of Wolfie, and a tamed ocelot would have a name of Kitty, but those aren't very good names: you would want to change them to something awesome like 300 or Lazerblade. (a little Seananners reference there

)
A dog named Wolfie: (please excuse the artwork)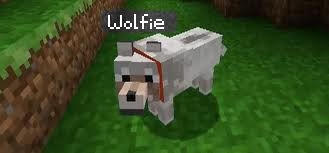 If you right-click on, say, a tamed wolf, it will bring up a simple GUI screen that you type in your dog's name in. Once you hit done, your dog's name will show up above its head and it will show a little dog tag on its collar.
If you want to rename your dog, simply craft another collar and right click on it. (you can't directly change the name of your dog - the name of it is "engraved" on the collar and you'll have to get another collar to change it.)
You can also change the color of the dog's collar. Simply right click on the dog with a dye on hand and it will automatically change its color.
If the dog is killed, it will drop its collar, and it will serve perhaps as a token of memory for your loving companion.

Now everything I've said here, it goes interchangeably with a tamed cat also.
I hope this made sense to you guys, and please reply in the comments what you think!!!