DontStealMyBacon

Obsidian Miner
Join Date:

4/20/2011

Posts:

1,201

Minecraft:

DontStealMyBacon

Member Details
A while back notch said that water bodies would not all be located at y=65. And they arent. They are somewhere between 64 and 66. When I heard this I thought it would be some 30 block difference between water bodies, but nope. Sometimes we get a glitched pattern when the water level does down by one but thats it.
We need waterfalls that look something like this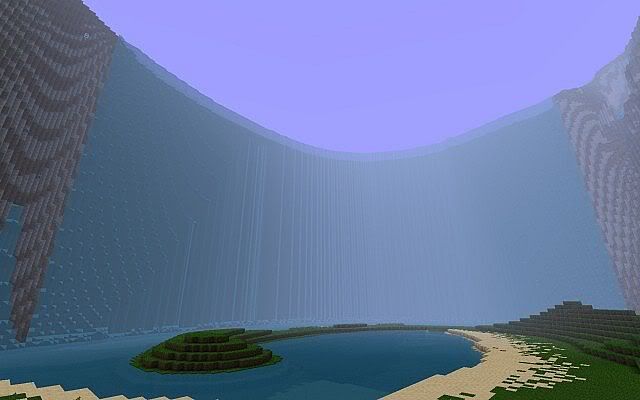 Picture from inHaze's custom world
http://www.planetmin...nforest-valley/
Input Needed
Fill in the poll and a comment with what size you think waterfalls should be. Do you want to see waterfalls that are as humongous as the one above or do you think they should be somewhat smaller?
According to the current poll results, it looks like roughly 22% want waterfalls that are not quite as big as the one above and almost 100% support adding waterfalls.
Support the thread
Copy this into your signature box if you support waterfalls
[url="http://www.minecraftforum.net/topic/944112-waterfalls/"][img]http://i.imgur.com/e2dvN.png[/img][/url]
It looks like this
Thanks
ObscuryT
for the banner
Current Supporters
Supporters up to 8/20/13


-catlover12345
-Kliuyyyy
-Supermutant6112
-Caluck
-FireHawkDelta
-Wolf_Of_Night7964
-0nlyshadow
-SillyZebra
-TehEPICD00D
-6359_
-Rogueblawd
-Autangerine
-vegarg
-Neuman
-Kira
-Lumireaver
-0Miner0
-randomness5678
-Diamond_Sword_Of
-jad1097
-SolEiji
-patts54321
-vadagar
-Crazy1duke1
-LKRTM
-SilverJ-17
-Ramona
-doggyroc
-Calbar1995
-jxmorris12
-lucariomaster1
-TheLordWaffle
-Werds
-Metholus
-PatDay
-118Andrew
-GamesJoel152
-Mulan15262
-Skipper3210
-Jacknos123
-Turek
-rarekwiebus
-FailingAtFailing
-Lichhorn
-DOTxTRI
-Fanatictekken
-World Hopper
-Kull14
-Ging_Ning
-artimies7
-battlefrog71
-harrywand
-mewknight
-TLtimelord
-kanokarob
-Sgt_Justice
-Boardchip
-Oxydate
-FATTYCRASH
-toatanu
-clayxros
-James9270
-FailedDarkCorn
-supa1337killa
-Mr_Manly
-Zukaro
-SirLeeuwenKlauw
-FtwJim
-TheEvanCat
-NotIlliterate
-pizza482
-issalar
-CreATiveHippo
-BlackJack10
-X5176
-Miopic
-Silod
-allshamnowow911
-Roufrout
-DrummerD00d77
-Amsedmak
-thehottestunderthesun
-Locklear308
-creepergotslimed
-Someguyfromcrowd
-Silod
-G6290
-Staonopao
-MichealIkruhara
-geoninja
-Jstratter
-nate890
-elias79
-757_Chaotic
-dahd12
-Josh1140
-manu3733
-Staonopao
-sacul35
-TheRealAD2011
-Zyvo
-xBella
-cyberazaz101
-saba1192
-HerpDerpBox8965
-Darkmagic101
-FailedDarkCorn
-sharky1160
-Lord_Poring_III
-Zeota
-GamesJoel152
-CloakedShadow
-vadagar
-SegFaulter
-NerdyChick
-fetusthebard
-Epicosoity
-vadagar
-MoiKoi69
-Barry_Burton
-Rich189
-dinofire
-Betrix5088
-TheWolf277
-Mr_Sam_Miner
-chadrack
-SoraZodia
-ZingidyZongxxx
-Carzmoviefan
-nimeton11
-GoldenEagle2556
-aRandomPieceofPie
-Zeiustepali
-SpiffyCreeper
-Mulan15262
-pizza482
-legend7899
-Quicksuper
-Barry_Burton
-Sirknightchase816
-JRPenza620
-Nerdgazm
-Volack11
-McBobface
-st33lv1nes
-aasa
-Minecraftdeas
-dragonogon
-Argenteus
-blackfire853
-Fibrelovesminecraft
-DemoTKS
-BiggJohnn
-Strickolas
-rodabon
-G6290
-Mathy
-GamesJoel152
-crazeenuthead
-Avskygod0
-Talons7331
-Kentuckykid220
-BlastFromHell
-HoppingFox
-gamingchris
-CrossingTheLine
-blackgoomba67
-eurosat7
-tedisgreat
-Kellbyb
-Joshdragon12345
-IAreNinja
-mfrulz999
-EdenR
-Purechillos
-xXStividinhoXx
-Kwitcherbelyakin
-rektok
-RawrTara
-Drainal
-jonnythe5
-orangelizardboy
-Over9000Guy
-Clonewars395
-MarkyparkyMeh
-Genouious
-PirateCoffee
-MedicMiner
-Shadowfox1311
-Stormy206
-Kilyle
-JNRM3
-davidy22
-Some_Free_Cake
-WitDocv5
-3pix
-Blade2277
-FlareTide
-rangepk2
-Eeirail
-epicman739
-pionoplayer
-Ladida12345
-Martan
-dirtminer6
-KifferTheGreat
-jimmybobbyminecraftian
-epicman739
-Helkador
-firewave15
-PrinzessPulla
-Cloudstryder
-ducky215
-Mr_danpain
-Rotasizx
-Waterpicker
-epicman739
-Alisonb76
-Sh4rp_Blade15
-Bubbs3
-Azraile
-King_Sarthon
-Ni_Oxx
-erik4556
-Crunchos
-NoxMortiis
-SantaClauz
-ThePatriarch
-Chriskiller25
-gonzoxl5
-Anglican
-MaladjustedGenius
-Odoterm
-ender_bender
-Ikranoid
-marmanq
-Ampulugator
-Iown
-minecraftisepiclol
-wetguy237
-hannab93
-FreshBread
-Ram9bo
-Woutan
-henriquemiguel
-Megito
-WinterMapleWolf
-WarfareKid
-Zehrok
-Valentulous
-victor7543
-Danm25
-Andreas90s
-Alkein
-west0
-Axolotl314
-DragonProto
-saltshaker42
-myles7916
-Catchphrase
-The_Watchman13
-Redtao
-thejbanto
-TheEnderDefender
-nimeton11
-Skua
-solidarityK
-Emerald9Creeper
-Kalipzo
-ShermyA3
-PandaFire11
-MineCraftBiz
-Gam3rzRus
-Cresanthimum
-Nsta8
-cfd28
-djpnumber13
-Emerald9Creeper
-enderman_guy
-Invarion_Wolfblade
-TiffanyAmber
-The_Exonaut
-Wes_Bugg
-BowserJunior
-bobthemagicrabbit
-_0creeper0_
-Momo_Mccloud
-Deepforests
-nightworld115
-Bandigo
-zeel
-Deepforests
-Venom717
-Pezito
-ShadeRoxys
-zGRD
-CornOnTheCob3000
-rarekwiebus
-Eragon1299

[represent]