ancientlaws

Out of the Water
Join Date:

5/27/2017

Posts:

7

Member Details
Note (2018/1/14):
I don't recruit new faces in my world due to being occupied for the time (and possibly for the future). Fresh players may still join my Discord group, but I won't add you to Switch's friend roster. However, if you can prove yourself a decent builder (you must have a world, teeming with your own builds with advanced architecture, on your own, and I'll visit to evaluate whether you're playing Minecraft genuinely or not), or someone I know and trust speaks for you, then I'll make an exception.
I'm hosting as much as I can for those who had joined me. Additionally, when Realm launches Switch, I may subscribe a real private server providing there're still active players by the time.
%========== Banned Roster =========
These are unworthies who grief/steal/messing with others or builds in my game or my house in others' world.
No matter how many times these players change their nickname, I'll always update the newest name here:
Shawn-Lee
Cody
dboss
MoonWolf
SonicXJr.
Solenite (formerly iiCursed, Hypergiest)
Blake R (formerly Blake)
MathYou209 (despite I share your thoughts on Lucaru, greif is still grief)
Gordan
Superxd08 (Major griefer who raze starting town, but all damages were reverted with the backup created an hour ago)

Brandon B
%===============================

Hi all, I had been playing and kept building my own game since early May, 2017. It would be nice to see honest players to join me, even if you're only taking a short tour without further playing. Rather than an open server, I treat my world more like private building ground and shape it as I deem fit. Before stating rules of my own game world, there are a number of things I have to make clear:
1. I'm a somewhat long winded guy, and there are some rules and restrictions for this PvE world. I will periodically monitor all players to rule out unworthies. I also trace player map markers, and constantly visit every player's chest that are stocked with valuables to take screen shots in order to keep everyone's belongings in check. If you want freedom in building/pvp, I strongly advise you ignoring this post and joining others' game.
2. This is an old save created on Survival/Hard and will remains as it had been, I have no intention to change both the game mode & difficulty. On the other hand, all achievements are available for hunt. TNT and fire spreading are disabled. No vanilla woodland mansions, and all ocean monuments are raided and being nearly mined down. I don't reset End and Nether as I don't feel like abusing game mechanics, plus I have existing builds done there. Players who seek rewards from End/Nether are advised to join others' game.
3. Players must join and remain active on the Discord as long as you're in my game. I will try to address those who joined the game on the Discord, and will remove all permissions if you don't respond.
3. If you're building things, make sure don't build random columns, offending or controversial structures, you know what I'm refer to. If I'm spot anything of this sort, I'll bombard them away on sight, no questions ask.
4. I'll frequently shut down the game and created backed saves from time to time. In case any confirmed rule breakers had done damages that would takes time and efforts to repair, I'll restore from the uninfluenced latest backed save.
5. Please show good manners and friendly interact with others
If you understand above things, then please read game rules thoroughly, violating any one of which guarantee immediate ban:
1. No any sorts of griefing, this includes but not limited to, destroying existing player made builds, luring creepers to explode near others' builds, smashing down burning fires of the street lamps, purposely put other players in danger, etc.
2. No theft of any items, be it privately owned by other players or decorative items in public accessed structures. While items in warehouse are opened for public uses, it doesn't mean you can unload everything there away, doing so counts as theft.
3. The current world consists of 9 maps, the western and the North eastern maps, including a rectangular area defined by (-360,all,-540), (-1100,all,-540), (-1100, all,360), (-360,all,360) are considered as restricted areas, no unauthorized builds can be done in these areas. Any unauthorized builds in these regions will be bombarded down, and the corresponding player who build it will be kicked.
4. No trespass in my own base. Any attempts to break in guarantee ban.
If any player clearly state no trespass in his/her home (oral statements or using signs), then no uninvented entry in their
base as well.
5. No End and Nether reset, I have existing builds done there. Don't keep asking.
6. No Dirt and/or netherracks houses.
7. If you harvest stuff from community farms in the city, make sure replanting the same corps. I'll give warning if you didn't replant for the 1st time, and ban you if continue ignoring replanting things.
8. I have to make sure you read the rule signboard again for the 2nd time in the game with my own eyes before giving you permissions.
9. No plain 2D pixel art. While I understand there're players love these things, they just don't fit into the atmosphere of a fantasy setting world.
The tenth term is encouraged but you don't have to comply. (If you do use suggested materials as primary components, I may contribute some spared resources, and even help building a small portion of your builds in case you run out of ideas.)
10. The starters' town lies in snowy biome, you're encouraged to use cobblestones/stone bricks/spruces/snow as primarily building materials. If you want to build in the desert town, sandstones/acacia woods are encouraged.
If you are still determined to join the game of a weird guy like me, then I welcome and expect you to comply all aforementioned rules. Ad make sure you join my Discord group and remain active as long as you're in my game:
https://discord.gg/HkK4fGz


My game world is developed and you may find it a bit easier to start your builds as spared resources may be already available in the warehouse, and additional or rarer resources may be distributed if you comply with the last term. Apart from conventional corps farms, a number of AFK farms are available, ranging from ores to hostile mobs. I also slowly and steadily keep the starter city and various utility buildings upgraded and expanded for aesthetics. The following images show what I had done for my own survival world:


This is the eastern city gate and the aerial view of the starter city, roughly 50% of existing buildings are laid by myself, you can find various utility buildings such as map room, warehouse, enchanting lab, e.t.c. in the town center.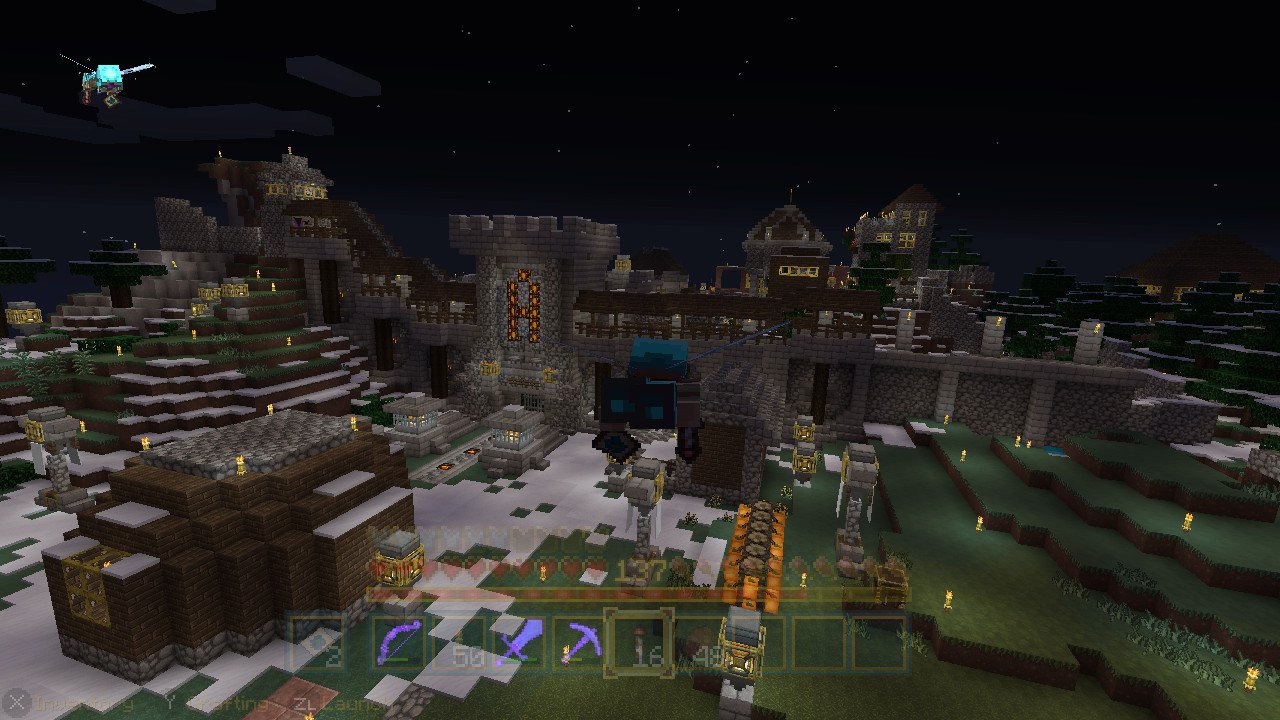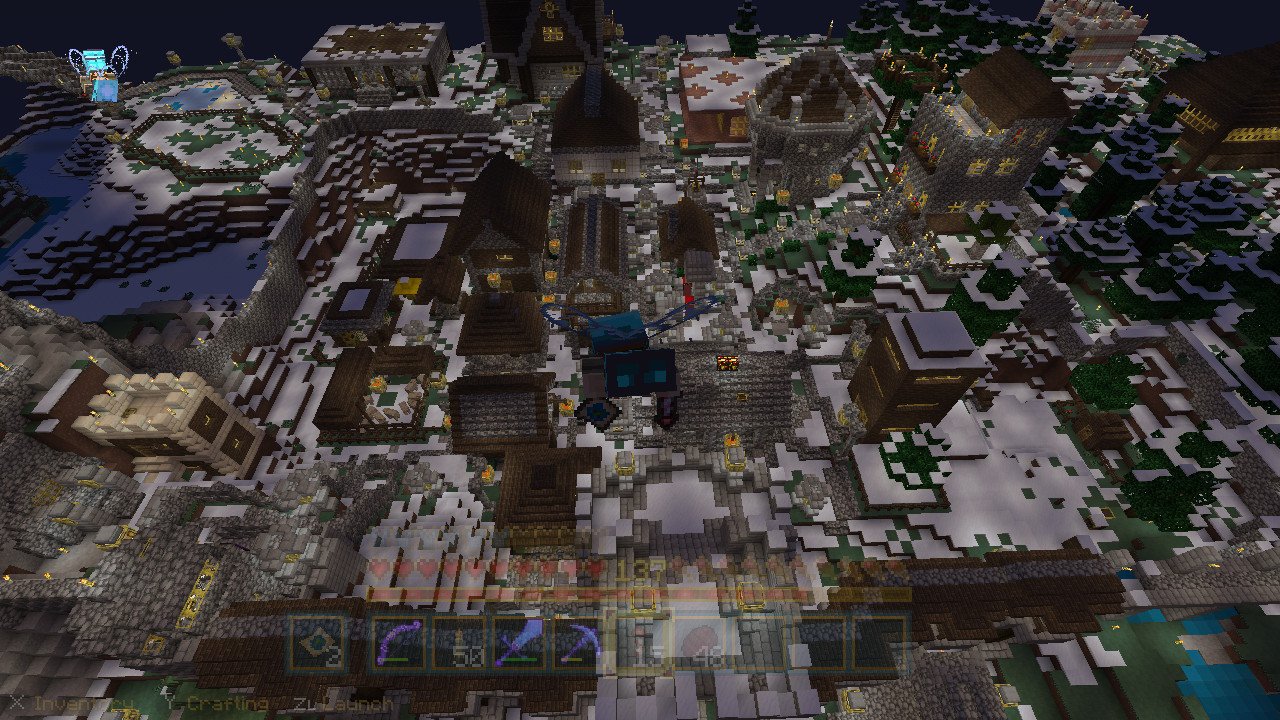 This is my own aerial base: Temple of Dawn, be noted again: no trespass here unless invited. You may find more screenshots of my temple here:
https://imgur.com/gallery/H9btk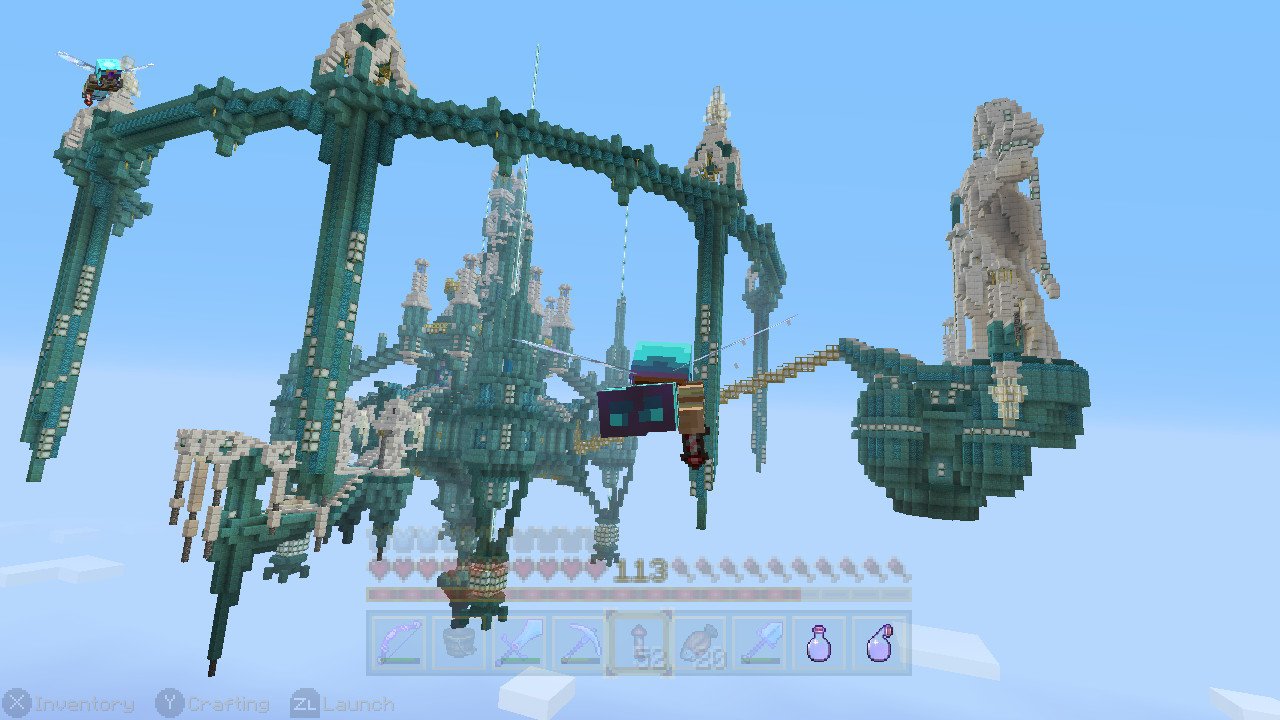 This is the desert town: Desert Jewel, naturally generated in the NE map first and later build up by player Wabbajack.