CannonFoddr

Lapis Lazuli Collector
Join Date:

5/29/2011

Posts:

1,076

Minecraft:

CannonFoddr

Member Details
I don't know about anyone else, but as a [very] amateur redstoner there's one thing that really gets on my nerves...
... A way to send redstone signals vertically
It's not too difficult sending them upwards - there are plenty of redstone torch tower designs, even a 1x1 design (for space saving), but sending signals downwards I find you'll usually need a staggered step tower or come up with a piston / slimeblock / observer block contraption (& with using observer blocks - add something to prevent accidental double signals)
I'd like to suggest a new redstone block - the "Redstone Rod".
This rod acts like redstone dust - in as much that it can only transfer a maximum of 15 blocks - but you can place it onto a block in any orientation like an Endrod & just like an Endrod, these don't 'connect' to other redstone rods 'next door', meaning you can have 2 signals next to each other & they don't interfere with one another or join up like with redstone dust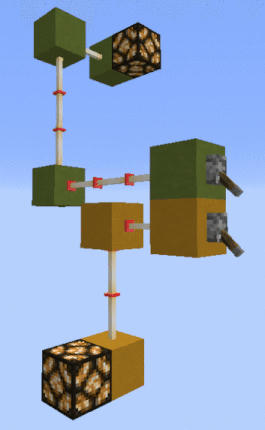 Just think on how compact contraptions can be made if this was possible

Because this new rod is so versatile, I suggest it shouldn't be so easy to make, my original recipe involved fenceposts & redstone but instead perhaps a suggested crafting recipe could be something like this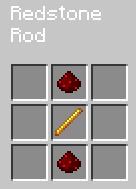 What your views on this ??
Any further redstone annoyances you can think of that might benefit the addition of some new redstone block to make life easier ??