samohtj
Curse Premium

Stuck at Home
Join Date:

6/14/2012

Posts:

2,442

Location:

The heart of it all.

Minecraft:

_samohtj_

Xbox:

I no has x-box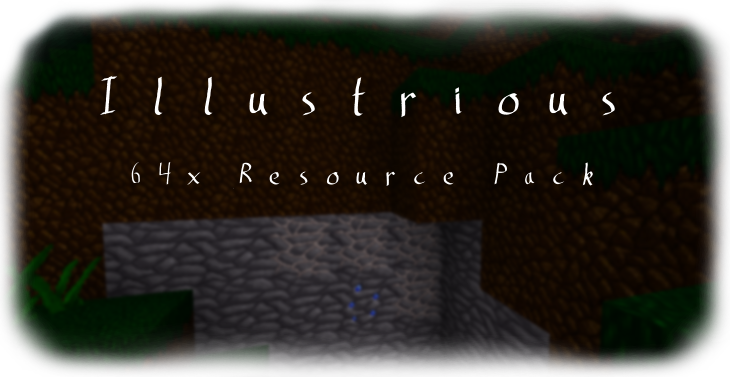 Samohtj's
Illustrious
(Formerly known as
Samohtj's Fancy Shmancy
)
For Minecraft 1.8
•Contents•
•
Images
•
•
Download
•
•
Reviews
•
•
Legal
•
•
Support
•
•
Changelog
•


TL;DR
I got involved in texture work very early on in my Minecraft career. I started my first pack only about two or three months after hearing about the game. Things were a lot simpler in those days, back around the first full release. As many of you know, my first attempt at a texture pack was absoulute garbage. A horrible bucket fill, with terrible colors and disgusting shading. I had never done anything artistic outside of art class in elementary school; never picked up a pencil or a brush. I had no artistic experience whatsoever. I, in my foolishness and naiveté, posted the pack I had made here to the forums. The feedback I recieved, while harsh, was unanimous: go back, learn what you're doing, and try again, and who knows, you may end up being somebody. Instead of storming off in a huff, never to return to the scene again, I decided to take the advice of the experienced artists I had talked to, and start again. After many months, and many heartbraking computer crahses, I created the first texture for
Illustrious
(then called
Fancy Shmancy
). I posted the first few textures I made, only two of which now remain in the pack, and recieved some positive feedback. I continued to create new textures, astounded at the response I was getting. I had obviously improved. As I made more and more art, I gained more and more technical knowlege, to the point where I am now one of the top posters in the Resource Pack Help forum. I continued adding textures, creating the virtual world that I wanted, all the while gaining new skills and meeting new people (after a fashion).
The purpose of this pack is simple: textures that are beatiful to look at. All my textures are made with the utmost care, perfected and refined until the convey my image of what
I
think the game should look like.


Installation Instructions



Download the .zip file from the official thread on Minecraftforum.net (here).




Go to the directory where you saved the .zip file (usually your Downloads folder).




Select the file and copy it.




Open Minecraft and make your way to the Resource Packs menu (located under "Options" in the pause menu).




Press the "Open Resource Packs Folder" button, and paste the .zip into the directory.




Close the window. Select the resource pack, and you're done!

If you would like your review featured in this topic, please send me a private message!
Gold: A strict level of security. Having this on your pack indicates that your textures can only be used after written permission is obtained from the creator of the pack. It also indicates that adfly links on remixes are never acceptable, under any circumstances.
Things you CAN do



Make videos with this pack in use. You must place the full name of the pack in the video description, as well as a link to this thread (this is so the video shows as a result when people search Google for this texture pack). Monetization of videos is allowed.




Use this pack as your server's official texture pack. Please contact me for a direct download link. Do not host the pack yourself.




Edit these textures for your own personal use (no distribution).




Take and share images of the pack in use in the game. Please place the full name of the pack somewhere on the page, as well as a link to this thread (this is so the image shows as a result when people search Google for this texture pack). Monetization of images you created is allowed.




Link directly to the download for this texture pack. Please use this URL, as it is always up-to-date: [code][code]http://www.curse.com/texture-packs/minecraft/samohtjs-fancy-shmancy/download[/code][/code]
Things you CAN'T do



Redistribute this pack or any individual textures, in original or edited form, without my express written consent. Meaning, I have to personally give you the go-ahead before you can distribute any of my work.
---

Copy this code into your signature to show your support!
[code][url=http://www.minecraftforum.net/topic/1647522-/][img]https://dl.dropboxusercontent.com/u/81812509/bn/illustriban.png[/img][/url][/code]
Last edited by
samohtj
: 11/23/2014 6:26:05 PM
I look good when I wear a fanny pack.