Meringue
Curse Premium
Newbie
Posts:

1,152

Minecraft:

meringue
News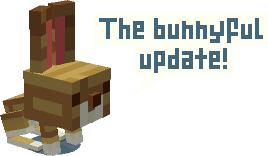 07 September 2014: A first version for the 1.8 update is here! It's not finished yet, there are still a lot of little things to fix (random texture weights are probably way too high). Please tell me if you find errors, mistakes i made, things you don't like etcetera. Thanks!
I ran out of time to update this first post properly (the description and the images are horrible outdated), i may be away for the next few days - will do that when i'm back and got (hopefully) a bit of feedback to upload a more finished version.

I'll also update the 1.7 version very soon with updated mod support and some overhauled textures.
---
Hey there! This texture pack is my continuation of
Ray Frenden's Cartoon Pack
- "Made of awesome!"
It's one of the first texture packs. I discovered it nearly four years ago shortly after i bought Minecraft, it made me register here to thank Ray for it.
A while ago i started to play again. I noticed soon that i don't want to play without this pack, but Ray had decided a while ago to stop updating it. Luckily he had it made open source. So i had to do something...
The pack works without any modifications, but if you use 1.7 i recommend to use MCPatcher or Optifine.
You'll get the best results with
MCPatcher.
Want to know more? Scroll down to
additional infos
.
(some the custom biome colors are only visible with MCPatcher)
The GUI
:
A few random screenshots (i'll add some up-to-date images later):
... and a few more landscapes:
Download version 6.0 for 1.8 from Curse(main link)
Download version 6.0 for 1.8 from Planet Minecraft(mirror)
Frenden's Meringued Cartoon Pack on Curse
(1.7.10 compatible pack versions and lower)
Frenden's Meringued Cartoon Pack on Planet Minecraft
This is what you'll also get when you patch with MCPatcher or Optifine (possible only with 1.7.10 or lower at the moment):
Connected Textures Mod features (glass, nice pillars (use half slabs), various colored wood, random textures…)

visible glass (a BetterGlas feature of MCPatcher), connected glass just looks better with it

"Natural Textures", a feature of Optifine - several textures are rotated to avoid repeating patters

custom biome colours for the sky, terrain, leaves, fog, water…

custom sky textures - cloud banks, a new night sky, comets

some random mob textures
Here are some of MCPatcher's features shown (left without, right with them)
For more of Frenden's stuff you should visit his portfolio/blog:
http://frenden.com
and Twitter:
@frenden
Last edited by
Meringue
: 9/8/2014 6:38:35 AM