XSSheep
Curse Premium

Creeper Destroyer
Posts:

6,107

Minecraft:

XSSheep
Pixel Perfection is a texture pack made by me, for me. It has an underlying theme that will be more apparent once more of the nether mobs are completed and I will be adding a lore section soon where you can read about why my blocks or mobs look the way they do and how they all fit into the world together.
Update log
V3.0
-added witch and iron golem mobs
-tweaked a few item textures
-redid pumpkin and melon textures as well as their stem textures (doesn't look glitchy anymore)
-added a couple more randomised textures including oak leaves
Previous updates:
V2.9

-fixed a few more issues with models
-updated the endermen and chicken textures (the last mobs that needed to be updated)
-2.8 was just a few more fixes and a new font as well as a new creeper texture

V2.7

-fixed the 'steve' model for this pack (thanks to MasterfulGamer for this!)
-changed the enchanting gui over to the new 1.8 template
-finished a couple of half finished older gui elements such as the book
-completely textured the armour stand and banners as well as the corresponding items
-added blaze texture and all rabbit variants
-more variants to more blocks! Enjoy those random textures!
-added a couple more models like the iron bars and reeds
-added unique textures/models for all the new doors and their items
-added in custom textures for the new fence types and their corresponding gates
-redid shading on most old mobs - will be changing enderman and creeper in an update coming shortly!
-completely redid and updated mod support for the Better Foliage mod
-added in red sandstone (all variants)
-fixed the red sand rotation (no more random rotation which looked awful) and added some variants for it
-new texture for snow
-updated textures and colours for a few older textures and items

V2.6

-all 1.8 textures have been added including prismarine, sea lantern, rabbit items, mutton, etc.
-added a fair few models for 1.8
-ported over a lot of ctm features to vanilla 1.8
-fixed a bunch of 1.8 specific issues
-readded support for the revamp of the better grass and leaves mod

V2.5

-horses! (including all alternate textures)
-horse armour!
-new ctm for many blocks such as stone, cobble, dirt, bricks, etc.
-new biome specific ctm and colouring (swamp and birch tree forest)
-new brick, diamond block, lapis block, iron block, dirt, half slabs, jungle log, both sand types, podzol, lilypad, +more (a LOT more)
-new double tall grass, normal tall grass and double tall fern
-added in textures for some of the snapshot stuff such as slime blocks, all new stone types (I changed these around since they were first added), etc.
-updated/re-shaded a few item textures and lots of block textures
-updated biome colours (pretty drastically for a couple of biomes)
-started on a whole bunch of new paintings - still not complete but they are being worked on!
-new leaf colours that work with all biomes (most leaves now have a specific tint that is noticeable in all biomes, eg. big oak leaves are always tinted blue

V2.4
-updated quartz textures
-updated stonebrick textures
-new diorite texture/tweaked colours for polished diorite
-new stone texture+random ctm variants
-new oak planks
-new menu backgrond
-added some new gui elements
-fixed issues with ice not rendering correctly for optifine users
-new potato and carrot plants+all growth stages
-fixed podzol not appearing correctly for mcpatcher and optifine users
-few tweaks to the lightmap and some more biome colour tweaks
-tweaks to stained glass colours

V2.3

-addednew stone textures and smooth stone textures from the snapshots
-added slime block
-new oak log
-new obsidian
-new emerald block
-new MCPatcher specific colours for swamps (inlcudes water, fog, sky and foliage)
-wither skeleton added
-more stuff i've forgotten

V2.2

-new ores with random ctm (variants for each ore)
-new animated dropper, dispenser, both vertical and horizontal
-new furnace
-new redstone dust, block and item
-new wheat with random ctm for full grown stage
-new carrots texture (crop, not item although item had colour tweaks)
-new grass with random ctm and new sidegrass to match
-new gravel
-new dandelion
-new mossy cobble and mossy stonebrick
-new dirt random ctm
-new minecart and boat with new icons for both
-new skybox (just daytime for now, will have to finish night time one once back from japan)
-updated custom lightmap for better shadows and slightly brighter lights
-added custom fog colour to suit new skybox
-changed font colour a little bit, it's creamier and easier on the eyes
-new cyan bed and bed item
-new wools
-new cauldron
-new podzol
-new double fern
-new vines
-tweaks to glass ctm and also a couple of stained glass colours
-new rail textures with animated powered rails
-new sandstone textures (for each type including smooth, carved and normal)
-birch sapling colour tweaks
-tweaked, remade and improved many item textures
-probably more that I've forgotten because I don't keep a list as I'm working


V2.1

-new sounds! (fire, item/block pickup sound, tweaked water and rain sounds)
-all new 1.7 content including many new flowers, some items, blocks, biome colours, couple of gui elements (so basically maybe another 40 textures, possibly more... [/media]
Lore: On the subject of slimes
Slimes
Slime: slimes, appropriately named, are strange creatures that appeared soon after the arrival of the voidwalkers. They have a core, similar to that of a voidwalker, surrounded by a thick layer of slime, gained by their time spent in swamps. Their fascination with swamps is really quite peculiar as there has yet to be a slime that could actually survive in water. Once submerged, water quickly finds its way through their outer layer of slime, slowing their movements and eventually disabling them altogether. Slimes are most commonly found in swamps at night although they have been known to make their way down into the depths of caves as well. While not particularly dangerous, their sizes can range from quite small to as big as a man with the largest slimes being much more dangerous than the smallest.
Endermen
Voidwalkers (endermen): the voidwalkers are a mysterious race of beings that have been around since before the world was cracked and doorways to the other dimensions were opened. They first appeared in our world once a stable connection was found to the end through the end portal. Upon opening the portal for the first time, countless numbers of voidwalkers rushed across the void, spilling into our world, gaining their name in the process. Their time spent in the mysterious end has given them the ability to teleport at will although it has also left their minds shattered and broken, any trace of past intelligence presumably lost. They can sometimes be seen taking chunks of our world and then disappearing, possibly in a futile attempt to form a bridge over the void into our world. Voidwalkers are extremely dangerous and should be avoided at all costs.
Mods
MCPatcher + Optifine
This pack makes heavy use of some features unique to MCPatcher such as custom colours, special biome colours, CTM, lightmaps and a few other features. To get the most out of this pack I highly suggest you use it with the patcher!
Better Grass and Leaves mod
The mod has been remade for 1.7 and up and can now be found here:
http://www.minecraftforum.net/forums/mapping-and-modding/minecraft-mods/2119722-better-foliage
Big thanks to
Mr_Moustache
for the help with the new support for this great mod. Without his help the pack wouldn't be up to date with the mod.
Downloads
Planet Minecraft
Addon packs
Rough Stone Addon:
Direct link
Stone + CTM. Non-CTM stone looks very similar to stone from older versions of the main pack.
Load order should look like this to work correctly: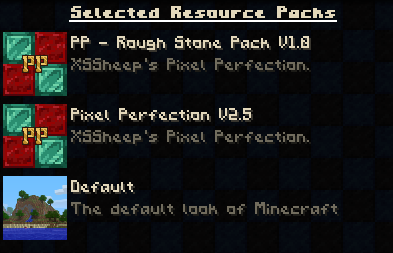 Fantasy Tree Addon:
Direct link
Here are a couple of screenies of the replaced stuff so far.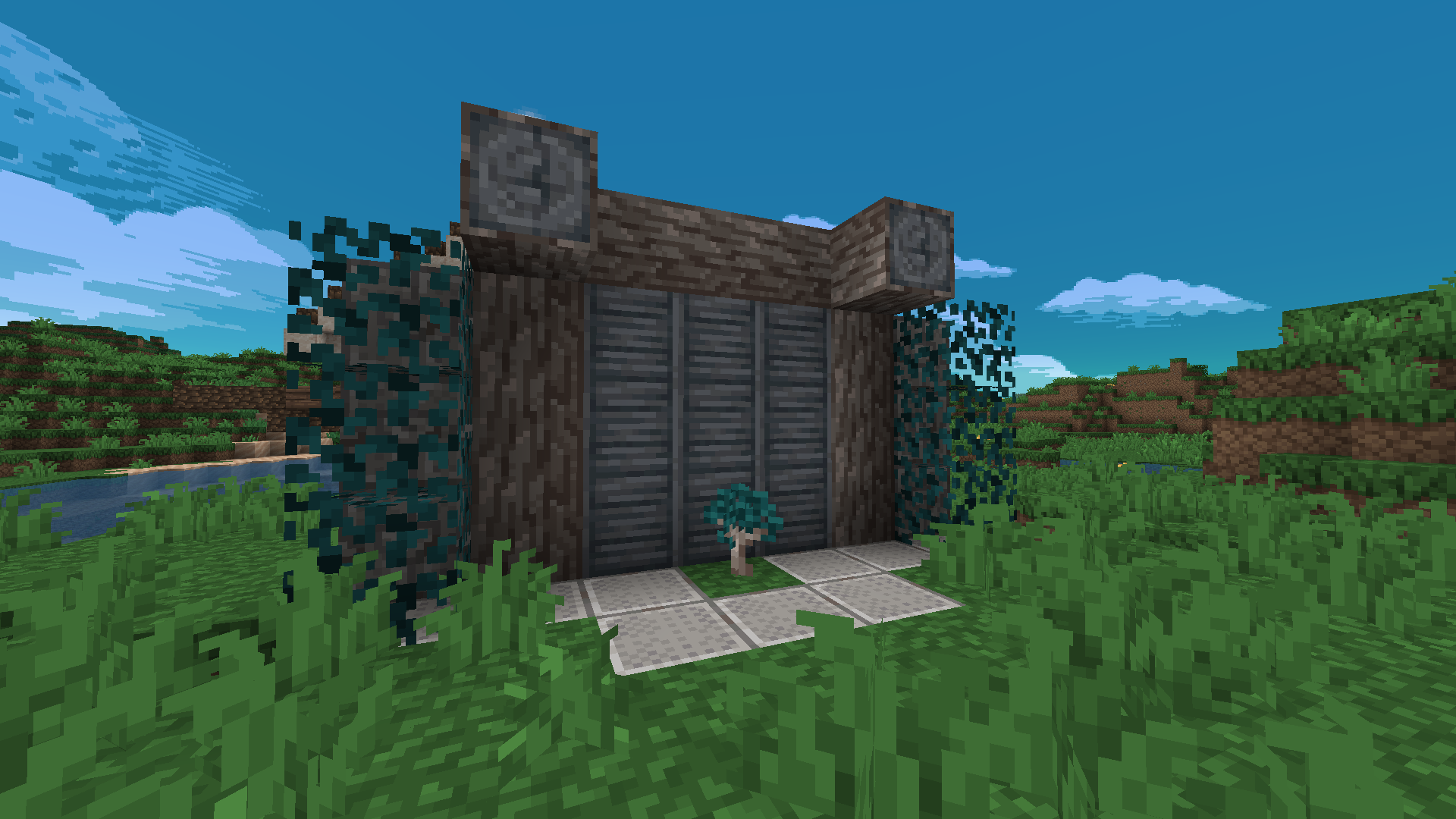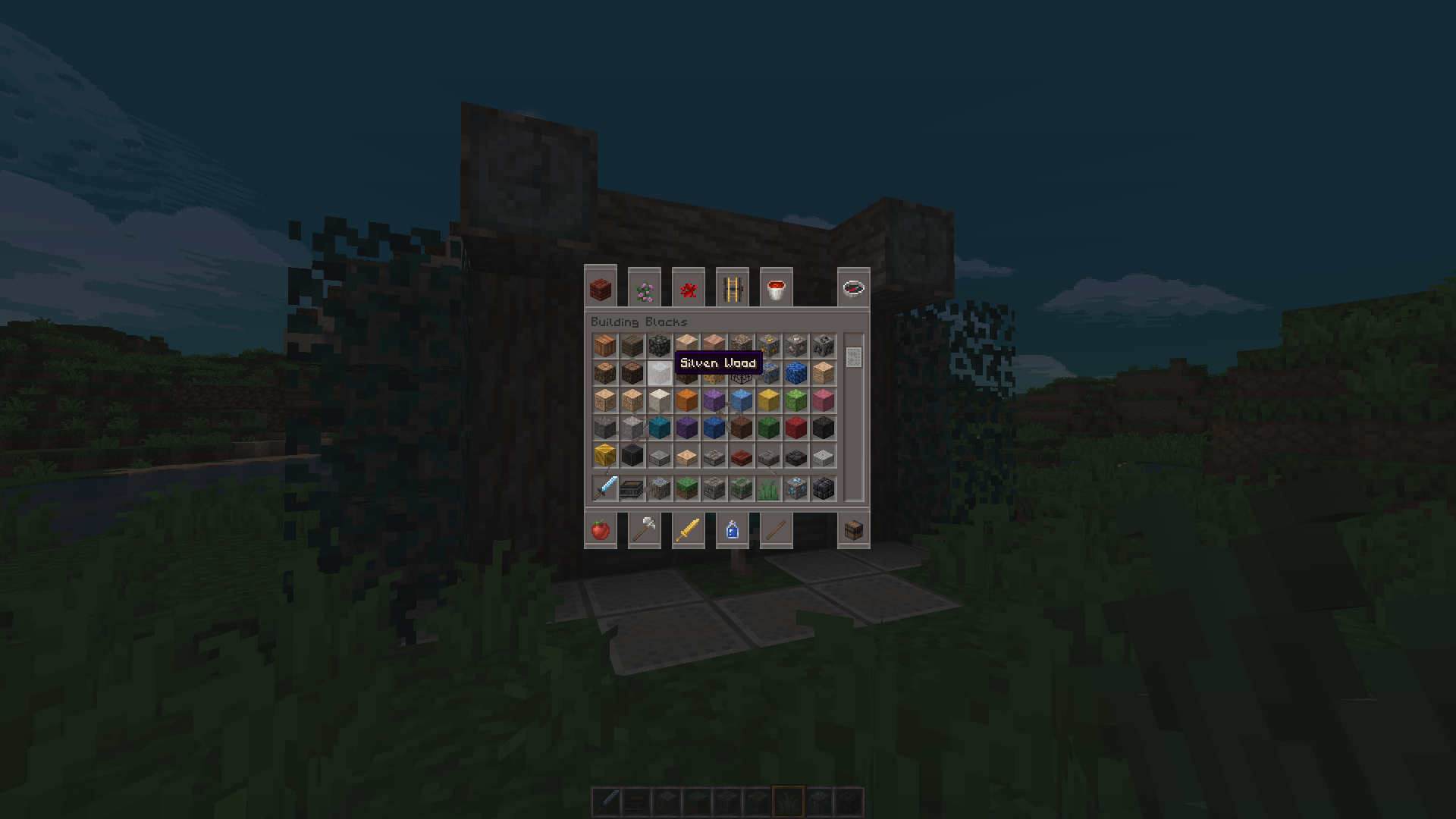 Load order should look like this to work correctly:
Alternate Grass Addon:
Direct link
Here is a picture of the grass added by the Alternate Grass Addon. It contains 5 different variants when used alongside MCPatcher or optifine and replaces tall grass and double tall grass.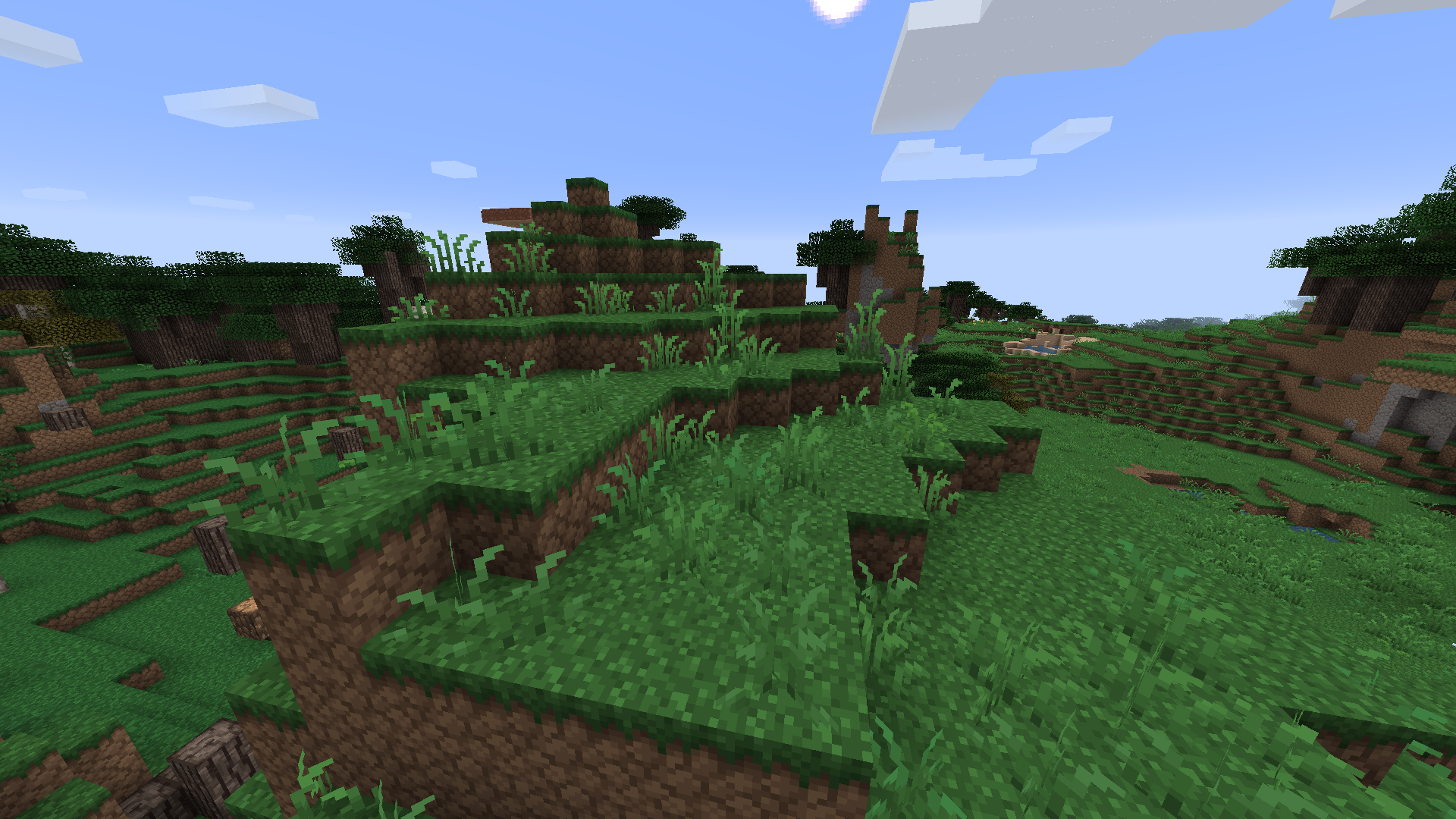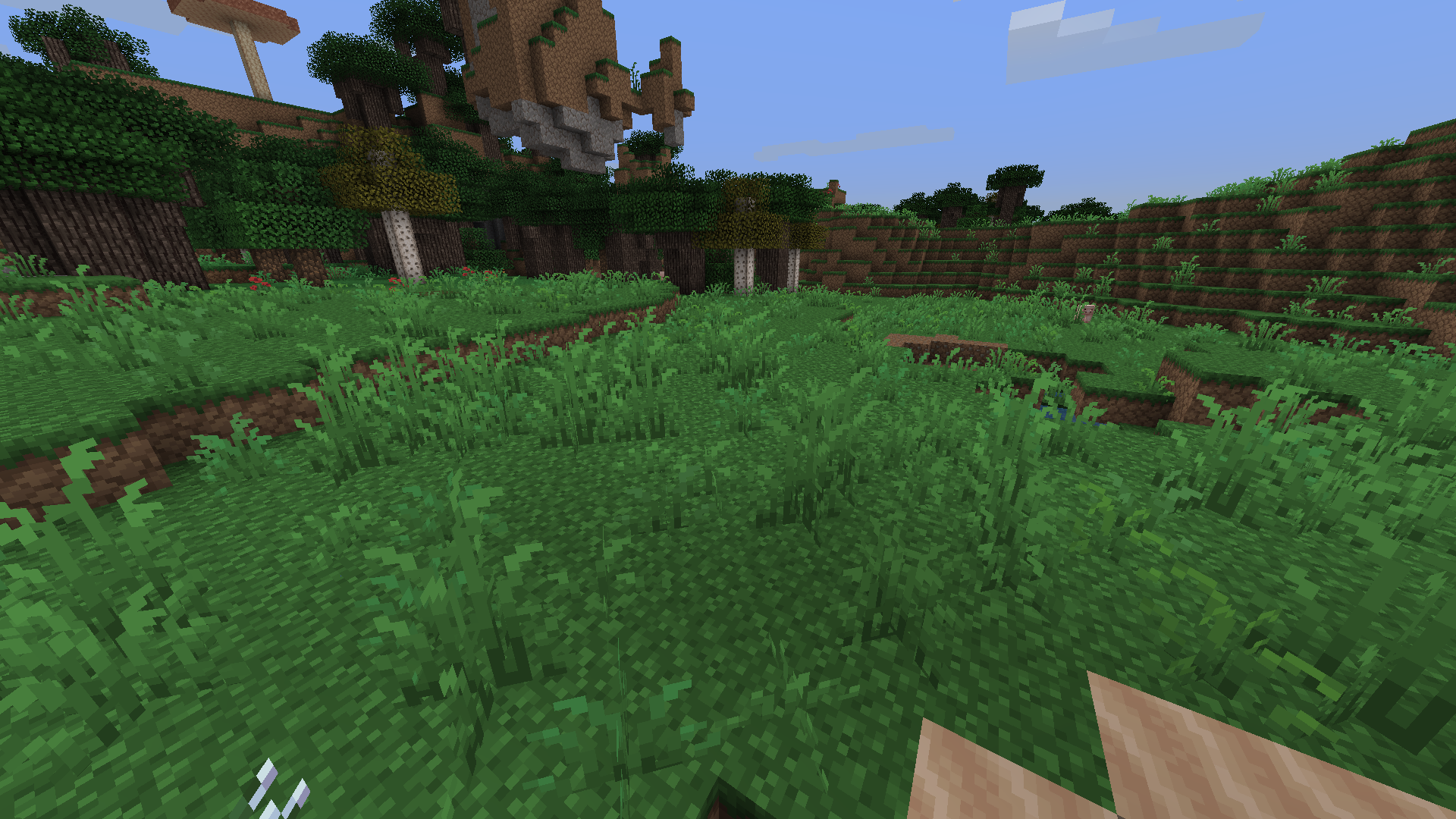 Load order should look like this to work correctly:
Donations
Finally got my dang paypal fixed so I finally added a donate button. Nobody has to donate but I'll always accept them!
Signatures
If you want to help advertise the pack, consider popping this code into your signature!

 [url=http://www.minecraftforum.net/topic/1409879-16x-pixel-perfection-15/][img]http://u.cubeupload.com/XSSheep/95bFinalPPBanner.png[/img] [/url]
Use of this pack
Feel free to use these textures in any mixpack or whatever you want (paid or unpaid). However I'd appreciate it if I was credited for all the hard work I've put into these textures.
Pixel Perfection by XSSheep is licensed under a Creative Commons Attribution-Share Alike 4.0 International License.
- Hugh "XSSheep" Rutland
Last edited by
XSSheep
: 12/5/2014 12:29:28 AM