WayofTime
Curse Premium

Obsidian Miner
Join Date:

4/21/2011

Posts:

1,229
Blood Magic: Alchemical Wizardry at its Finest!




Artwork: "Everything has a Price." Commissioned by: Chris Bloom, http://www.bigbadchris.com/


Have you ever picked up a magic mod for Minecraft, and thought that it was too tame? Was there not enough danger involved when creating your next high-tech gadget? Bored with all of those peaceful animals just staring at you without a care in the world? Well then, I am glad you came here!

Blood Magic is an arcane art that is practiced by mages who attempt to gather a vast amount of power through utilizing a forbidden material: blood. Even though it does grant a huge amount of power, every single action that is performed with this volatile magic can prove deadly. You have been warned.

Before I get into the nitty-gritty of the mod, I need to just lay down a few ground rules for this thread, and any possible suggestion that you have:
Constructive criticism is something that I highly value and will never scoff at. If you have something that you feel is unbalanced about the mod, or if a process is not really fitting, feel free to voice your concerns! That does not, however, condone verbal abuse against the path that I use for the mod.
You are allowed to feel squeamish. This mod isn't for everyone, and I know that. It is not graphic, however: no disembodied limbs or any such thing will be found in this mod. I have added a bunch of lore to this post, as well as tooltips to the items where needed. Please, don't get angry at me for the ... grim content of the mod. It is mainly there to enhance the sense of sacrifice needed.
Suggestions ... bring 'em! I would LOVE any sort of suggestion or comment that you have about the mod. Keep in mind that I am at liberty to either not implement the change/addition or ignore a troll post. I will/do read every single post here, so post away! If it is something that you don't feel comfortable with (for any reason), just PM me on the forums, or on my YouTube account (WayofFlowingTime).
Please read the FAQ. A lot of the questions you may have may have already be answered! Check the FAQ or the last 3 pages to make sure what you have asked hasn't been covered before~
Please note: in order to get the in-game documentation, you need to download Guide-API, which can be found here: http://www.curse.com/mc-mods/minecraft/228832-guide-api . This mod functions without this library mod, but you will not be able to get the books.


Videos
Spotlights
A series done my Direwolf20! Informative and good for novice to intermediate understanding of the mod. Part 1 of 4!
A very very good spotlight created by Ako, the Builder (don't call him Bob... he doesn't like that)! Part 1 of many!
Spotlights in Other Languages
Russian: Here's a very good spotlight by ZigTheHedge, who chronicles the mod from tier 1 to tier 5 in four parts! Part 1 is below. Now if only I could understand what he was saying...



Old Spotlights
Ever had fun with an energy blaster? These two have!

Quite a fun spotlight by TheDiamondMinecart, who accurately explains all of the items for 0.2.1!

Also an enjoyable spotlight from MCTyro.

Spotlight by QQDelight! Nice work, but your pronunciation of 'Sigil' made me cringe!~

Developer Commentary
These videos are where I show how the mod has progressed over the time that I have worked on it. Keep in mind that the older the video is the more likely the mechanics would have changed. For instance, glass shards are no longer used but were central to the mod in the first video. If you rather a more up-to-date look at the mod, go look at a spotlight! If you want to see how the mod has developed, go check these out!

Latest episode: #6


Fancy server commands
These commands were added recently, to help directly altering the Soul Network. They are courtesy of Arcaratus, author of Bloody Arsenal.
Commands as of now:
/bind --binds the current item in hand to the selected player
/unbind --unbind the current item in hand (sets it to "")
/soulnetwork <.player> <.add> [amount] --adds the desired amount to the selected player's SN
<.subtract> [amount] --subtracts the desired amount from the selected player's SN
<.fill> --fills the selected player's SN (to Integer.MAX_INTEGER)
<.empty> --empties the selected player's SN
<.get> --returns the selected player's current SN amount


Changelog
1.3.3-2
- Added in-game books! These can be obtained by crafting a "Mail Order Catalogue" and throwing it on the ground.
- Added the Incense system! A handy method of scaling Self-Sacrifice to higher efficiencies by utilizing "mundane" materials. More detailed information can be found in the book "The Alchemist."
- Fixed the teleposer so that it may telepose players both directions (this was an offset issue)
- Teleposers may now telepsoe players and entities across dimensions!
- The Sigil of Holding now has a GUI that is brought up by shift-right-clicking. To cycle between sigils, you now use your scroll wheel while the sigil is selected.
- Changed the Focus of the Ellipsoid ritual so that it now places blocks in the ellipsoid using blocks in a chest below the MRS.
- Ritual Diviner now auto-constructs rituals, and in SSP (will be fixed for SMP later) it will show a ghost outline of the blocks of the ritual when moussing over the MRS.
- Added AgriCraft crops to the Harvest Handler
- Fixed Phantom Bridge being derpy when in the player's armour.
- Created the "Blood of the New Moon" ritual that will rip up a sphere of earth from the ground and into the air.
For more info about the items, read the books! I hope you will enjoy them!
1.3.2-1
- Once again, fixed a lot of bugs. They aren't really happy at me, but hey, they don't get kick-ass armour!
- Oh, and also added Project: Omega at long last! This grants a lot better armour (subjective) to the user. See the relevant section.
- Added the Dawn ritual stone and scribe tool (glowstone block inside of a T6 altar), as well as an upgraded Ritual Diviner in order to place the stones.
- Temporarily removed the books to stop lag from a lot of computers – these will be finished soon!
- Oh, also added an Autocrafting ritual. Oh well!
1.3.1-1
- Fixed a LOT of bugs. Hopefully enough to keep people happy~
- Added a few Ritual Diviner changes
- Soul Fray can no longer be cured by milk. Sowwie!
- Added Teleposer blacklist
- Finished the base effects for the Orchestra of the Phantom Hands ritual
- General cleanup
- Fixed the compression sigil. It seemed to have it in its head that the best way to compress things was to compress players out of their servers. Don't .rar me, bro!
- Added moar fake player checks
- Initial book stuff - since it doesn't have a texture, it should be rather obvious it isn't done.
- Possible to now add meteor paradigms via MineTweaker - don't ask me how, it's not like I know how to use it!
1.3.0b-3
- Potential fix for Zephyr dupe bug
- Added a demon limit to the config - if you spawn in a Demon Portal, it will only spawn demons to a limited quantity
- Removed unneeded tiers for the Demon Invasion.
- Added a few SoulNetwork-editing commands (courtesy of Arcaratus)
- Backend stuff for Project: Omega, which has been removed for this version.
1.3.0-1
- Added LP bar that shows the LP depending on your current highest orb - reuse an orb bound to you to activate this feature
- Added the Demon Invasion system. Most of it is done, however may not be completely balanced. The initial stages are done, and more will follow. Refer to my 8th Developer Commentary ( ) for how to activate.
- Added the T4 Spell Enhancement blocks - they require Life and Soul shards (from the demon invasion)
- Added a lot of demons, fixed demon village pathing algorythms
- Added T6, including the new Orb. The T6 is made by taking 19 runes and adding them similar to how the T5 runes were added - 3 out in total and one down. Then pillars such that the cap stone (Shard Cluster, see NEI) is one higher than the BloodStone block. T6 orb is made by infusing a Shard Cluster with 200k LP.
- Added a (disabled) bar for measuring reagents for a future seeecret update.
1.2.1a
- Fixed Compression sigil to be less laggy when you have nothing to compress.
- Allowed the Alchemy set to be ISided - this means that orb slot and input items can be shoved in sides and top, and result pulled from bottom.
- Changed the Ritual Stones
slightly
because #Alex.
- Fixed Ethereal slate so it is craftable. Oops!
1.2.1
- Added several Soul Network events for addon makers to exploit
- Continued work on the Demon Invasion system
- Fixed a few rituals and potion effects so crashing does not occur. Crashing is kind of bad.
- Added creative dagger, added filled belljars to the Creative tab
- Crusher ritual no longer breaks through unbreakable blocks
- Teleposers now properly telepose FMP structures
- Ritual Diviner now can cycle directions by right-clicking on non-rital blocks
- Made blood look more like blood and made the texture flow
- Added Blood Letter's Backpack, Rune of Acceleration, Sigil of the Harvest Goddess, and Sigil of Compression.
- Added proper item textures for Sanguine armour set.
- (Yes, I nerfed the green grove sigil)
- Added config to allow disabling of Bound Armour's custom model
1.2.0
- Added in 5 new rituals: Evaporation, Ellipsoid, Veil of Evil, Ward of Sacrosanctity, and Requiem of the Satiated Stomach.
- Added in the new Reagent System, a system that is used to upgrade rituals with a variety of effects - see bottom fo Item/Blocks section.
- Finished adding in the Sanguinmancy Set - throw in Thaumaturge armour into the Ritual of Binding.
- Added a new badass Bound Armour model.

- Fixed a bunch of bugs and added a lot more Addon support
- Added Soul Fray to limit self-sacrifice on death, and lowers Bound Armour's protection. Soul Harden increases the protection of Bound Armour.
- Added hunger near an altar if you have regen II or higher
1.1.0

- Added in two new rituals: Reap of the Harvest Moon and Cry of the Eternal Soul.
- Added the Rune of Superior Capacity
- Recorrected the Speed Rune to +20% per rune
- Adjusted the Rune of Augmented Capacity to be +20% instead of +15%
- Added the Tool Paradigm to the Complex Spell System
- Fixed a few mob glitches/crashes
- Call of the Zephyr is now upgradeable and respects NBT data
- Added the Sigil of Sight for better altar perusal


1.0.1g
- Fixed a rather nasty bug with the Call of the Zephyr ritual. Should be fixed in both versions.
- Fixed bug with LE rendering in tanks
- (1.7.2) Made the Ritual system much less likely to break when a modder adds a new ritual.
1.0.1e
- Fixed another bug with the alchemy set. Now will properly decrement the items.
- Added the ability for the water and lava sigils to deposit their fluids in a tank, and for the void sigil to do the same in reverse. Only works on tanks that do not have GUIs, so far.
- Fixed NPE with empty Sigil of Holding.
1.0.1d
- Fixed bug with the alchemy set duplicating items
- Reworked the Ballad of Alchemy to be more friendly. That sinister feeling is just your imagination...
- Added the Call of the Zephyr ritual.
- Updated 1.7.2 version to include NEI support.
- Thaumcraft integration now supported in 1.7.2
- Added some nifty upgrades to the Ritual of the Crusher. Best look them up!
1.0.1c
- Allowed most sigils to be bindable to the Sigil of Holding
- Told off the demons being bound to the pickaxes, so the binding ritual now works more than once
- Odd issue with Crusher ritual fixed
- Allowed a config to give access to removing potions from the Alchemy set
- Fixed client sync issue with Sigil of the Green Grove
- Bunch of other stuff that I forget about! What, I'm sick! :3
1.0.0c
- Fixed a NPE with the 1.7.2 version of the mod in the Master Ritual Stone
1.0.1a
- Fixed a bug with rituals crashing the game

1.0.1
- Added the Sigil of the Dome, as well as two more rituals.
- Fixed the Sigil of the Phantom Bridge's blocks, so that no matter what block you place it should keep it's proper nature.
- Extended the range of the Ritual of Regeneration, Well of Suffering, and Ritual of the Feathered Knife.
- Oh, also added the Blood Magic API. No big deal.
1.0.0b
- Added water breathing potion to the potion list.
- Fixed the Drowning effect so it only works if you don't have waterbreathing on
- Fixed a bug where an item could kill you multiple times
- Fixed a related bug where the mod could kill you even if you still have half a heart left.
- Updated 1.7.2 version to current Blood Magic version
1.0.0a
- Added ice recipe to alchemy, and fixed Mycelium
- Fixed the Earth Environmental Melee spell
- More general fixes
1.0.0
- Added in the spell system! And, like, dozens of new reagents!
- Added in the "Ballad of Alchemy" to help with alchemical needs
- Added a few helpful alchemy recipes for the aspiring blood mage.
- Added in NEI support for the Blood Altar and the Alchemical Chemistry Set! Thank joshie for that one!
0.7.3c
- Fixed an "oops!", so Demonic Slates are now craftable.
0.7.3b
- Updated the TC API to TC 4.1. This should allow the same mod to work on both.
- Fixed a server lag issue with the Boost potion effect, and made it work slightly differently.
- Fixed recipe issue. Craft away with the altar!
0.7.3
- [1.6.4] Fixed the issue with Galacticraft. Also, there is now only one download since I added stuff for Thaumcraft that will fix some shenanigans!
0.8.0a
- Fixed a major issue with the Blood Altar registry
0.8.0
- Has finally updated to 1.7.2! The lightning bug is Vanilla (I swear!)
0.7.2a
- Fixed a potential issue with the Soul Network after reworking it from earlier.
- Added armour to Elementals (more tweaks coming).
- Removed Collision Box from the Blood Lamp.
0.7.2
- Fixed the issue with Elementals randomly disappearing and bringing the server to its knees.
- Added more bad-ass effects to Elementals. If you swing at them wildly, they will respond in kind.
- Added in two more rituals: one that adds creative flight, and one... that summons meteors. Yup.
- Added in a sigil that can summon forth light sources.
- Added a key of binding that will allow you bind items to another network. See the section in the Items of Power.
- Energy Bazooka. Woot!
0.7.0a
- Small bug fix, as well as fixing the cost to Gaia's Transformation, as well as decreasing the cost of the Sigil of Magnetism from 50LP/10 seconds to 50LP/30 seconds.
0.7.0
- Blood Altar pillar's stone bricks can now be any non-air blocks.
- Added the Sigil of Magnetism, the Ritual of the Feathered Earth, and the Ritual of Gaia's Transformation.
- Added the "Awakened Activation Crystal," which activates powerful rituals. Be aware that more rituals may require this in the future.
0.6.5c
- Did some minor rebalancing, along with adding a config to adjust the alchemy reagents found in dungeon loot chests. This may make one psychic pokemon happy!
- Other than some minor tweaks, such as the Ritual of Magnetism's range being buffed to 7x7, nothing else has been added.
0.6.5
- Added some Thaumcraft integration! Now has a fancy Sanguine Helmet, that acts similar to the Goggles of Revealing. Expect more stuff soon!
- Added the Ritual Diviner, which will help in placing ritual stones around a Master Ritual Stone.
- Using a Teleposer to attempt to hop across dimensions no longer sends you to Limbo. There are other plans to send you there, though! In more, err, controlled ways. Unfortunately, this means players cannot go across dimensions with teleposers.
- Fixed a variety of bugs that were causing some grief.
- Runes of Dislocation no longer act in a linear fashion. Gotta love exponential return!
- Updated the OP so that it now has the CORRECT recipes! Oops.
0.6.4
- Added three new rituals to the Ritual section, designed to help automate LP generation.
- Revamped the Alchemy system slightly to allow refilling of alchemical flasks. The stronger the refilling agent used, the more likely that your flask will be filled!
- Fixed the alchemy system and the Demon Summoning systems not having some recipes working. Should work now! Hopefully. Let me know if it doesn't...
0.6.3a
- The Shade Elemental was giving a lot of issues, and has been removed for the time being.
- The Rune of Dislocation has been buffed to +10LP/s, and the base transfer is 20LP/s.
0.6.3
- Added three new runes! See them in the Blood Altar/Rune section
- Also tweaked the Blood Altar's operation. Make sure to read up on how it now works with fluid input and output. That is also in the Blood Altar section!
0.6.2
- Fixed a few glitches that have occurred, and are now resolved.
- Added a "Beast Mode" to a few of the Bound tools. Make sure to read up on these before continuing...
- Added five more rituals, which includes the Ritual of Magnetization. You'll enjoy this!
- Also added an Armour Inhibitor item, which suppresses your Bound Armour's abilities somewhat when active.
0.6.0a
- Fixed some idiotic problems with some recipes, as well as the Blood Altar. It is highly recommended to switch to this version.
- The Divination Sigil may now tell you what tier your altar is at, making it easier to determine if you mess up!
Previous changelog:
http://pastebin.com/qK2x7Vhg
Currently Known Issues
-This is intentionally left blank-
Lore
The more arcane magics use the life force of objects and creatures. Because of this utilization of the spark of life found in all living creatures, it is considered evil and has been cast out of normal use. However, even though the magic does use this "Life Essence," it does not mean that every action used with it is inherently evil.

Every "Item of Power," in this case those that have a special function and do not just sit in your inventory and look good, consumes Life Essence, whose unit of measurement is "LP." Generally, 100LP equals half a heart of the player, so it is a good thing to keep in mind when looking at an item. There is also one more caveat that must be explored, and that is in the nature of "Blood Pacts." A Pact is formed when you first use an item, and it bonds the item to the player forever. Because of this special bond, every single item that has a player's signature will drain their toll from that player on use. Fear not, though, because if the player has no Essence to drain from it will instead sap it directly from the user's health (painful for the more powerful items). This bond between the player and all of its items is referred to as the "Soul Network."

The only way to utilize the player's Soul Network is to create your very first item, and that will require a bit of sacrifice.
Wiki
Looking for something specific? Check out the wiki here! http://ftbwiki.org/Blood_Magic

Items/Blocks
Blood Altar
The "Blood Altar" is the answer to these arcane prayers. It is a GUI-less machine with a single internal slot and a tank to hold "Life Essence." By inserting a correct item into the machine by clicking the altar with it and filling it with the needed Life Essence, the machine will start to transmute the item into another form. To fill the tank with Life Essence initially, though, you will need to make a "Sacrificial Knife."
When the Altar is working on transmuting an item, it will emit dark red spirals to indicate it is working. However, if the particles turn gray it means that the Altar no longer has any Life Essence in its reserves and the item will slowly loose progress that it has built up. Re-filling the Altar will continue this progress.
The item that is currently inside of the Blood Altar will slowly revolve, as the level of blood inside slowly rises and falls in response to filling the altar. When the transmutation is complete, a final puff of red particles will indicate that it is finished.
You can also attach the altar to any device that extracts fluid to take out the Life Essence stored in the altar. Simply attach the pipe and store it in a tank! It is a bit viscous, however, so it might not be as fast as you would like... The Blood altar has an input and output buffer that is 10% the capacity of the main tank, and will slowly pull from the input buffer and syphon to the output buffer. The default that this action occurs at is 20LP/s, but it can be upgraded with a special rune later on...
Infusing a bucket will scoop out 1k LP to be placed in the world.
Sacrificial Knife
Right-clicking the air with this knife will nick your finger slightly, draining a heart of health and, if an altar is close enough to you, fill the altar with 200LP. It sucks as a weapon otherwise, so don't bother bringing it out to a gun fight!
Weak Blood Orb
The first item of any real value is a Blood Orb, whose main purpose is to charge the player's Soul Network. To create this item, you will need to place a single diamond into the Blood Altar and fill the altar with 2000LP. Once you get the weak blood orb and bind it to your character, you can either right click with it to syphon a heart from the player, filling up the player's network with 200 LP, up to a maximum of 5000 for the weak orb. You can also automate this procedure to an extent by throwing a bound Blood Orb into the Blood Altar – it will also take the same amount of health for the given LP, but will work while not on your person. When the orb is being filled in the Altar, light-red particles will be emitted from the Altar to indicate that it is working.
Upgrading the Altar
2nd Tier
The Blood Altar is meant to be upgraded in a very fluid and progressive way. By creating 8 blood runes and placing them in a 3x3 pattern below the altar, the altar gets upgraded to its 2
nd
tier. This multiblock unlocks several transmutation recipes, and other advantages such as further customization of the Altar. For instance, the 4 edge runes may be replaced with other runes such as the Speed Rune, which increases the speed of all processes by 20% (additive). The efficiency rune lowers the progress that is lost when there is no Life Essence left in the Altar by 20% (multiplicative). These runes, as well as others, will become important later.
3rd Tier
The third tier of altar requires a total of 28 blood runes, all of which may be replaced with upgrade runes. This altar does not require the usage of the 2nd tier altar, though it is a little difficult to collect the blood required for the runes otherwise. The stairs in the above picture are not needed, however the stone bricks and glowstone blocks are. In fact, the stone bricks can be any non-air block, so if you want pillars of dirt... more power to you. This unlocks further recipes.
4th Tier
This altar tier requires the 3rd tier altar to be completed, as well as having 28 more runes. The pillars are needed (4 stone brick (or any non-air block) with one Large Blood Stone Brick on top of each), and a row of 7 runes on each of the sides. Once again, the stairs are not needed.
Recipe for Large Blood Stone Bricks:
5th Tier
The second-last tier, this tier needs an extra four rows of 13 runes (three blocks outwards and one block down from the previous row) as well as four beacons. The iron blocks are not needed, however it would be a good idea to make use of them (Hint hint).
6th Tier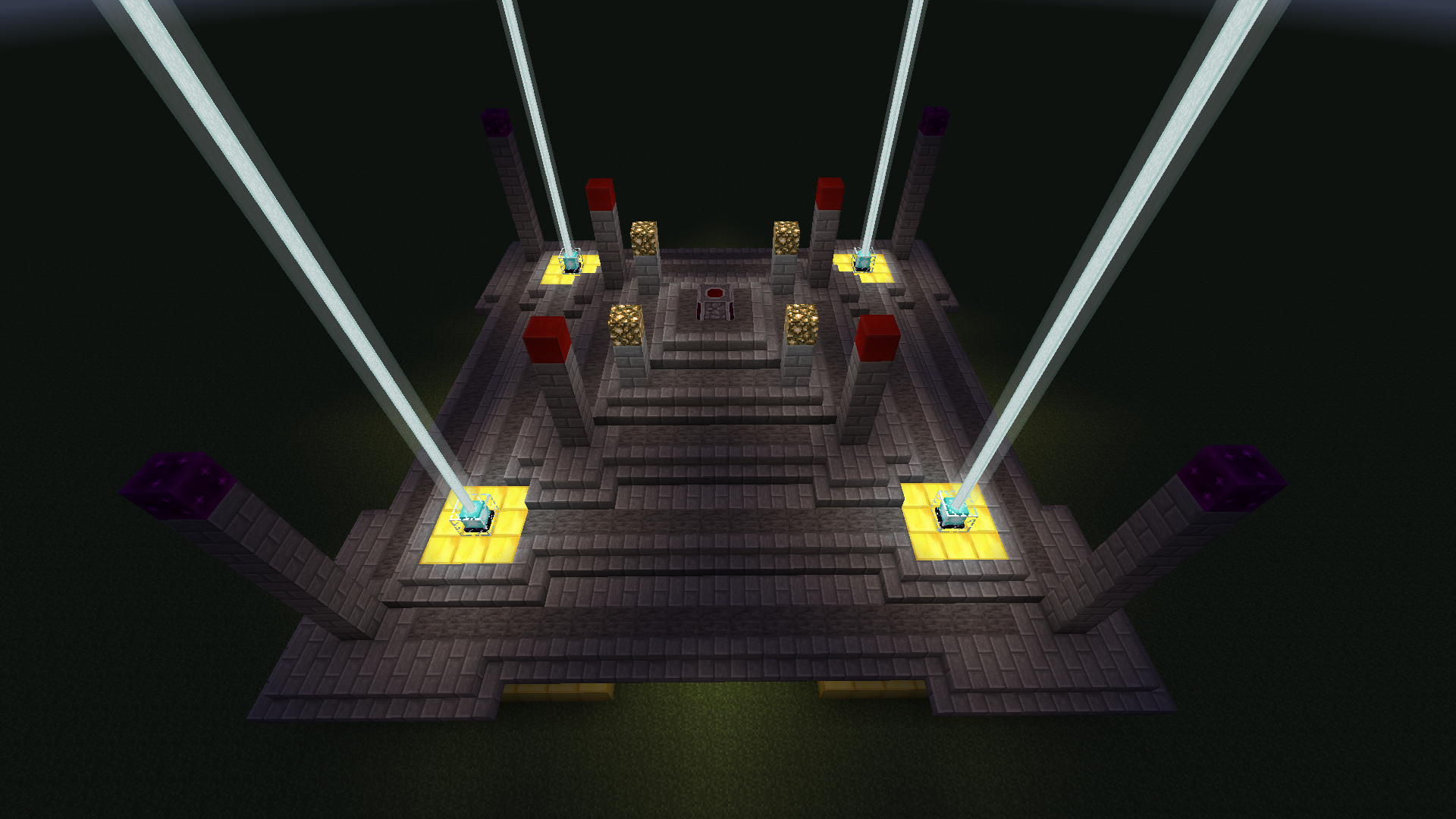 Tier 6. The final frontier. Going past the glassy-eyes of this amazing structure, this thing needs an additional 76 runes: 19 on each side which are spaced 3 out and 1 down from the T5 ring. You then need to build pillars at each of the corners and place a capstone of "Crystal Cluster" one higher than that of the Bloodstone blocks from T4. Considering what those capstones are made of, however, it will take a lot of effort to reach this point...
Apprentice Blood Orb
An emerald plus 5000LP results in an Apprentice Blood Orb, which can fill the player's network up to 25,000LP. (As a point of interest, the orb's limits will be increased at a greater rate later on.)
Magician's Blood Orb
A natural progression brings a blood mage towards the Magician's Blood Orb, which is created by imbuing a block of gold with 40,000LP (note that the natural buffer of the Blood Altar is 10,000LP). The creation of this item will require either many sacrifices of animals at a consistent rate, or several (self-)sacrifice runes upgrading your altar. If nothing is wasted, this process will take an entire 100 seconds (400LP/s consumed).
The process is worth it, however, because it raises the capacity of the Soul Network to a huge 150,000LP.
Master Blood Orb
Once you have mastered several arcane arts, your journey brings you towards the Master Blood Orb. This orb features a whopping 1,000,000LP (that's one
million
), and can unlock several benefits such as the ability to summon demons. It requires a Weak Blood Shard to be placed in the 4th tier altar, and 50K LP to transmute.
Archmage's Blood Orb
The journey has finally brought you to this orb, which grants you amazing power. 10mil LP, and the ability to summon Greater Demons came at a cost. You need to have beaten at least four Withers to be able to obtain the altar required to make this (5th tier), and needed to pour in 150k LP into a Demon's blood shard to transmute this orb. Don't let this power get to your head, because greater dangers await you.
Transcendent Blood Orb
The Transcendent Blood Orb is the mark of one who has managed to battle hoards of demons for their precious rewards. Needing a Crystal Cluster inside of a T6 blood altar, as well as 200k LP, this orb can hold up to a bulky 30 mil LP!
You keep telling yourself that those whispers are your imagination...
Dagger of Sacrifice
An iron sword, when combined with 3000LP in a 2nd tier altar, will give the player the "Dagger of Sacrifice." This dagger works differently from the Sacrificial Knife by instead being used to sacrifice other entities. What is more, to aid in this sacrificial ritual, if a valid entity is attacked when in close enough proximity of the Altar, the Life Essence will be completely sucked out of them and absorbed by the Altar, killing them instantly. Any child, though, does not have enough quality Life Essence inside of them for a proper ritual, and thus killing them will not give any sort of benefit when around the Altar.
Essence per entity (does not work on Player entities):
Cow, sheep, any mob that extends EntityAnimal: 250LP
Creeper, spider, skeleton, etc: 500LP
Villager: 2000LP
Sacrificing a Villager will result in the highest amount of Life Essence, but is considered delving into the deeper realms of arcane magic. As such, it will be considered a terrible crime against nature and will result in grave consequences.
Runes
Runes are meant to upgrade and reinforce the Blood Altar and its uses. There are currently only a few of these, but more will be added in the future.
Speed Rune
The speed rune increases the rate in which all processes of the Altar work at by 20%. This works additively, so it starts at +20%, then +40%, etc.
Efficiency Rune
The efficiency rune lowers the progress that is lost when there is no Life Essence left in the Altar by 20% (multiplicative).
Sacrifice Utilization Runes
The Rune of Sacrifice boosts all entity sacrifices by 10% (additively), whereas the Rune of Self-sacrifice will instead increase the yield of rituals that use your own blood. With these runes, you could either focus on sacrificing other animals, or refuse all sacrifices except from your own blood (or both, if you so wish). These also will allow the player to choose to either fill up while they are at their base when they are empty, or opt to do it while they are still out in the field for less efficiency.
Rune of Augmented Capacity
This rune, when placed as an upgrade to the Blood Altar, will increase the capacity of the main tank by 2 buckets. This may not seem like much at first glance, but if you were to use several slots of the altar on this rune you could easily get buffers of upwards to 50k LP or more! It is thus easy to simply fill up your altar and then make very high-tier transmutations.
Rune of Dislocation
In a nut shell, this rune speeds up the input and output speeds of the fluid buffers. Per rune, the speed of the buffer transfer will be 20% faster! And since this effect stacks multiplicatively, the more runes you have the much faster it will drain!
Rune of the Orb
One of the most powerful runes there are, this rune will increase the capacity of an Orb's soul network (when filling) by 2% per rune. On a weak blood orb, this is just 100LP per rune. On an Archmage's blood orb, it's closer to... 200kLP.
Rune of Superior Capacity
An upgraded capacity rune, this rune instead increases the altar's capacity by 10%. Might not seem like much, but instead it will increase it multiplicatively! So 2 runes would be *1.21, etc.
Rune of Acceleration
This rune works similar to Dislocation however does it in its own unique way. When normally moving LP to/from the buffers, the altar has to wait an entire 20 ticks before performing the operation again. The Rune of Acceleration, however, cuts this down. Each rune cuts the wait time by 1 tick. One rune makes the altar wait once per 19 ticks, two runes once per 18 ticks, and 19 runes will make it move the LP once every tick.
This rune is so powerful that the altar can only cope with 19 of these runes. Any more will provide no effect at all.
Blood Letter's Pack
This backpack is intended for early-game self-sacrificing, making life relatively easier for the beginning Blood Mage. Wearing this backpack will cause it to repeatedly hurt you, taking half a heart at a time and putting the corresponding LP into its container. If you take off the pack and right click on an altar when it is
not
in progress, it will dump its contents into the altar - the remaining will stay in the pack.
Because of the lack of an LP bonus from self-sacrifice runes, this is only really advisable in the early stages. However it does have the benefit of 10kLP storage as well as allowing you to not need to stand by your altar. It also has chain-level protection, but the fact that it will keep you at half of your health could be a little tricky in combat situations.
Sigils and Powerful Items
Base Sigils
Base sigils are created by infusing smooth stone inside of a Blood Altar. The more consecutive infusions that you do (needing stronger altars), the stronger the base sigil that you get.

This goes from: Blank Slate, Reinforced Slate, Imbued Slate, Demonic Slate, and Ethereal Slate.
Divination Sigil
The first Sigil you should make, the Divination Sigil, will tell you how much Life Essence is currently stored in your Soul Network. Like all other items, it is bound to your character, so if you were to use another player's Sigil it would instead tell how much that person has stored. Right click and a message will pop up showing how much is stored.
It can also be used to determine the current amount of essence stored in a blood altar! Simply right-click on a blood altar (doesn't have to be yours) to find out the stored amount!
Water Sigil
This item converts 100LP into a water source block when clicked, acting as an infinite water bucket. Considering that an infinite source can be easily constructed at this stage of the game, the convenience cost of the item of half a heart is reasonable enough.
Also, right clicking on certain tanks will deposit a bucket (max) of water into it!
Lava Sigil
The second item, the Ying to the Water Sigil's Yang, is the Lava Sigil. It will create a lava source block at the cost of a grand 1000LP. If you aren't careful with this, it could end up very bad for the trees – and you, if you don't have any Life Essence in your network.
Also, right clicking on certain tanks will deposit a bucket (max) of lava into it!
Lava Crystal
To make the Lava Sigil, though, you need something called a Lava Crystal. When bound to the player and put inside a furnace's burn slot, it will smelt whatever is inside of the furnace for a cost of 25LP per smelt. Because it is bound to the player, it should be possible for the player to log off and have the Lava Crystal still work (This is the intended use, though, but will need some testing). If the player doesn't have any LP left, though, it will apply a Nausea debuff on the player. It won't kill the player because having to fetch your stuff in a field because you had to log off and thus died would not be fun.
Void Sigil
The Void Sigil's purpose is to clean up any form of fluid that is lying around. Right clicking on a source block will syphon away the source for 50LP, but will completely destroy the liquid. This works with any Forge fluid, so use it on that pool of poison to your heart's content!
Right clicking on certain tanks will syphon a bucket of the liquid and completely void it! Oops!
Air Sigil
The Air Sigil, when right-clicked, will boost you in the direction that you are facing, even if said direction is in the air. At 50LP per use, this primitive flight will be quite costly, and a weak system will probably fair a travel distance of only about 1000 blocks. Also, it doesn't remove fall damage, so you better be careful when you are falling down.
Sigil of the Fast Miner
The Sigil of the Fast Miner is the first item that has a constant, passive effect. On activation (and every 10 seconds after) it will consume 100LP and cast Haste on the player, which increases the player's mining speed. More of these "buff Sigils" will come in the future, but they are closer to what I consider the "Clerical" branch of Blood Magic and will be realized fully when that branch is implemented fully.
Sigil of the Green Grove
This sigil is meant for those farmers who would rather use high-quality blood to get their farm going! This sigil has two uses: the first one is that if you right-click any compatible plant, it will apply bonemeal to it and cause it to grow instantly. However, if you were to instead right-click when not facing anything, it activate and force everything around it to grow at an accelerated rate. The larger the field, the better!
Sigil of Elemental Affinity
Made by combining the known Elemental Sigils, this sigil strengthens your body to withstand several harsh environmental damages. While active, you cannot drown, get damaged by fire, or suffer any form of fall damage. This consumes 200LP per 10 seconds, so it might be good to use in a pinch ... or when in lava.
Sigil of Holding
This sigil is ... unique. It has no function of its own. What it does have, however, is a kick-ass ability to find a compatible sigil and force it to bind to the Sigil of Holding. When you shift-right-click the sigil will look for any other sigil in your inventory (some may not work) and add it to this sigil's inventory. Right-clicking with the Sigil of Holding will use the held sigil's abilities! This sigil can also hold up to 4 sigils at a time, and shift-right clicking will cycle through this inventory.
Because of the bonding process used for this item, it is impossible to separate the sigils with conventional means. Perhaps if you find a way to unbind them...
Sigil of Haste
When activated, this sigil will boost your movement speed tremendously. You will be a lot faster, and also jump higher.
No FOV alteration either!
Sigil of the Whirlwind
By focusing the wind around you, you can start to repel all incoming projectiles! Arrows will simply fly away, and some spells will just fall short. Keep in mind that some projectiles can not be stopped by this effect, and should thus not be taken as a grantee of safety when fighting another Mage or a guy with a pointy stick.
Sigil of the Phantom Bridge
Ever felt that simply flying around was not classy enough? Why not summon a bridge beneath your feet and run around in the air instead? While activated, this sigil will start to spawn Spectral Blocks beneath you, and will continue doing so until you deactivate it. There are a few rules that it follows:
- If the player is jumping in the air, it will not spawn a bridge block. It will, however, spawn a platform when you sneak, and thus will be able to catch you if you are falling and you press shift.
- While pressing shift, the sigil will spawn blocks one block below where you are standing. This will allow a safe decent, if needed.
Also, the blocks themselves are easily breakable, and require a simple left-click to destroy. If you right-click on a spectral block with a block in your hand, it will replace itself with that block. Perfect for building!
Sigil of Magnetism
The Sigil of Magnetism is used to attract items towards you from an extended range. The range is 5 blocks in each direction, and when it detects an item it will instantly bring it to you. No, the items won't revolve around you like a moon around a planet - that's just annoying!
Ritual Diviner
The Ritual Diviner is a very strong item useful for rituals. By shift-right clicking with the diviner in your hand, you can cycle through all of the possible rituals and determine how many runes each of them needs.
Once a ritual is selected, the real magic can begin. If you right-click a Master Ritual Stone with this in hand, you can place a ritual stone from your inventory and automatically ink it, and the stone will correspond with one of the stones needed in the selected ritual. Right clicking again will place yet another stone, and so on until they are all placed. (Make sure there is sufficient room for the stones, because it will NOT place the stone if another block is occupying the space.)
As you can see, there are two recipes: The first one will place stones that are either Water, Earth, Air, or Fire inscribed, however it will not place Dusk runes. The latter one will allow you to place Dusk stones. Dawn runes, however, have to be placed by the last tier of the Ritual Diviner.
Key of Binding
If you have a Key of Binding bound to a network, you can bind non-bound items to the same network. Simply right-click the Key and it will look at the first item in your inventory that is bindable (first slot of the hotbar to start). So, if you have a key bound to the player "Video" and use it, it will seek out the first non-bound item and bind it to the player "Video." Also, there is a key you can grab from creative that is bound to the player named "Server-wide Soul Network," so that you may have a server-wide... soul network!
Energy Bazooka
A stronger version of the Energy Blaster, this weapon uses an agonizing 20k LP to fire a two-staged projectile. The first projectile, when hitting something, will explode into 20 secondary projectiles that will rebound and explode on impact.
Sigil of the Blood Lamp
When right-clicked on a block, you can place a light source block with your blood. conjure the very essence of light from your essence! Also, you can fling the sigil in such a way to throw a light source far away, that will stick to a block and then create light where it lands.
Sigil of the Dome
This sigil is pretty strong, and thus is rather late tier. By combining a teleposer with the strength of the void sigil, you have managed to find a way to push all liquids and fluids out of your way, surrounding yourself in a curtain of air that comes with you wherever you go.
The sphere has a radius of 5 and it actively supresses all liquids in it's area of influence. When you walk away from the fluid, it will naturally regenerate back to what it was before. Manage to catch a deadly wave of neurotoxin? Make sure you cover the area up afterwards since it may come back when you leave!
Sigil of Sight
This sigil is an upgraded sigil used purely for work with the Blood Altar. When you right-click on an altar with this sigil, you will be able to see a lot more information than is seen than the basic Divination sigil, such as the progress and speed of the altar crafting. Because of this, there is a drawback; you can not peer into your own Soul Network with this sigil.
Sigil of the Harvest Goddess
This sigil uses your blood to summon an invisible spectre to harvest any crops within its area of influence. By activating the sigil, all crops near you will be harvested and one of the seeds will then be planted where it was.
(The range is 7x7.)
Sigil of Compression
By using the raw force of compression, you are able to compress many items into more dense forms. Glowstone dust into glowstone blocks, iron ingots into blocks, etc. A few conversions are added in a special-case fashion, however by default it will attempt to compress an item into a 2x2 or 3x3 crafting grid and check that it can be broken back. So it won't compress cobblestone unless it knows that the result can be changed back into cobblestone!
There are also a few built-in limits to the sigil, such that it will not allow cobblestone to be compressed unless there is at least a stack in your inventory.
Rituals
Weak Rituals
Weak ritual spells are early tiered spells that are meant to give the early blood mage a taste into the arcane. The early spells can be very powerful, but because they utilize mundane elements in the environment to perform their tasks they need a huge amount of power (5000LP each) to work. They only are activated once per use, so make sure you are well stocked!
When placed in the world, this Imperfect Ritual Stone will check the block that is directly above it. If the block is compatible, the block will be ready to operate. Simply right-clicking on the block will drain the 5000LP from your Soul Network - if the required essence is not available... it will simply drain it from the user's health. Be wary, though, since the activation of the ritual may destroy your hard-earned items...
There are currently four rituals available from this stone:
Water source block - creates a large thunderstorm
Coal block - summons an astonishingly strong zombie
Lapis block - twists the time of day to force the moon to rise early
Bedrock - might make you hardier than you can imagine.
The blocks are not consumed on use, so feel free to drain yourself dry!
Later Rituals are special spells that are inscribed into the world instead of on Sigils. All rituals require the user to lay out Ritual Stones centred around a Master Ritual Stone. It is also required that the player inscribes onto each of the Ritual Stones a special elemental ink, which can only be created in altars at the 3rd tier and above. Combining this ink with a feather will make an inscription tool, which will inscribe the ink onto the stone.
It should be noted that these rituals are not free, and thus require a medium to be created between the player and the inscribed ritual. Thus, a special "Activation Crystal" is used (must be bound to the player before hand), and two tolls are cast: one for the activation itself, and another for refreshing the ritual. These costs vary between the rituals. If a ritual is a success, it will emit a bunch of dark-red particles to indicate it has activated.
Pro tip: if you don't like your ritual being on at a given moment, turn it off! A redstone signal will do the trick.
Elemental Ink
The elemental inks are created by placing in a 3rd tier altar a material with a strong affinity towards the elements. Rumour has it that obsidian, lapis blocks, ghast tears, and magma cream are good candidates for the more mundane inks. The scribe tools made from these inks use 100LP per use, so be cautious about how you decorate your base.

There is talk of a more powerful inscription tool, which is used for a few more advanced rituals. A coal block in a 4th tier altar can unlock this mysterious tool...
Weak Activation Crystal
This crystal is created in the 3rd tier altar by inserting a Lava Crystal with 10000LP stored in the Altar. This crystal will never break, but that doesn't mean the rituals come free!
Awakened Activation Crystal
Infused with several powerful alchemical ingredients, this augmented crystal is able to activate much more powerful rituals. It does require the essence of a Demon to awaken its true powers, and is thus stronger. If your Weak Activation Crystal does not activate a given ritual, use this instead. (The Demon Blood Shard may be replaced with a nether star, if so desired, in the Alchemic Chemistry Set.)
Ritual of the Full Spring
By jumpstarting the ritual with 500LP, you can create a simple infinite spring that will always replenish itself - at the cost of 25 LP per source block. If you have a pump, and are afraid of things like server lag causing a water source to not materialize, try this easy infinite water! Buckets also work on this thing!
Serenade of the Nether
A bit more hellish of a ritual, this process will allow an infinite source of lava to be added to the world at an activation cost of 20000LP (wow), but 500LP per source. It is intended for people who would otherwise pump the Nether dry, and offers up instead a lag-less alternative. You still need a pump, though, so don't forget that. Or a bucket - that works, too!
Ritual of the Green Grove
This one is a bit more complex. When activated, this ritual will take a measly 250LP away, but will cause any plant (anything that implements IPlantable, for those who know MC code) two spaces above the Master Ritual Stone in a 3x3 area to grow faster. At the cost of 20LP per second, it will every second apply a "growth tick" on the plant - if the plant gets enough of these, it will grow naturally. This may be tuned in the future, but things such as sugar cane or mushrooms will now grow at a much faster rate!
This should also work for any mod-added plant!
Interdiction Ritual
This ritual is a tribute to Equivalent Exchange 2's Interdiction Torch. At a cost of 1000LP to activate and 10LP per second to have it run, it might be wise to have a lever of some sort on it to keep it off when not in use. If you are wondering what it does, simply put an animal of some sort close to the centre stone and activate it. Quite useful for aggressive mobs, too!
Ritual of Containment
This ritual does the opposite of the Interdiction Ritual. You may find it useful for some altar work!

Ritual of Binding
This ritual is very special in nature. Not actual nature, I was just saying - you know what, forget it, let's just tell you how it works. What it does is it takes an item offering from the player and starts to perform a "Ritual of Summoning," which calls forth a creature/entity from another dimension. This creature, using your blood, is bound to the item and gives it diabolical properties.
Diamond pickaxe, axe, sword, and shovel all give their "Bound" versions.
An apprentice orb, when thrown in, will give a very strong ranged weapon called the "Energy Blaster."
These items do, however, have two states - activated, and deactivated (shift-right-click toggles between these). When deactivated, the bound item will be an amorphous blob that is completely useless. If you were to activate it, however, it would start draining a small bit of life essence from you while active and transform into the item's useful form. When an action is performed with the item (mining, attacking an entity), some more blood is drained from you depending on the action.
The Bound Sword and Energy Blaster are pivotal for use in armour creation, so check farther down for info on that (They also cause a very strong from of weakness. Just saying!).
These items, apart from the Energy Blaster, are also highly enchantable. Enchanting the item will strengthen the bound soul, making it much more deadly. Best ... not to offer it your other hand.
Also note one more thing:
all harvesting tools (Pickaxe, axe, shovel) have seals on them to make sure that they behave properly. If you remove this seal for a single moment (by right-clicking with them while active) they will consume a whopping
10,000LP
and decimate a large area of land. If you use this near your house, you will be sorry. Also, these tools don't mess around, because if you use their "Beast Mode" while unprepared, they will not take pity on you.
Ritual of Unbinding
When a soul is bound to an item with an inventory, and you want to banish it, this is the only way to get rid of the blasted thing. Throw the item you wish to deconstruct and activate the ritual - all of the components of the item will fly apart for collection.
Ritual of the High Jump
When activated, any entities on top of it get launched into the air. If they land on top of the center stone, no fall damage occurs.
Ritual of Speed
When in the Area of Influence, the entity will get launched forwards and upwards in the direction of the Dusk rune. You will go quite fast, so make sure to have a good way to slow down!
Ritual of Magnetism
This ritual searches in a 7x7 area beneath itself and looks for any ores - when it finds one, it sucks it to the surface and places it inside of the 3x3x3 volume in the ritual. This will be handy for anyone that wishes to quarry a decent area without having to worry about leaving huge holes.
Ritual of the Crusher
One of the more useful rituals, this ritual will search the 3x3x3 volume below itself and try to break the blocks there. If there is a chest (or any IInventory) directly on top of the center ritual stone, it will dump the contents inside of the chest. If you pair this with a Ritual of Magnetism... well, you can see where this is going.
You can upgrade the operations of this ritual. By placing 12 blocks of a precious material in the configuration above, you can either add fortune or silk touch to the ritual. 12 gold blocks are needed to allow silk touch, but if you were to use 4 blocks of emerald or diamond (can be mixed), you can get a single fortune level up to a maximum of Fortune III.
Ritual of the Shepherd
For those who enjoy sacrificing animals, or even just making them grow faster for whatever reason, this ritual is for you. While active, it will take a child animal and accelerate its growth rate by 6, meaning it will take only 3 minutes to grow to an adult instead of the usual 20 minutes! This will take approximately 400LP per animal from infant to adult, so if you do plan to sacrifice your animals (you monster!

) make sure your altar is properly equipped.
Well of Suffering
This ritual is for those that want to see their animals through to the end without having to be there to hold their hands ... err, hoofs or whatever they have. Fins? Anyway, every few moments this ritual will damage an entity within its area of influence (players are exempted) and will attempt to fill any nearby blood altar. Each time it damages the entity in question, it will take half a heart from them and will fill any altar nearby with about 10LP. However, it does respect Sacrifice Runes, so it is best to use this on an upgraded altar!
Ritual of the Feathered Knife
While you or any player is within its area of influence, which is about a radius of 10, this ritual will start to syphon from your pool of health directly. For every heart of life that is taken from a player is placed into a nearby altar (costs 20LP per half-heart and fills the altar by 100LP). Like the Well of Suffering, this ritual does respect any Self-Sacrifice runes that are on the altar. What's more, this ritual also stops syphoning from your health if your health drops to three hearts or less. So unless a zombie jumps you while you are in your base, you shouldn't be worried about any possible death!
Well... just make sure no explosions happen.
Ritual of Regeneration
This ritual acts to cast regeneration on any entity that is within its range of 10 blocks. Unlike beacons, it works on all entities at a cost, however it also works on players (who knew), and it will only cast regen on the entity if they are below max health. Since the life force of players is a lot more precious than that of common sheep and pigs, it will cost more to heal them.
This ritual is designed to have either the Well of Suffering ritual or the Ritual of the Feathered Knife to slot into the ritual, to save space, although it is not necessary to do so. If you do keep the ritual on, just make sure no creepers or such were to have regen on when they sneak up on you...
Ritual of the Feathered Earth
The Ritual of the Feathered Earth is a ritual that, when activated, softens the surrounding ground to make all entities in its effect no longer take fall damage. The initial cost of activation for this ritual is 100k LP, but the ritual takes no cost afterwards due to its semi-permanent effect on the surrounding ground.
Some helpful stats: Vertical range is 30 blocks both directions, and horizontal range is 20 blocks in each direction.
Ritual of Gaia's Transformation
By offering several items to the Goddess Gaia, you can carve your will into the world and change the climate of a defined area. By placing in items into the eight Arcane Plinths, and defining an area with bloodstone bricks (of either type), you can change the biome of the defined area to a biome that is within a given set of specifications.
A defined area means any area that is contained within the Blood stone, and has a definable path to the Master Ritual Stone. Basically, if you place water on top of the Master Ritual Stone, and continue to place water where the water flows until you can't place any more, that will be the area that changes. The definable area can only be defined one block above the Master Ritual Stone, and the max range is a 21x21 area.
The ritual assumes first of all that you have a humidity of 0.5 and a temperature of 0.5. It will then consume the items that you have placed and modify the humidity and temperature accordingly. It also starts with assuming that a range of 0.1 is acceptable in both directions. If the ritual can not find a biome that is registered in the list, it will simply set the biome to a "plains" biome, with a biome ID of 1.
The items that can modify these parameters are as follows:
Sand: humidity - 0.1
Sandstone: humidity - 0.2
Netherrack: humidity - 0.4

Lapis: humidity + 0.1
Water bucket: humidity + 0.2
Lapis block: humidity + 0.4

Coal: temperature + 0.1
Coal block: temperature + 0.2
Lava bucket: temperature + 0.4

Snow ball: temperature - 0.1
Snow block: temperature - 0.2
Ice block: temperature - 0.4
For this to take effect on the client, you will need to relog. This will be fixed in the future if possible.
Oh, by the way: this ritual requires 1,000,000 LP per activation. Have fun!
Reverence of the Condor
The Reverence of the Condor provides all players within the given range (20 block radius) a buff that allows them to fly. By using 1mil LP and a strong activation crystal, the area that the ritual affects permanently provides the creative flight free of charge. Keep in mind that if you were to leave the area of the ritual that you may... plummet to your death. It's a good call to make several of these throughout your work area, as they also reach from bedrock to the world limit!
Mark of the Falling Tower (Meteor)
This is a very expensive and intricate ritual. By focusing on the Master Ritual Stone with your energy and throwing in a small offering (stone block, iron block, diamond, or a nether star) you can summon a meteor from outer space that is full of rich resources.
The important part about these meteors is that to pull them from the orbit of the Minecraft world, you need to offer up 1mil LP, dragging them in to fall right into the ritual space. There is a set of config options, and by placing the ore dictionary name of a block you are able to add it to the list of meteor resources at a set chance. As you can see from the above pictures, it causes quite the explosion... and can have several mod ores as well! (Defaults vary slightly, and it is advised for you to tweak them as you see fit. Modpack makers: please balance your way.)
Ballad of Alchemy
The Ballad of Alchemy is used to automatically process alchemical reagents. What is needed is to place an Alchemical Chemistry Set in front of it, an output chest on the opposite end of the ritual, two input chests on either side of the ritual, and a Blood Altar on top. (The chests can be any inventory, as long as they are not other chemistry sets.)
Place the reagent that you want created inside of the Blood Altar, and the reagents needed to craft that item in the input chests. The dark hands of the ritual will take items from the input chests and place them into the slots of the Alchemy set, will pull out the items that do not match the description of the item, and pull out the outputted item and place it into the output chest. So, if you wanted to make obsidian, you can place in a load of buckets of water and lava into the input chests, and get obsidian and empty buckets spewing from the output chest!
Aura of Expulsion
The Aura of Expulsion is a rather powerful ritual for base defence on servers. It takes 1 mil LP to activate, and 1kLP per "operation" that it performs. When it finds a player within it's area of influence (a box of radius 25) that is not the owner of the ritual, it will proceed to "expel" the player by randomly teleporting them away. If the player ends up being inside the area again, it will do so again and again until the owner's network is dry.
There are rumours that there is a way to sneak past this ritual, although no theory has been adequately tested in the field.
Dome of Suppression
The Dome of Suppression is a simple but powerful ritual. What it does is creates a sphere that "supresses" all liquids that are within it's area of influence, replacing them with air blocks that remember what was there. When the ritual is deactivated, the dome will collapse and the liquid that was there before will rush in to reclaim it's domain.
This ritual can have it's range upgraded by putting a block of iron, gold, or diamond underneath it. The default radius is 10 blocks - shown is the max size.
Call of the Zephyr
This ritual uses the power of the air ritual stones to suck up items in a large vicinity around it. With a range of 10 blocks, it will pick up any and all items that it can find and place them in the inventory (i.e. chest) that is on top of it. You should take note that this is not free: each itemstack that it finds will cost 5LP to move it.
This ritual can also be upgraded by placing either an iron, gold, or diamond block underneath it to make the range 15, 25, or 40 blocks, respectively.
Reap of the Harvest Moon
This ritual searches a 9x9 area for harvestable plants. What is more, it will replant one of the seeds that is dropped into the soil and drop the remainder items into the world. It has a radius of 4, so it will work on plants above/below it.
Modders may hook into the ritual to add their own harvest handlers.
Cry of the Eternal Soul
Meant to be the pinacle of self-sacrifice, this ritual will use your body as a conduit to fill the nearby altar from your Soul Network. For every LP that it puts into the altar, it will take 2LP from your Network, and will only function while the activator is around the ritual. What is more, it will put the LP into the input buffer of the altar. It's best to use good runes for your altar to maximize the benefits.
Also, while in the ritual's effect and when work is being done, the user's health will be set to 1 heart. Make sure to only use this ritual in a safe place or near your comrades.
Focus of the Ellipsoid
This ritual makes an ellipsoid out of Spectral Blocks, acting as a building guide for complex 3D spheroids. By placing a chest or inventory on top of the MRS and placing items into the first three slots you can modify the radius in each of the major directions. The stack size of the item in the slot determines the radius - the first slot represents the x-radius, the second the y-radius, and the third the z-radius. Keep in mind that the cost of the ritual grows as more blocks are placed!
Caution: may cause lag, so be kind to your server!
Song of Evaporation
This ritual uses the power of Dusk to completely eliminate any form of displaced liquid block that it can see and reach. When activated (one time use, it will deactivate right away), the ritual will search outwards along an open path for any displaced liquids: this means any that are displaced by a Ritual or via the Sigil of the Dome/Supression. It will continue searching until it hits its maximum radius, then make all displaced blocks that it finds completely vanish.
It will search through air blocks only, so if you place this ritual in a completely confined space it will only void those liquid blocks in the space that have been displaced.
Ward of Sacrosanctity
This ritual's purpose is to create a barrier against all hostile mobs, preventing them from spawning in dark areas. The default radius is 32 blocks, but no matter what the light level is they will no longer be able to spawn. Horray for no creepers in my base!
Oh, it costs a bit too.
Veil of Evil
The Veil fo Evil is the antithesis to the Ward, allowing hostile mobs to spawn where they normally would not be able to. Be careful, because this means that they can spawn in even the brightest lit areas, happily mauling your face. Vanilla spawning behaviour, other than the light level, is still adhered to.
Requiem of the Satiated Stomach
This ritual will search for any food items in the inventory that is above it and feed it to players that are within its area of effect. Any and all food items will do, even rotten flesh, however this will only give you its saturation - you won't be able to go from half a hank to full with this one, so if you run out of saturation it will still eat up your bar.
Convocation of the Damned
Please refer to the "Demon Invasion" tab in Post #3 for more information on this subject.
Orchestra of the Phantom Hands
This ritual is designed to be an automater's dream. The purpose of the ritual is to route items to different inventories while using other inventories as entry points into the system. There are a few tools that are required for using this system, but the rules are straight forward in theory. It's easy to use the system – it is difficult to master.
The first thing you need to do is tell the ritual which chests or inventories that it can access. This is done by crafting an Input Routing Focus (needs an Ender Shard, which is an enderpearl plus a weak blood shard – the recipe makes 8) and right-clicking onto the inventory in question. A set of coordinates as well as a direction to pull from is displayed on the tooltip. Whichever side you click on is the side that it will try to access, and it will ONLY try to pull from that side. The only thing you have to do with the focus afterwards is to place it into one of the four input chests for the ritual, which are directly adjacent to the MRS (so one block in either cardinal direction).
These marked chests will be the inputs to whatever system that you design, and basically act as sources.
The next items that you will need, and the ones of most note, are the Output Routing Focuses. These focuses are used to designate where certain items are to go. There are several different types of output focuses, but the differences will be discussed after the usage. Like the input focuses, you right click on an inventory that you want to put items into, clicking the side that you want in question. This output focus is set to put items into the top of the furnace show below.
If you shift-right-click on the side when the side in question has items in its inventory the focus will have an "Item Limit" bound to it – this means that the focus will only add to the inventory up to the designated number of items, for that particular item that is being routed. For instance, the focus show below was used on the top of the furnace that had 64 sand in it, making the Item Limit 64. If you click on an empty inventory, the limit will be cleared (set to 0) meaning any number of items may be permitted into the target inventory.
If the output routing focus is put into one of the corner output chests (two blocks away in the diagonal from the MRS), the ritual will listen to the needs of the inventory in question and look at the items that are in the aforementioned linked Input inventories. If you put a focus in the chest and then an item right after it, it will use the item as a filter. The configuration below says that it will try to put 64 sand into the top of the furnace.
If two focuses are put together before the "item filter," it will target both of the designated inventories for output and use a mathematical operation for the logic to determine if the items are valid. For instance, since both of these focuses are the default kind, it will check if the item is a Sand block, and then do the same check and using an OR. (DoesMatch = DoesMatch1 || DoesMatch2).
Finally, if multiple items that are not focuses come after a series of focuses, it will check if the input items match any of the filters. In this picture, it means if the item it is looking at is either sand or iron ore it will attempt to put the item into the tops of the two furnaces. Also, if another focus appears in the chain, it will reset the filter that it was working on before and will work on a new chain. The picture below shows that after it checks if the item is sand or iron, it will then check if it is coal – if it is coal, it will place the item into ONE of the furnace's fuel slots (not shown: focus is set to the east side).
Result:
Further refinements to the above example can be setting the bottom (output) of the furnaces to be inputs into the system, and then designating another chest as the ultimate output, putting the processed iron and glass into the final chest. Bam! You have automated furnaces with a chest to act as an input and a chest to act as an output. All without pipes!
Note: If multiple focuses in the same "chain" have Item Limits, it will ADD all of the numbers together. This means if all four of your focuses are set to 16, it will instead register as a 64.
As mentioned there are different types of output focuses, with different degrees of complexity. All four can be seen in the bar.
The Red focus is the default one, making sure that the item inputted into the system matches exactly to one of the filter items, ignoring NBT data. When this focus comes after another, the logic will use an OR to get the result of the combined focuses.
The Blue focus sorts based on the mod ID of the item. If the item inputted into the system is from the same mod as one of the filter items, it will be routed to the output locations in the chain. When this focus comes after another, the logic will use an OR to get the result of the combined focuses.
The Dark Green focus is set to ignore the meta data of an item. If an item matches one of the filters and not the meta data, it will route it anyway. This is useful for dyes or other such items. When this focus comes after another, the logic will use an OR to get the result of the combined focuses.
The Yellow focus requires that the item matches the NBT of the filter exactly, as well as if the item is the same including meta data. If a Blood Orb is used as a filter with an owner set, only blood orbs with the same owner are routed. When this focus comes after another, the logic will use an AND to get the result of the combined focuses, meaning for the full effect of this focus it should be used at the end of the given chain.
Symmetry of the Omega
This ritual is designed to unlock the next tier of Bound Armour. By inserting four belljars filled with reagents into the four empty spots of the ritual and sealing yourself in, you are able to fuse the soul of the Bound Armour to that of your own, entering into the Omega State.
This ritual is only able to accomplish the Omega State for four different reagents, and needs 32kAR in order for the offering to be accepted: Aether, Incendium, Aquasalus, or Terrae. It also needs 15 million LP and access to Dawn ritual stones (T6). More information about this process can be found in the "Project: Omega" section of this post.
Duet of the Fused Souls
This ritual resonates with the power of a beacon and the force of your Omega armour. While you are in Omega Armour with this ritual active (it REQUIRES a full-sized beacon with any sort of beacon block as a base), your Omega armour will not lose any of its Reagent Bar due to idling. Although this costs 5000 LP/s, you are able to remain in your Omega armour for as long as you have the LP and aren't damaged too much.
You still will lose reagents from your Reagent bar if you are damaged, so be aware that you may still have to reinitiate your armour's transformation!
Rhythm of the Beating Anvil
This ritual is used to craft items automatically. In order to operate the ritual, you have to place up to nine inventories two blocks above the MRS and four inventories in the empty spaces below the ritual. The three chests that are in front of the Earth ritual stones are the input chests, whereas the chest in front of the Water ritual stone is where all of the outputs are routed to.
In order to set up a recipe, you have to place items inside of the inventories on top of the MRS as if it was a crafting grid – the crafting grid's "bottom" is the side that has the Water ritual stone. Seen below is the recipe for a piston.
The ritual will then look at all of the input chests and find the items located in the recipe (no oredict support currently), and if it has all of the materials needed it will then craft the item and throw it into the output chest. The ritual will only fill the output inventory to up to a stack for each item crafted – if your recipe is a piston, it will only output a stack of pistons in total until more space is cleared.
Which brings me to multiple recipes. You are able to set up the ritual so that you can have multiple recipes stored in one ritual, and I do not mean via teleposers. If you place inventories on top of the MRS that have multiple slots in them, you may designate different recipes for each slot. To do this, place your chests or inventories on the MRS and place your first recipe in the first slot of each of the chests: for instance, if I were to go with the piston recipe, I'd put a wooden plank in the first slot of each of the top three chests, followed by an iron ingot into the first slot of the middle chest, etc. Then for the next recipe I would place the items into the second slots of the chest: if I want to convert redstone dust to redstone blocks, I would place a single piece of redstone into each of the chests' second slots. Rinse and repeat for all of the recipes that you need, but make sure that you use all of the "recipe slots" before the one you are working on. If the ritual reaches a recipe slot designation that has no items in them, it will go back to the first slot's recipe.
Finally, there are a few uses for reagents with this ritual. If you use virtus, for instance, the ritual will be able to use the "output" chest as one of the input chests. While this may seem useless to some, because the ritual will only fill up one slot's worth for each recipe, you are able to utilize said outputs as inputs to further recipes!
Armour Creation
This item is the basis for all armour creation, and will be needed for almost all processes that require binding a soul or an entity. When you attack a monster in a weakened state (see the Ritual of Binding), you have a chance to shatter the monster's Soul Network, producing a Weak Blood Shard on death. No one really knows why this happens, but if you look closely enough it resembles one of your blood orbs...
Empty Socket
Empty sockets are blocks that permanently store a copious amount of Life Essence. They are kind of useless on their own, though.
Filled (Blood) Socket
To fill up the empty socket, you have to place it into the altar and start filling it up. It takes a lot of essence (30,000LP seems good, eh?) to fill up one socket, so you better make sure you can sacrifice things effectively.
Soul Armour Forge
The Soul Armour Forge is the last item you will
need
for your armour creation. Like all of the other blocks, this does not have a GUI, and is frankly a little dense (though considering whose blood it is made from, can you blame it?). What you need to do, however, is take a bunch of filled sockets and lay them out on the ground (or standing up, doesn't matter) in the form of a piece of armour. Then, place the Soul Armour Forge in the empty space (may take practice to get it right).
You have two options now. One, you can click on the Forge and it will summon an entity (from another dimension - let's hope they don't miss Fred!) to bind to the materials and create the armour. Two, you can attempt to upgrade your armour with a bunch of "fun" effects.
Bound Armour
This armour is special. Because of the soul that is bound to it, it will reflect most forms of physical and magical damages. Some forms of damage (like drowning) need upgrades to mitigate, but creeper attacks now just make you laugh. The armour can only take effect, though, when all of your pieces of armour are Bound Armour pieces, so just wearing a helmet won't prevent your chest from caving in.
The armour takes in damage which goes directly to the armour pieces. When damaged, the armour will then look into the player's soul network (the owner's, not necessarily the wearer's) and syphon a portion of the stored essence. If it doesn't find enough... things could get messy as it consumes you instead.
If you have the debuff "Soul Fray" on you will suffer much more damage, as it affects your amour considerably. However, if you have "Soul Harden," your armour becomes better. Soul Harden can be gotten a few ways, but one is through alchemy with a Runic Plate. Base protection is 90%, but Soul Harden and Soul Fray changes this.
Upgrading your Armour (on Creation)
Armour upgrading is both difficult and very easy. There will be more upgrades in the future, such as ones that help stop the armour's draining ability, but for now sigils will suffice.

To add an item to the armour, simply right-click with a compatible item onto one of the filled sockets that will be used for the armour's creation. Because of the powerful effect of the sigils, however, you need to bind another item to the armour to use the sigils. If a Weak Blood Shard is added as an upgrade, it will allow the use of one sigil for the armour piece - any others will not work, even if bound. Perhaps more powerful blood shards will enable more upgrades... Careful consideration and experimentation is required when upgrading.

If you are unhappy with your piece of armour, see the Ritual of Unbinding - it will just cost a bit to use.

Also note that if you add a Blood Orb to the armour, it will diminish the cost of the upgrades - if you have a Master Blood Orb or above on it, it will even stop all upgrade costs altogether...
Suppressing your Armour
While activated, this Armour Inhibitor will deactivate all armour upgrades on your Bound Armour. So, if you have a Sigil of Haste set on a piece of armour, it will deactivate the Haste effect whenever active. It takes no LP to use, though, so keep it on without worry if you need to!
(Yes, I fixed the spelling mistake!

)
Spells
What self-respecting blood mage would leave his lair of awesomeness unprepared? Where sigils are very good for strong static spells and upgrading armour, they pale in comparison to the variability of spells! The process can be complicated, so let's not delay!
It all starts with this simple table. It is laced with many alchemical properties given to it from a simple Apprentice Blood Orb, but it cannot work alone - it needs a "Paradigm," and a "Spell Focus." The Spell Focus can be any mundane item, such as a block of ice or TNT - slot it into a Blood Altar right next to the Spell Table, and then move onto the next step. Keep in mind that the Focus gives the spell a certain element - the ice may make things a little chilly!
The "Paradigm" takes the form of a monster head, and it denotes the different capabilities that are given to the spell:
A simple skeleton skull denotes Offensive-Ranged
A wither skull gives an Offensive-melee spell
A zombie head will allow the Defensive capabilities of the spell to shine, and
A creeper head will allow Environmental spells
Once that is done, you need to create an Unbound Crystal and right-click with it onto the spell table. A piece of glass in a 2nd tier Blood Altar (with 1000LP) will give this crystal, and it is used to cast the spells.
The odd thing about these crystals is the resonance that seems to happen when it interacts with the spell table. When bound to the table and right click is used, it will look for the table that it is connected to and grab the power from within the structure. Whatever it finds it casts, even if the thing that it finds is different than what it was originally bound to. This is why you have to protect your spell structures! If someone was to tamper with these arcane creations, you could find yourself helpless when you try to conjure up fire...
Spell Foci
Flint and Steel
Ice block
TNT
Ghast Tear
Glowstone Dust
Bucket of Water
Obsidian
Ender Pearl
Apprentice Blood Orb
These crystals can be renamed, so as you don't forget what the spell does!
Looking for a mob head, but can't find one? Combine a Wither Skeleton skull with a piece of the monster that you wish for, and you can create it with your alchemical power.
Zombie: Rotten Flesh, Iron Ingot, Obsidian, Wither Skull
Skeleton: Bow, Bone, Arrow, Wither Skull
Creeper: Gunpowder, Dirt, Sand, Wither Skull
Alchemy - The Creation of Custom Potions and More Fun Things
Alchemy requires a modified potion stand, which has several slots. The lower-right slot is where a blood orb needs to be placed for recipes that require blood as a catalyst (some recipes need certain orbs or higher), the center slot is the output, and the five slots around it are the ingredient slots.
Creating Reagents
The creation of various reagents is at the cornerstone of alchemy. Without the proper knowledge when brewing reagents, you could end up with a big ol' pile of slop. Thankfully, it isn't all bad!
Since there will be so many alchemy reagents that it would be impossible to catalogue them all by pictures, I will contain them all in the spoiler below. It will feature the output and the five (max) inputs needed. Do note that they all need blood orbs to operate. If you have the correct recipe, yet nothing is happening, try getting a stronger orb...
Output::Input1|Input2...
Weak Binding Agent

Simple Catalyst|Simple Catalyst|Clay
Standard Binding Agent
::Weak Binding Agent|Crystallos|Sanctus
Simple Catalyst
::Sugar|Redstone|Redstone|Glowstone|Gunpowder
Incendium
::Lava bucket|Blaze powder|blaze poweder|netherrack|simple catalyst
Aether
::feather|feather|glowstone|ghast tear|simple catalyst
Sanctus
::Glowstone|gold nugget|glowstone|glass block|simple catalyst
Crepitous
::Gunpowder|gunpowder|cobblestone|cobblestone|simple catalyst
Crystallos
::Ice|ice|snow block|snow block|simple catalyst
Terrae
::Dirt|sand|obsidian|obsidian|simple catalyst
Aquasalus
::ink sac|water bottle|water bottle|water bottle|simple catalyst
Tennebrae
::Coal|coal|clay|obsidian|simple catalyst
Magicales
::Redstone|gunpowder|glowstone|glowstone|simple catalyst
Mundane Power Catalyst
::glowstone|glowstone|glowstone|weak binding agent|simple catalyst
Mundane Lengthening Catalyst
::redstone|redstone|redstone|weak binding agent|simple catalyst
Average Power Catalyst
::Mundane power catalyst|mundane power catalyst|standard binding agent
Average Lengthening Catalyst
::Mundane lengthening catalyst|mundane lengthening catalyst|standard binding agent
Greater Power Catalyst
::Average power catalyst|Average power catalyst|incendium
Greater Lengthening Catalyst
::Average lengthening catalyst|average lengthening catalyst|aquasalus
Weak filling agent
::simple catalyst|nether wart|redstone|glowstone
Standard filling agent
::weak filling agent|terrae
Enhanced filling agent
::standard filling agent|aquasauls|magicales
Potion Brewing
Potion brewing requires the player go acquire a Potion Flask, which you can get either through dungeon loot or by creating it by transmuting a glass bottle in a 2nd tier altar. This flask, as you can tell from the above picture, has 8 total uses - if your potion is empty, you can refill it by placing it in the crafting grid and adding netherwart, redstone, and glowstone (this will cause the potion to no longer have the previously made effects).
To start with the potion brewing, you need to get a
binding agent
and an
alchemy ingredient
. Some of the ingredients are easy to determine, but others may need a bit of thinking about. Tinker around a bit by using different items until you find one that gives a good effect! Here are a few ingredients, to point you in the right direction.
Sugar
Blaze Powder
Magma Cream
Glass Bottle
When you place the binding agent and ingredient with the potion flask, it will start mixing the concoctions together. Theoretically, you can add EVERY single potion effect to one potion flask. Theoretically. Unfortunately, the different binding agents have different success rates of the potion actually being brewed. The Standard Binding Agent works 100% for the first one, but only 40% if you try to add a second effect, 16% for the 3rd, etc. If it fails... the flask will blow up.
That is not all. By finding (or creating, see previous section) a special catalyst, you can increase the effectiveness of the potions' various effects. A
power catalyst
will increase the concentration of the potion (shortening the duration in the process), and the
lengthening catalyst
will increase the duration of the potion vastly. To use these, place the flask in with the catalyst you want as well as the ingredient that represents the potion effect (the potion effect HAS to be present in the potion). There is no chance to blow up at this point, although it may change in the future.
Like the flask, these catalysts (and binding agents) can be found through dungeon loot.
Strengths of the catalysts:
Mundane
Average
Greater
Demon Summoning 101
The Arcane Pedestal and Arcane Plinth are the central elements in demon summoning. Because of the precise nature of alchemy, 6 pedestals have to be arranged around a plinth as shown in the above picture.
To summon a demon, you have to place a bunch of items onto the pedestals and lay down a blood orb on top of the plinth (they work like the Blood Altar, so just right click them with the item). Lower Demons need to have a Master Blood Orb to be coaxed from their dark realm. In the case of Greater Demons, nothing short of an Archmage will be able to summon them. When you finally summon them (I won't spoil the "event"), the demon will be a bit annoyed.
If you manage to defeat him, you can summon it again with the gift that it has left you. Re-summoning it will then require you to give a weak blood orb as homage to properly tame it. Right-clicking the demon will then get it to follow you, and another right click will have it stay still. (Some demons will still attack things if it is properly motivated.)
To avoid spoiling what each demon does, I will simply list the ingredients needed to tempt the demons. If the list in question has more than 6 ingredients, it will need another ring of pedestals (first set of 6 on the first ring, second set of 6 on the second, 3rd on the 3rd).
Ingredient List
1: Santus|Sanctus|Sanctus|Aether|Terrae|Tennebrae
2: Cobblestone|Cobblestone|Terrae|Tennebrae|Iron ingot|Gold nugget
3: Clay|Terrae|Terrae
4: Crystallos|Crystallos|Crystallos|Aquasalus|Sanctus|Terrae
5: Terrae|Sanctus|Tennebrae|Bone|Steak|Steak
6: Tennebrae|Tennebrae|Tennebrae|Aether|Glass bottle|Glass block
7: (Poisonous Potato|Tennebrae|Terrae|Raw porkchop|Raw beef|Egg) - (Crepitous|Crepitous|Terrae|Iron block|Iron block|diamond)
8: (Aether|Incendium|Incendium|Incendium|Tennebrae|Netherrack) - (Diamond|Gold block|Magicales|Magicales|Firecharge|Coal block)
Pedestal Positions
For those who prefer specifics, here is a list of the pedestals' exact positions. The x and z offsets can be flipped.
Format: X-offset | Y-offset | Z-offset

Ring 1:
1 | 0 | -2
2 | 0 | 0
1 | 0 | 2
-1 | 0 | -2
-2 | 0 | 0
-1 | 0 | 2

Ring 2:
3 | 1 | -5
6 | 1 | 0
3 | 1 | 5
-3 | 1 | -5
-6 | 1 | 0
-3 | 1 | 5

Ring 3:
0 | 2 | -9
7 | 2 | -4
7 | 2 | 4
0 | 2 | 9
-7 | 2 | -4
-7 | 2 | 4
Elementals
Elementals ... are nasty.
Elementals are created by combining reagents that represent their element together. The current Elementals that are summonable are: Air, Fire, Water, Earth, Shade, and Holy. They don't want to make friends. They will attack you. The only safe strategy is to run.
These demons are the only source of
Demon Blood Shards
, because of their overwhelming power. It would be a good idea to have several demons in your army ready to attack before you fight these. The fact that all of them can fly can be quite bothersome, but if you are well equipped you should be fine.
To summon, combine 6 of either Aether, Incendium, Aquasalus, Terrae, Sanctus, or Tennebrae in the first ring of your summoning area. Oh, and get ready for a fight.
Teleposer
Teleposers. Yeah, Teleposers. Teleposers take the blocks and entities that are above them and teleports them to a different area. That alone isn't that powerful, however it can also transport all Tile Entities that is within its area of influence.
To make use of a Teleposer, you have to have a teleposer act as a destination, and one act as the starting point. Take a Teleposition Focus (made from transmuting an enderpearl inside of a 4th tier blood altar), bind it to yourself, then right click on the Teleposer that acts as the destination. Then, put the focus inside of the other Teleposer. When you send the teleposer that has the focus a direct redstone pulse, it will then transport all blocks and entities that are above it and
swaps
them with the same number of blocks and all entities above the other teleposer. So, if a block of dirt is above the destination teleposer, and a block of cobblestone is above the teleposer that receives the pulse, the cobblestone and dirt will switch places. The same is true with chests and other such things!
Also, if you use a stronger focus, you can transport larger and larger structures all at once! (1x1x1, 3x3x3, 5x5x5, and 7x7x7.) Yes, it uses LP.
This can allow for very intricate uses. Some are simple, such as just transporting a bunch of full chests of lewt. Others can call for a large structure that has multiple chests all being able to telepose to a single spot. Still others would allow teleposing an entire Railcraft Tank full of fluids. Really, the sky's the limit!
Alchemy Reagent Manipulation - Powering and Upgrading Rituals
You've made every ritual, experimented endlessly with the magic of the soul, and have pushed the bounds of your body to the very limits - what's next? Well, add Alchemy of course!
The Alchemy Reagent System is meant to further augment rituals by feeding them reagents. Depending on the reagent that is used on a ritual, the ritual is augmented in a variety of ways. When you take a reagent item and break it apart, you will have several units of pure energy, which must be concentrated in different ways. Each item gives 1000AR, or Alchemy Reagent. This is the unit that will be used further on.
Each reagent will do a different thing to each ritual. One reagent may extend the range of the ritual, while another may completely alter it, causing for instance the Water ritual to freeze its surroundings and drown your enemies.
What constitutes and Alchemy Reagent? Aether, Incendium, Crystallos, Terrae, Magicales, and all other elemental reagents can be converted into their pure energy form. What cannot be converted? Simple Catalysts and similar. Know thine enemy!
Blocks
There are 3 main blocks currently, and 3 auxiliary items that will be explained. The blocks are: the Alchemic Calcinator, Crystal Belljar, and the Alchemic Relay. They also have various types of redstone interaction.
- The
Alchemic Calcinator
has two slots: a blood orb slot and a Reagent slot. Right-clicking on the block with an orb in-hand will put the orb in the bottom of the calcinator, which will use it as fuel by taking LP from the owner's network. If you use another item on the block, it will instead put it into the top slot – if this is a valid Alchemy reagent, it will begin consuming LP to melt it down into 1000AR and put it in its internal 2000AR buffer tank. This buffer tank slowly puts the AR into the 4000AR main tank, from which it can be syphoned.
If a redstone signal is applied to this block, it will no longer output any of its main tank into other reagent containers.
- The
Crystal Belljar
is meant for bulk storage. This block does nothing on its own, but is able to store 16000AR.
The belljar also outputs a redstone signal when next to a comparator depending on the level of its internal container. From 0 for when there is nothing, to a full 15 when full. This can allow automation such as shutoff valves.
If broken, it can be picked up and keep its contents for travel.
- The
Alchemic Relay
has two 2000AR tanks internally, and can send its reagents to multiple locations. This is meant to segment what reagents go where, and act as a conduit for further transport. The circle's colour indicates what reagents are inside, though there are other methods to determine this.
If a redstone signal is applied to this block, it will no longer output any of its main tank into other reagent containers. When the signal is applied, the circle will spin much more slowly.
Rules of Routing - Items
Each block that is able to contain reagents is also able to send them through a variety of rules.
- The container is only able to send its contents by having a reagent and a destination designated. If you specify Sanctus to go to location A and Incendium to go to location B, sanctus would not be able to go to B without another link being made.
- Each container has a maximum number of connections. The Belljar and the Calcinator can only send one type of reagent to one given destination, whereas the relay has more connections available.
- When being filled, by default the reagents will attempt to fill all tanks in a given container. These can be marshalled, however, so that there is are maximum number of tanks designated for each substance. A relay can be set so that one tank may contain Sanctus, one tank may contain Aquasalus, and one tank may contain Terrae. Since there are only a maximum number of 2 tanks on a relay, the reagents will enter on a first come, first serve basis, but only those three may enter the relay.
- If there is only one tank designated for a certain reagent, only that tank may be filled.
There are a variety of items to help in this routing.
- The
Alchemic Router
is used for routing relays and jars and all containers. If you right click on a reagent container, it will save the coordinates of the block. Shift-right clicking on a container will cycle through the reagents inside of it, allowing you to specify which reagent to send. Clicking on another reagent container while it has a saved location will make the saved container send the given reagent to the new location, assuming it is within 5 blocks (may change), is in the same dimension, and there is a connection open. Finally, right-clicking in the air will clear the given location from the crystal.
- The
Alchemic Segmenter
segments the tanks of a container. Shift-right clicking on a container will cycle through the reagents inside of it. Right-clicking on the container will then specify which reagents can be in the tank. The more you click it, the more tanks are set. If you exceed the maximum, the container will then be reset to have 0 for that given reagent.
- The
Alchemic Cleanser
will clear all routes from a container, resetting the maximum number of connections.
The Master Ritual Stone counts as a reagent container with 3 tanks of 1000AR each, but is unable to send anything.
Reagent Effects
Once you activate your ritual, you may want to finally upgrade it with your reagents. Below is the full (current) list of all of the Ritual reagent effects that are currently available. These are subject to change, so make sure to consult this list if you are having problems!

Ritual of the Full Spring:
Aqua or Terra: Hydrates all "Farmland" blocks in a large area.
Offensa: Gives drowning to all entities in a range
Crystallos: Freezes the water vapour in the air, creating snow and ice around the ritual
Sanctus: Ritual can input fluids into a "Tank" above it.
Reductus : Prevents players from getting the Drowning effect

Serinade of the Nether:
Sanctus,:The ritual can input directly into a "Tank" above the MRS.
Offensa: Causes surrounding players and mobs to get the Fire Fuse debuff.
Reductus: Prevents players from getting the Fire Fuse effect

Green grove:
Terrae: Speeds up crop growth
Orbis Terrae: Speeds up crop growth(Slightly faster then Normal Terae, and stacks with the Terrae buff)
Aqua: Hydrates farm land(Smaller range then Full Springs effect)
Virtus: Increases the range of the ritual to 9x9

Interdiction Ritual:
Aether: Ritual effects items
Magicales: Ritual effects players

Ritual of Containment:
Crepitous: Prevents Creepers in it's range from exploding.
Magicales: Gives PLainer Binding to all mobs in range(You aren't going anywhere, Ender Man)
Aether: Pulls mobs in slower, but from a much greater range. I should be able to augment "The Abyss" with this one...

Ritul of Unbinding:
Sanctus: Allows the breaking of the "Blood Pact" with a blood magic item.

Ritual of the High Jump:
Aether: Allows the ritual to fling you even higher.
Terrae: Extends the range for fall damage protection. Because hitting just one block is kind of hard, especially when the corners are raised.

Ritual of Speed:
Aether: Flings you farther then normal.
Terrae:Gives less vertical lift when it flings you.
Reductus:Protects against fall damage long enough for you to land(Under normal circumstances, perhaps three seconds?)
Tenebrae: Only affects animals, and only adult ones.
Sanctus: Only affects animals, and only baby ones.

Ritual of Magnetism:
Terrae:Raises Range of Ritual
Orbis Terrae: Raises Range of the ritual(Stacks with Normal Terrae)
Potentia:Raises the speed at which the ritual pull up ores.

Ritual of the Crusher:
Orbis Terrae: Fortune effect. Needs Potentia and Virtus to make it fortune two and three
Crystallos: Silk Touch
Incendium: Crusher turns cobblestone and stone into netherrack, for automations sake.

Ritual of the Shepherd:
Virtus: Ritual uses items in an inventory above or bellow the MRS to feed the animals.
Reductus: decreases the breeding timer to allow breeding to happen faster

Ritual of the Feathered Knife:
Sanctus: The ritual only drains hearts if above seven hearts. So you don't need to worry about that zombie right behind you...
Reductus: Lowers the range of the ritual, so you only give blood while on the altar
Magicales: Ritual only drains the activator
Potentia: Speeds up ritual 2x

Ritual of Regeneration:
Reductus: Ritual only effects players
Virtus or Sanctus: Raises the regen level, but drastically raises the LP cost.
Praesidium: Ritual covers a much more vast area

Ritual of Feathered Earth:
Aether: Raises the vertical range of the ritual
Terrae, and Orbis Terrae: Raises the horizontal range of the ritual

Reverence of the Condor:
Aether: Extends flight time
Reductus or magicales: Ritual only effects the activator(For secret bases)

Mark of the Falling Tower:
Terrea: Meteors give slightly more ore, but has a load of extra stone to dig through
Orbis Terrae: More ore then Terrea, less stone - does not stack with terrae
Crystallos: Meteor has ice instead of stone
INcendium: MEteor has netherrack, glowstone, and soul sand instead of stone
Tennebrae: Obsidian instead of stone

Ballad of Alchemy:
Potentia: Speeds up alchemy set by a factor of 5

Aura of Expulsion:
Tennebrae: Ritual effects all entities, not just players.
Virtus: The target is teleported farther then normal
Potentia: Range of the ritual is larger.

Dome of Suppression:
Aether: Range incress
Aquasalus:Range incress

Call of the Zephyr:
Reductus: Has a short delay before picking up any items. For automated systems that need dropped items.

Reap of the Harvest Moon:
Terra: Turns dirt into farmland. For those times when things that shouldn't be happening(A zombie jumping in your farm) does.

Cry of the Eternal Soul:
Sanctus: Keeps you at three hearts, but only pulls LP once every ten seconds(Time can change).

Well of Suffering:
Potentia: doubles the vertical range of the ritual
Offensa: deals double the damage to mobs while also providing double the LP
Tennebrae: increases the yield of entities by double.

Rhythm of the Beating Anvil:
Potentia: Increases the crafting rate to 20/s instead of 5/s.
Virtus: Allows the ritual to use the output chest as an input inventory
Project: Omega
Project: Omega requires four things in order to activate: the user being equipped with a full set of Bound Armour, a chamber to enclose the ritual Symmetry of the Omega, a lot of power in the form of Reagents, and your soul. The "Omega State" that this project attempts to achieve is attained by fusing the demon soul from your Bound Armour and the soul of the player itself, strengthening both and giving the power and defense of a demon to the player. This power and defense comes in the form of different armours.
The four armours that are currently implemented are: Aether (wind), Terrae (earth), Incendium (fire), and Aquasalus (water). Each armour has various strengths (and weaknesses) depending on the environment as well as several other factors. In order to get these armours, however, you have to construct a reaction chamber to start the infusion process.
In order to activate the transformation, you can to create a reaction chamber around the Symmetry of the Omega ritual. This chamber must be constructed on top of the ritual and the air block that is directly above the ritual can't be impeded. When the ritual is activated, it will "expand an air block" from the block on top of the MRS until it reaches the walls of the chamber. If this "bubble of air" reaches 5 blocks away from the MRS in any direction, it will consider the chamber incomplete and thus will not work. Basically, if you are able to travel a 1-block channel outside of the ring of the ritual or 5 blocks above the ritual, the chamber is incomplete. In the below picture, the chamber corner on the left would be considered valid if it was finished, whereas the chamber on the right would be too big in all three directions.
Once the chamber is built, you have to supply the energy for the ritual in the form of 32k AR. These reagents may be syphoned from the ritual directly by placing belljars filled with the reagents in the four openings of the ritual floor. If you have enough of a single reagent, all you need to do is activate the ritual (draining 15mil LP from your network) and stand on top of the MRS. Bam! You now are in a set of Omega armour!
While this armour is active, you will notice two new bars on your HUD: the vertical bar is your timer, whereas the horizontal bar indicates the "Reagent HP bar," an extra health bar that is available while you are in an Omega state.
The "Reagent Bar" timer indicates when your Omega armour will wear out, reverting back to its original Bound Armour form – for a very basic chamber, this is 15 minutes. The reason for this is because the fusion between your soul and the demon soul is not permanent, held together instead by the massive burst of energy that was imparted by the reagents. This time limit is a necessary feature due to the unnatural limits of the armour.
The second HP bar is an hp bar that uses the stored reagents of the armour as a form of power, basically healing the armour and taking damage before you are harmed. When hit, your armour will feed off of the HP bar to prevent you from getting hurt. This bar will also refill slowly over time from your normal reagent bar, affected also by things such as Regeneration, but when hit it will have to recover before filling. This "cooldown" before your HP bar starts to fill up again can be affected by Soul Harden and Soul Fray, so it is best to be careful when using the armour.
Improving your Armour
In order to improve your armour, you must first improve your chamber. The "stability" of the chamber is calculated by how many faces of the blocks inside make contact with the aforementioned air bubble that blossoms from on top of the MRS – the more block faces that can be linked through air to the MRS, the more stable the chamber is. In fact, the number of block faces touching IS the stability number.
This stability has to be greater than 0, or else the chamber will not function (you don't get your shiny new armour). The time limit of the armour is also related directly to the stability of the chamber, although it isn't strictly proportional to the stability. The stability, however, is not affected just by the number of block faces.
If the Glyph of Rigid Stability is used in the construction of the chamber, 2 stability will be added for every face that is open to the interior of the chamber instead of 1.
You can also add enchantments to your armour by correctly fortifying your chamber! Each of these blocks will decrease the stability of the structure, so it is best to be careful when planning your chamber. Each block used in the chamber has to be connected via air to the MRS, or else they will not count.
If you were to add a Glyph of the Adept Enchanter, you can increase the Enchantability of the armour by one level per block used. These blocks will deduct a total of 10 stability per block face.
The Glyph of Arcane Potential, however, will increase the enchantment level applied by one level per block used. These are similar to the enchantment levels from the Enchantment Table. These blocks will deduct a total of 20 stability per block face.
Due to the nature of the chamber, it is possible to add enchantments to the armour of potency that is not available elsewhere in Minecraft. Careful note should be had that there are rumours that this absurd level of protection will only affect damage done to the reagent HP bar, and will respect all of the normal laws of the universe when affecting your health directly.
There is also speculation that although the stability, enchantability and enchantment power affects the enchantments, the enchantments are laid out in a consistent manner and will not change once a chamber has been finished. The enchantments, however, are related to the geological powers of the world and will thus grant different abilities if constructed either in a different location or even a different world entirely.
The Abilities of the Armours
Each of the four armours currently added are affected by the environment, granting different advantages and drawbacks depending on where you are in the world. This can be dependent on the biome, if you are in water, or even how high you are, so special care needs to be taken in case you are in some form of battle!

Fire Armour will give a health and damage boost when you are in areas of very high temperatures, faring well in the desert while being hellish in the Nether. It will, however, be tarnished by being in an ocean or river too long, weakening you greatly. Although fire can heal you and swimming in lava will give you great strength, taking even a fleeting swim in water will slow you down and weaken you. Being impervious to fire does help, however!

Water Armour is the opposite, succeeding in wet environments such as rivers and rain forests and being devoid of all help in the nether. While fire doesn't really affect you much, being in water will heal your wounds in front of your eyes.

Wind Armour gains an avid affinity for heights. While high up, you receive increases in health and damage, while being deep underground will cause you to become frail in comparison. Higher and higher heights will heal you as the winds gust around your being. Is there no greater friend than the wind?

Earth Armour, for obvious reasons, loves the ground. While you are below a certain height, you shall gain great strength, but being high up in the air will make your heart sink and long for the earth. This armour is considered the "average" of the Omega armours, but provides unparalleled defense against knockback.
Download Link is in Post #3 Due to the Size of this Post!
Life sometimes hits people hard ... sometimes you do better getting back up again than not getting hit at all. -WayofTime
I am the author of the Minecraft mod Blood Magic! Find out more about this mod here:
http://www.minecraftforum.net/topic/1899223-