Glenn
Lapis Lazuli Collector
Posts:

960

Minecraft:

GlennA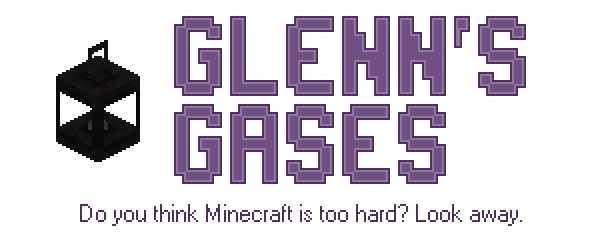 Glenn's Gases has been moved to it's own website! Please update your links!
This thread is still my main form of public communication, so please use it! I am much more active on the forums.
www.jamieswhiteshirt.com/minecraft/mods/gases/
Should you, for some reason, need to see the old thread, here it is.
THIS MOD MUST NOT BE MIRRORED ON ANY SITE UNLESS I HAVE GIVEN YOU WRITTEN PERMISSION TO DO SO. THIS RULE DOES NOT APPLY IF YOU INCLUDE A LINK TO THIS EXACT WEB ADDRESS,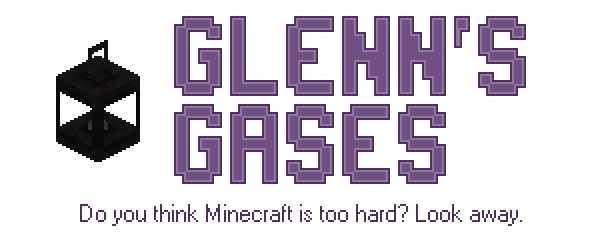 NOW FEATURING:

A Minecraft modification by Glenn, previously known as "Gases! - A new element"
Gas. A miner's foe or a miner's friend?
Glenn's Gases introduces gases into the Minecraft world. In real life mining, gases can be extremely dangerous. Without doubt, it will be a challenge in Minecraft too. Glenn's Gases adds problems to make mining much harder, as well as solutions to these problems.

Will you stand up to the challenge?
---
What do you think about the mod?
Many thanks to XerainGaming for the awesome spotlight!
Featured on Yogscast's YogLabs! What should I say?
Do you have a funny/interesting/scary screenshot involving gases? Submit it! Contact information can be found at the bottom of the post.
Neat flowing gases with different properties!

Generated gas pockets! They don't surface in the caves, so you'll only find them if you dig for them.

Smoke!

Deadly steam! Better be careful when farming that obsidian.

Lanterns! They might look fancy but they are vital to your survival!

Gas Pipes, pumps, collectors, and filtering!

Gas Furnace! It's faster, and can smelt a whole stack of coal into a diamond!

DANGER
More!
So, which gases are there?
That is entirely up to you to find out. What I can mention, though, is that you should be very careful with those torches.
It might set something on fire.
We don't want that, now do we? You may find out some gases only appear during certain events, and some appear exclusively in gas pockets.
Here's an example of what you should not do.
So, what's the deal about lanterns?
As I may have already hinted, torches
might set something on fire
. Lanterns
will not set something on fire
. You can place torches inside a lantern at the cost of some light range, or place bottles of gas in them to make them burn at full brightness for a long time! They can be placed inside the lantern either by right clicking on it with the item, or by putting an empty lantern and the item on a crafting table. Glowstone lanterns are the only full-bright lanterns who don't expire.
So, what's the deal about piping?
Piping isn't easy, and doing it wrong might cause bad things to happen! What you generally want to do is use a gas collector to collect the gas and put it into pipes. However, a gas collector cannot pump a gas longer than 15 blocks. If you want to pump it longer than 15 blocks, you have to use gas pumps. If every 16th block in your pipe line is a gas pump, it will be fully effective. If you somehow mess this up, things might go bad! If you want to pump or collect gases of specific types, you can right click a gas with a sampler, then right click with this sampler on the pump/collector.
You might want to store this gas somewhere. That's what you have tanks for. Tanks are also capable of filtering out air while being pumped into. Right clicking a tank with a glass bottle will fill the bottle with the gas contained in the tank. These gas bottles can be used with lanterns to produce light for varying periods of time. Some gases last longer than other gases.
To use the gas for other purposes than lighting, try pumping it into a gas furnace. It has an unique temperature mechanic; Smelting an item will increase the furnace temperature, which in turn will cause items to smelt faster. Gas consumption remains the same no matter what the temperature is, meaning you can save gas by using a speedy warm furnace.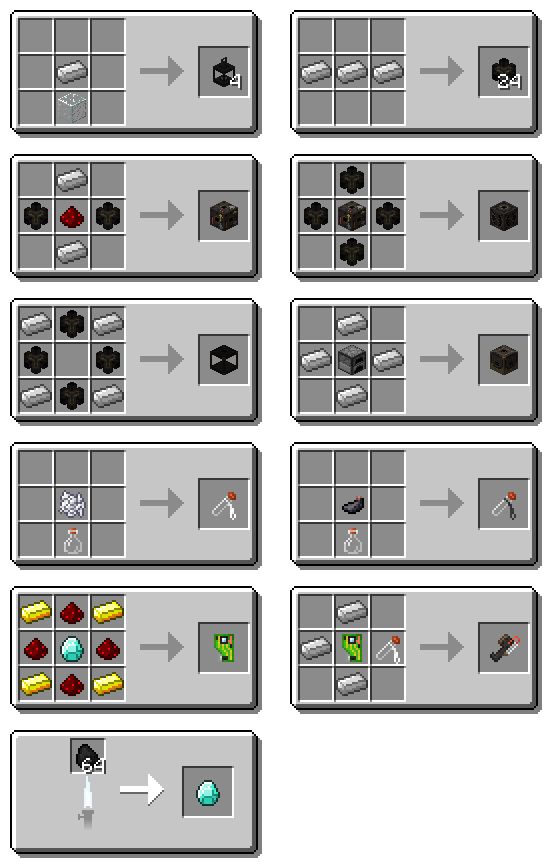 All right, there are gases in my Minecraft world. How is that going to affect me?
Do not underestimate the effect gases have on your world, specifically your mining experience. All in all, having gases in your world will actually make survival harder unless you use it to your advantage. If you enter your mines unaware of what you could encounter, you will most likely end up dead.
13.12.13 Glenn's Gases 1.4.2 is here!

This is a release with a large amount of minor tweaks, with a few additions. The Mechanical Update is no longer in a public beta state.

Glenn's Gases has been separated into the Gases Framework and Glenn's Gases itself. The Gases Framework alone barely affects the game at all, but it contains the utilities used by Glenn's Gases, which can be used by other mods. Being separate, other mods with gases can work without the features of Glenn's Gases. Tutorials for using the API are coming.
Glenn's Gases is now the parent of Glenn's Gases Core.
No more "flaky" gases in the nether. "Floating" gas rendering has been updated to look better.
Gas now flows more intelligently. Should reduce lag in the Nether by a bit.
Gas explosions explode more according to the size of the exploded volume.
Slightly increased the amount of generated gas.
Gas fires are now much scarier.
Mining coal now creates highly explosive coal dust.
Water can now flow into and break gas.
Added Gas Detector.
Added Gas Sensitive Chip. Currently only used in recipe for Gas Detector.
Void gas no longer appears above 64 blocks height. Can be changed in the configuration.
Configuration changes: Generation of different gases can be altered by amount instead of a boolean value. It is now possible to make any block ignite gas in the configuration by putting the block's ID in a list in the configuration (other/additionalIgnitionBlocks).
Fixed large issue with piping which would cause unnecessary exploding pumps.
Fixed an issue where redstone was unable to disable/enable pumps.
Many mechanical blocks no longer break almost instantly.
Some gases are no longer usable in pipes. The gases that were removed from piping served no function in being pumped around.
Removed acidic vapour from the creative menu because it served no purpose.
Removed Batman.
11.11.13 The Mechanical Update Public Beta v2 (1.4.1) is here!

This is a minor release that fixes a few bugs.

Fixed a bug where shift clicking an item in a gas furnace would crash the game.
Gas pumps and collectors can now be enabled/disabled with redstone signals. A pump/collector will be disabled when it recieves a signal.
Fixed an issue where Nitrous gas would suffocate the player instead of poisoning them in the 1.6.2 version.
Fixed compatibility issue with rbdyck's Mithril mod. Note: This will cause your currently saved furnaces to lose items in their inventory!

Glenn's Gases for Minecraft 1.5.2 is no longer supported.

It was released half a year ago, and a file copying mishap led to the loss of some core 1.5.2 source code. I feel it is necessary for players to update Minecraft to 1.6.2 or newer, so I am cutting all support for 1.5.2. You can still play with the 1.5.2 versions released before the Mechanical Update.
09.11.13 The Mechanical Update

is here!

Here's a list of some of the fundamental changes:

Added poisonous nitrous gas, which is nearly identical to the red gas, but it has different properties. Be careful when distinguishing these! Nitrous gas might have a reaction with water.
All gases can be harvested from pockets using a new gas collection block.
Added pipes, pumps, and tanks.
Every gas now has its own bottle. You can no longer catch gas like you used to, but you can put it in bottles by right clicking a bottle on a filled gas tank.
All Glenn's Gases blocks and items have been moved to their own creative tab.
Gases can be sampled using including/excluding samplers. Right click a filled sampler on a pump/collector to use this sampled gas as a filter, including/excluding respectively.
Lanterns have had a revamp, some bottled gases will make lanterns burn longer and some won't work as fuel at all.
Added a gas furnace. It can be filled with gas through piping. It has an unique temperature mechanic; Smelting an item will increase the furnace temperature, which in turn will cause items to smelt faster. Gas consumption remains the same no matter what the temperature is, meaning you can save gas and time by using a speedy warm furnace! This furnace is also able to smelt coal into diamonds!
Archived:
27.09.13 Glenn's Gases 1.3.4 is now out!

This is another mini-release, but it fixes a vital thing.

Flammable gases now burn properly
Gas rendering has been slightly altered
Glenn's Gases will automatically check for updates and notify the player if an update exists. This can be disabled in the configuration.
25.09.13
Glenn's Gases 1.3.3 is now out! This is just a mini-release which doesn't really contain anything. What's important is that it works with the newest versions of Minecraft Forge! The only real change is that catching gas in bottles now works, and only the red and green gas can currently be caught in them.

It is avaliable for both Minecraft version 1.6.4 and 1.6.2.
09.09.13 Glenn's Gases 1.3.2 is now out!

This update features the nether gas which you voted for me to include. However, there are

two

! One is electric, and the other is corrosive. Be careful not to mix them, because bad things will happen! But there's more...

Added electric nether gas.
Added corrosive nether gas.
Breathing in gas no longer brings up your air meter. You will last longer in some gases, and shorter in other gases.
Breathing gas will have more negative effects than suffocation.
Completely restructured parts of the mod to allow future extension support, and faster development.
11.08.2013 Glenn's Gases 1.3.1 is now out!

It includes some very small fixes.

Glenn's Gases now uses a Forge configuration file.
You can now configure block and item IDs to ensure compatibility between other mods.
You can now configure if you want gases to naturally generate in your world.
Fixed a problem where lanterns would almost always be dropped as empty ones, even though they contained an item.
11.08.2013 Glenn's Gases 1.3 is now out for the Forge!

It has been quite the struggle, but I can finally announce that it is done. Also, the mod is now officially called "Glenn's Gases".

Here is a list of changes:

Moved the entire mod to Forge. This means you have to uninstall your previous version of the mod, install Forge, then install Glenn's Gases. Old worlds are not compatible with the new version, but you can still open them (gas blocks will disappear!).
Lanterns now look better in the inventory and in the player's hand.
Added glowstone lantern. It can be made by combining a lantern with glowstone dust.
Void gas now dislikes light environments.
Gas will now properly react to fire and torches when moving up/down.
Items and blocks now have actual names.
01.08.2013
Nether gas again! Some ideas have been gathered, and they have been put in the poll. Remember to cast your vote!
22.07.2013
Nether gas! What kind of properties should this gas have, other than appearing in the Nether? Give me your suggestions, it might just happen!
19.07.2013
Gases are coming to Forge! As a highly requested feature, Gases will be converted to a Forge mod. This means that the mod will finally be compatible with other mods!
19.07.2013

Lanterns have just been released! They don't only look good, they can prove quite useful when mining around gas! You can now also catch gas in bottles, but be aware this is only a placeholder feature!

1.2 can easily be patched on top of 1.1, so there is no need to completely reinstall the mod.
Download Glenn's Gases
Glenn's Gases Forge version 1.4.2 (Mechanical update), for Minecraft 1.6.4
Main download
|
Dropbox download
VERY IMPORTANT: Please read the installation instructions below if you are updating!!!
Glenn's Gases Forge version 1.4.2 (Mechanical update), for Minecraft 1.6.2
Main download
|
Dropbox download
Installation:
Updating from any version to 1.4.2 requires special tweaking! Many blocks and items have been moved from Glenn's Gases to the Gases Framework. As a result, you must modify the configuration files of Glenn's Gases to avoid crashes on startup.
This version of the mod requires the
Minecraft Forge API
to be installed.
This is also a single player only mod (a server version is in the works).
Open the .zip archive from your download in the application of your choice, and extract the two .jar files into the mods folder (and coremods folder respectively if you downloaded the 1.5.2 version) located in ".minecraft". If this folder is not there, you have to run Minecraft Forge once, then install. Remember to delete any previous versions of the mod!
This mod (plugin, a patch to Minecraft source, henceforth "Mod" or "The Mod"), by the terms of

http://www.minecraft.net/copyright.jsp

is sole property of the Mod author (Erlend Åmdal (Glenn), henceforth "Owner" or "The Owner"). By default it may only be distributed on minecraftforums.net. It may only be mirrored or reposted with advance written permission of the Owner, unless the document provides a web address to

http://www.minecraft...ng-to-forge-12/

and the download web address is the same as the download address featured on this web page or any previous ones. Electronic Mail is fine if you wait for a response. URL shorteners or other attempts to make money off The Owner's Mod are strictly forbidden without advance written permission
Do you have a complaint? An error to report? Did your house accidentally explode? Did you soil your pants? I can't refund anything, but contact me, and I'll get right to you!
If you wish to contact me you may do one of the following:
Write a reply to this topic
Write me a personal message on Minecraft Forums
Send me an e-mail to

[email protected]
If you are submitting an error report, I need some specific information to be able to help you. First of all, it's important for me to know which version of Minecraft and Minecraft Forge you are using. I no longer support the Minecraft 1.5.2 version of the mod, as it is outdated. If you are using one of the "latest" builds instead of the "recommended" builds for Forge, it's probably the issue! Second, I need to know what led up to the error. Third, and last, I need to have a look at the log and/or the crash report.
Known issues:
The 1.5.2 version crashes on startup.
You help shape the future of this mod
!
That's right! Drop your suggestions below, and I might just make it a reality!
While you are at it, please note that I want to stick to a specific style when modding Minecraft. When I modify Minecraft, I add things the way Mojang would do it, Minecraft style. For example: I will not add some kind of gas-powered flame sword that sets enemies on fire and causes them to violently explode in a rain of limbs and blood!
Are you making a modpack and wish to include Glenn's Gases?
I'm sorry to hear that, because I will most likely not accept your request, unless I deem the theme of your modpack very fitting. If you feel this really need to be included in your modpack, you may contact me. Remember to include some information about which other mods you aim to include/already have included and specifically why you want to include mine. Should you need to know why I usually don't accept modpack requests, you may ask.
Should you, for some reason, include this mod in your modpack without my permission, it will be seen as a violation against the copyright protection on this mod. Note that you may still link the reader to this topic and recommend it as an extra to your modpack.
This mod goes really well with Advanced Darkness, a tiny Forge mod by Trent VanSlyke.
Check it out!
Follow @Glenn_AA for news about Glenn's Gases
Follow @Glenn_AA
Last edited by
Glenn
: 8/20/2014 10:10:18 AM