NightKosh
Curse Premium

Mark of the Beast
Location:

Saint-Petersburg

Join Date:

3/2/2013

Posts:

687

Minecraft:

NightKosh

Member Details
Gravestone mod
Follow @NightKosh
Patreon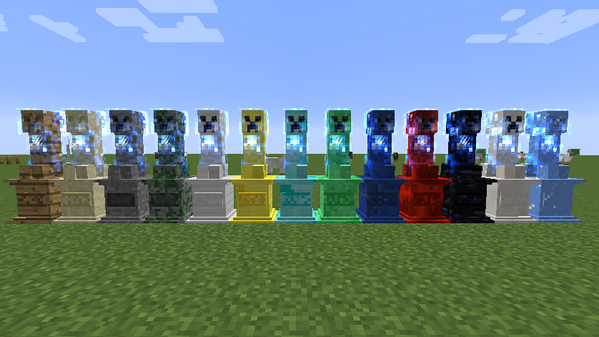 This mod adds a gravestone to the game, which "spawns" at player/villager/dog/cat death.
Also this mod generates cemeteries in some villages, and the "Wither's catacombs". This is a new huge structure, like stronghold, where you can find a lot of loot, dangerous adventures and a "Wither Boss" at the end.
Description
Gravestone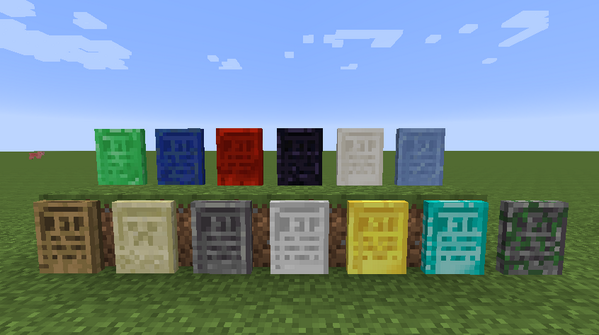 This block "spawns" at player`s death.
You can break it with a pickaxe or by breaking ground under it and put it into another place but only on "diggable" blocks: dirt, grass, mycelium, gravel, sand, soul sand and snow. On another type of surface it can be put only at your death.
With a small chance, gravestone can spawn zombies and skeletons at night, and in some specific conditions can spawn pig zombies and wither skeletons.
It will be work only if there is any player in range less 35 blocks, and if there are less 3 monsters within 1 block of it.
If you have "Mo'creatures" graves will be spawn "Silver skeleton", "Wraith" and "Flame wraith".
Also this block holds all your inventory and information about your death, wich can be shown by right click on it.
Furthermore this block can contains some loot(but only in generated structures), wich will drop when you destroy it. Another way to loot it is right click with shovel in hand.
Sword Gravestone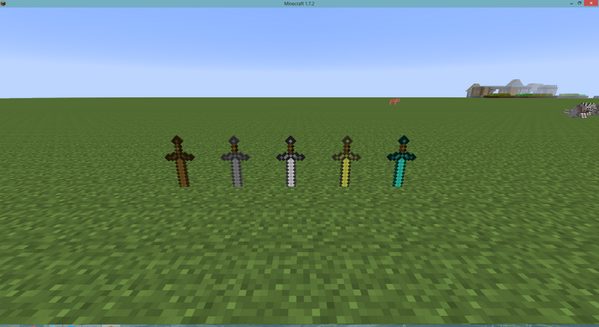 If you have sword in your inventory there is 25% chance that it will be used as gravestone.
Dog gravestone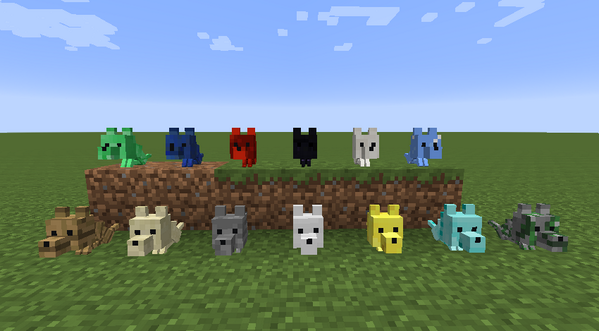 Like a gravestone its spawns at tamed dog death. At night it spawn zombie dogs and skeleton dogs.
Cat gravestone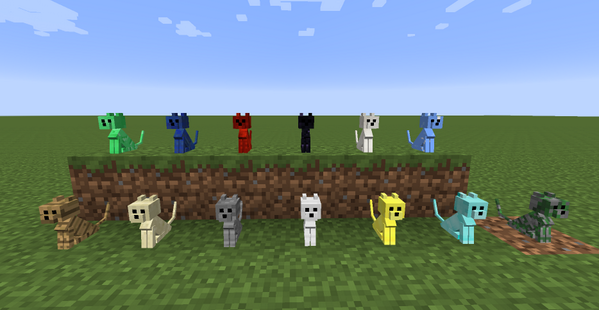 Like a gravestone its spawns at tamed cat death. At night it spawn zombie cats and skeleton cats.
horse gravestone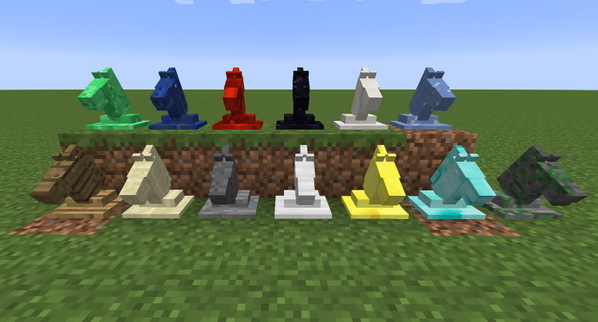 Like a gravestone its spawns at tamed horse death.
Spawners
This objects works like a "vanilla" spawner, except of one thing.
Skeleton spawner can spawn any types of skeletons(Skeleton cat, skeleton dog, Skeleton and Wither skeleton(with a low chance). Skeletons will be spawned with stone sword/bow in hands.
Like a skeleton spawner zombie spawner can spawn any type of zombie creatures.
Wither spawner
This is a special block, which can be found only at the end of the catacombs. It using for Wither spawning. After wither spawn it will be destroyed by self.
Night stone
This block looks like a nether brick, but it have some specific abilities.
It is a main part of catacombs trap, wich allowed gravestones to spawn monsters. When you step on it time will change to sunset.
It can be break by pickaxe, but drop only if you use pickaxe with silk touch, otherwise it will drop nether brick.
Thunder stone
This block looks like a stone brick, but it have some specific abilities.
Like a night stone it will be activated when you step on it. But instead of time changing it'll switch weather to thunder.
It can be break by pickaxe, but drop only if you use pickaxe with silk touch, otherwise it will drop stone brick.
Memorials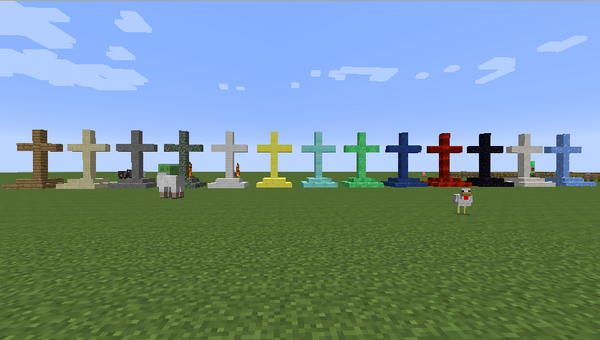 This blocks is decorative. But it can show some message like gravestone.
They generate randomly in the world (Also you can generate it using next command "/generate memorial "). So You can harvest it with silk touch pickaxe and place it in any another place.
Creeper statue
Unlike another memorials, this can't be found in the world, or crafted. It's dropped at charged creeper death. Also you can find it in catacombs.
Bone blocks
There are 4 types of bone blocks.
2 of them can be crafted from bones. Also, you can craft bone stairs and bone slabs, from this blocks.
Another types of this blocks can be founded only at the 3 and 4 levels of the catacombs. There are a skull crawlers inside this blocks, which will be released as far as you destroy it.
Candle
This object provide light around it.
Skull Candles
At the moment this block have mostly a decorative purposes. It can be crafted from skull and candle(from thaumcraft or forestry too). It have maximum light value.
Haunted chests
This object looks like chest, but when you try to open it - it spawn bats/skeleton instead of showing default inventory screen. This block can be harvested only with silk touch axe. But at the moment this object can be obtained only in creative mod.
Altar
This block can be used for pets/villager resurrection only. I have a lot of plans on it(such as summoning undead mobs, crafting some items...), so it will be fully reworked as far as all another required things will be completed.
Chisel
With this item you can set custom text on a gravestones and memorials.
Mob corpse
This items can be obtained at villager / tamed pet death(It will be stored in its grave).
There is only one usage for it - you can resurrect this mob by right click on altar with corpse in hand.
Mobs ressurection required some expirience ( 7 levels for cat or dog, 15 for horse, and 20 for villager)
Resurrected mob will be fully healed and tamed, and have all properties which it have before its death.
Also resurrected willager will have restore its trades.
Backpacks
This items are addition to
Forestry
backpacks, so it will not be available if you haven't got this mod.
You can store gravestones, memorials, skulls, skull candles and corpses in this backpacks.
Undertaker
He spawns in some villages. You can by chisel, candles and any types of skulls.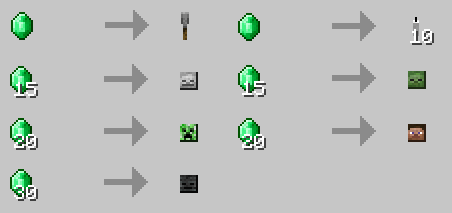 Zombie dog
This monster rather strong and fast like a dog. It attack some peacefull creatures : dogs, cats, sheeps, horses and villagers. When it kills a villager, cat, dog or horse they become zombie too.
Zombie Cat
This monster weaker than zombie dog and attack only dogs, cats, chickens, horses and villagers. When it kills a villager, cat, dog or horse they become zombie too.
Skeleton dog
This monster have only half helth of normal dog, but it is almost twice as fast!
Skeleton cat
This monster have only half helth of normal cat, but it is almost twice as fast!
Skull Crawler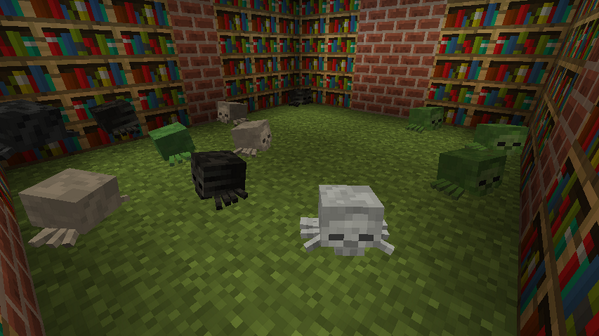 This are small spider like mobs. its behavior similar to spiders and silverfish. they can climb on walls like spiders, and hiding in a bone blocks like silverfish.
This mobs can't be spawned like any another(except wither skull crawler - it can be spawned in nether). But there is a 10% chance that it will be spawned at skeleton/zombie death. This mobs drop bones/rotten flesh and its skulls as a rare drop at death.
Cemetery
It generates in some villages. All graves contains some loot.
Wither's catacombs
This is a huge structure wich begins at surface and goes very deep underground.
Entrance is a big graveyard with mausoleum at it center, but true size of this structure is much bigger. There are a lot of tunnels inside of it, wich can contains graves, spawners, traps, and surely some treasures. At the end you can find Wither, wich guard nether portal.
This is a rather rare structure wich can be generated only in plains and forest(It can't be generated in hills, mountains, jungle, swamp, desert and water or mushroom biomes).
Beware there is an ancient curse protecting it from any "inviders"!
P.S. You can generate it using next command "/generate catacombs "
Be careful with it - it can seriously damage your world
Bone blocks
Gravestones
To craft gravestones made of another materials just use another blocks instead of stone.
Yo can use swords from another(supported) mods too.
Memorials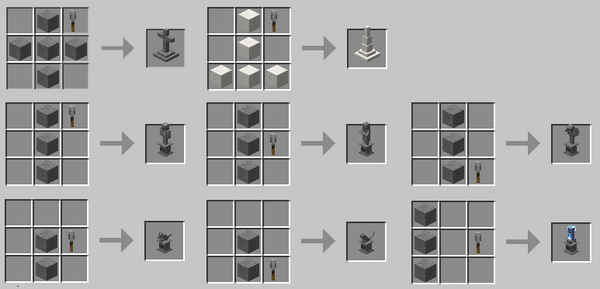 To craft memorials made of another materials just use another blocks instead of stone.
Creeper memorials recipes disabled by default, but you can change it in configuration file.
Skull Candles
You can use Thaumcraft candles too.
Altar
Spawners
This recipes can be deactivated
Backpacks
This items available only if you playing with
Forestry
mod.

You can generate some structures by next command:
 /generate <structure_name> <x_coordinate> <z_coordinate><br>
Where is "catacombs", "memorial or "grave".
You can fill your grave by any items. Just place items in chest and enter this command:
/fill_grave <grave_x_coordinate> <grave_y_coordinate> <grave_z_coordinate> <chest_x_coordinate> <chest_y_coordinate> <chest_z_coordinate>
*
there is a small bug - sometime this commands didn't work. In this case restart minecraft.
I don't know any incompabilities, and I think there should not be any. It doesn't modify any game classes. Any way it is required that your mods be compatible with Forge.
There are some problems with
Additional slots from "Aether mod" (?)
Subaraki's Gravestone Mod
If you want to use this mod too - set "GeneratePlayerGraves" to "false".
OpenBlocks Mod
If you want to use this mod too - set "GeneratePlayerGraves" to "false", or disable OpenBlocks gravestones.
Mo' Creatures
If you have this mod graves will spawn "Silver skeletons", "Wraith" and "Flame Wraith" too.
Twilight Forest
If you have this mod graves will spawn "Twilight Wrath" too.
Removed since 2.5.0 version.
Biomes O'Plenty
ExtrabiomesXL
Highlands
It didn't depend on it since 2.9.0
undefined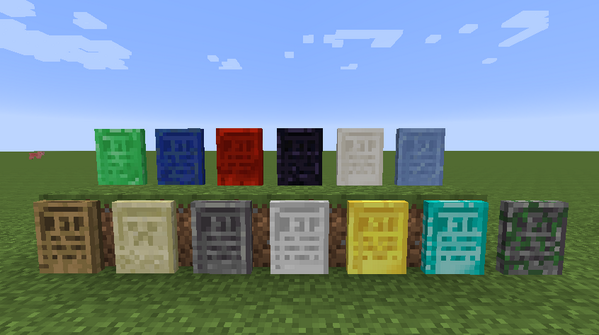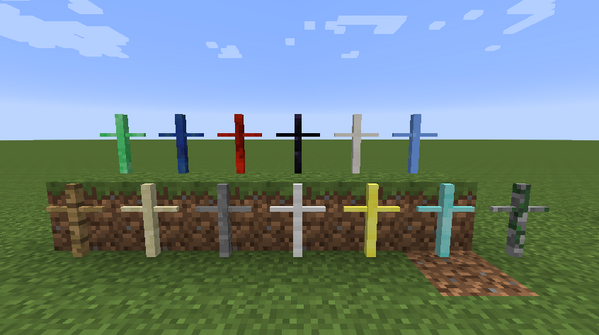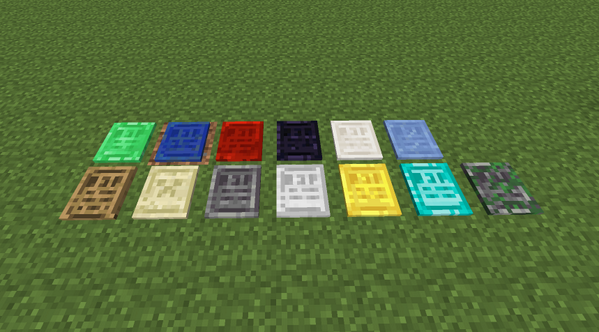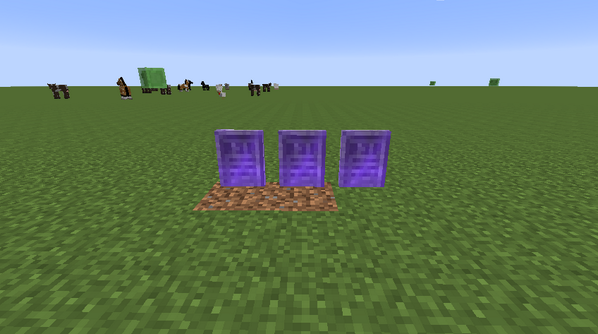 "death message"
flowers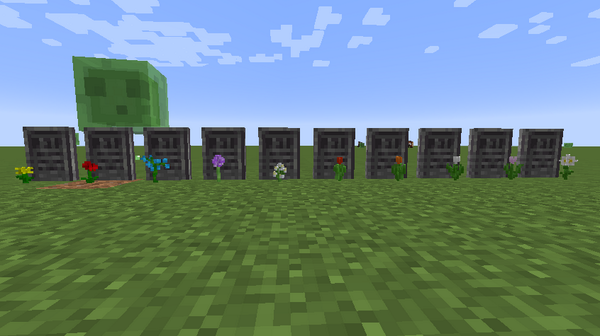 dog graves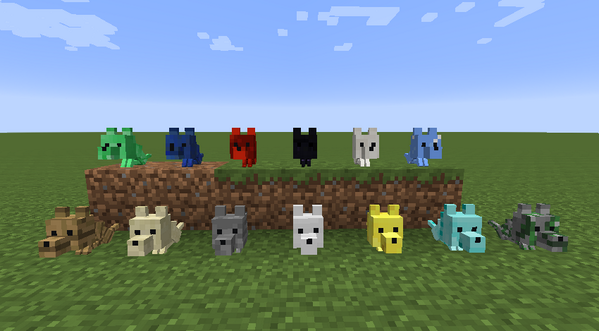 cat graves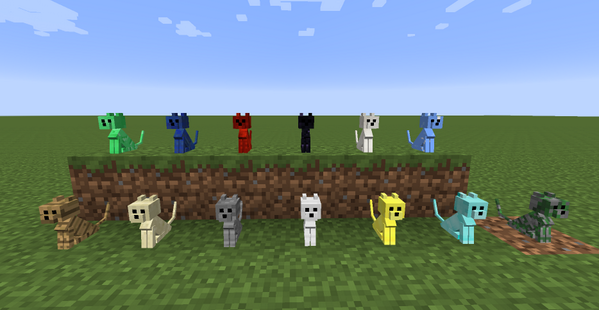 horse graves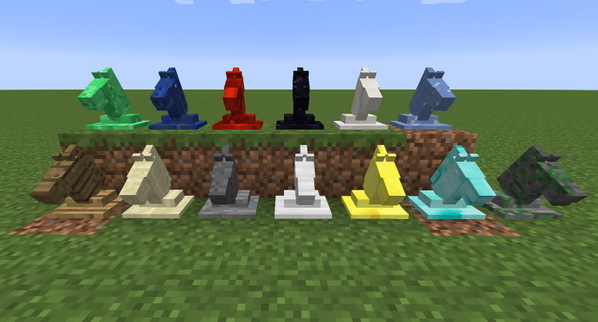 sword graves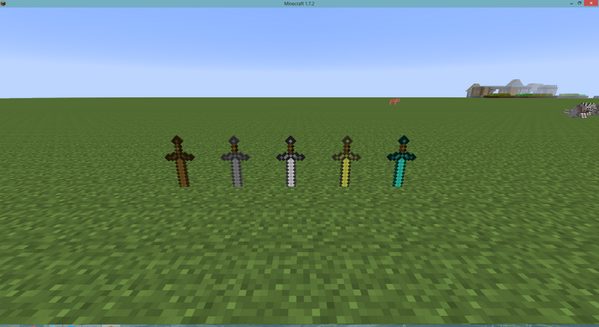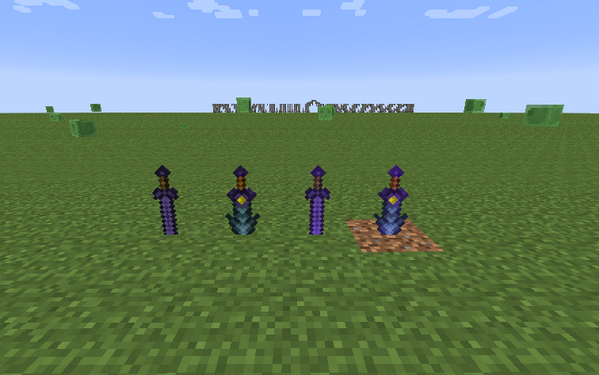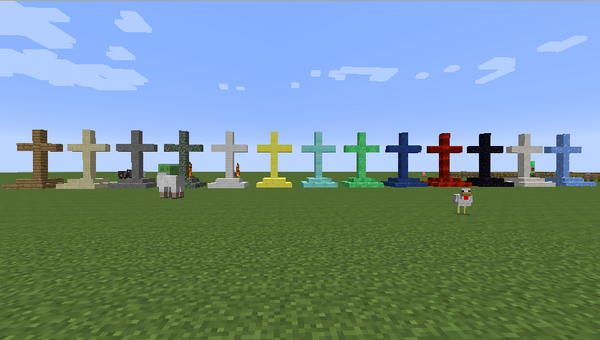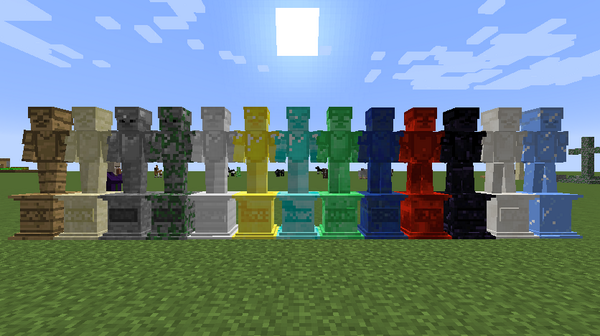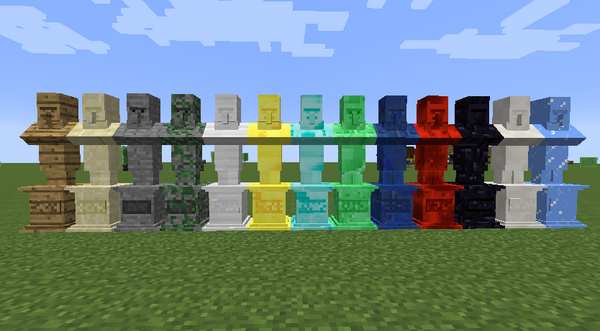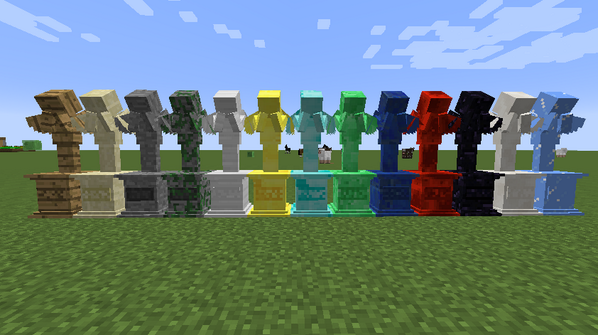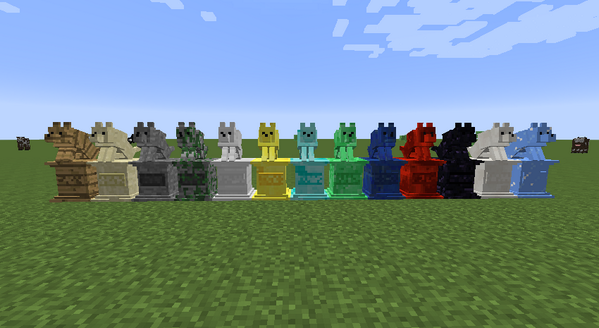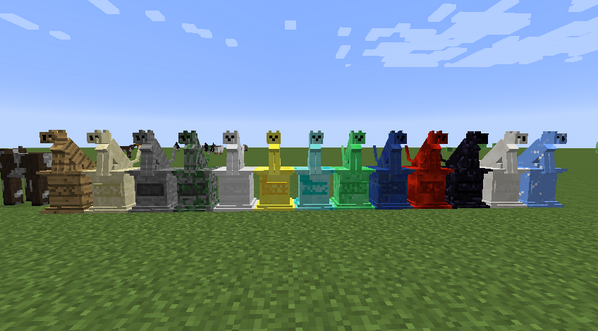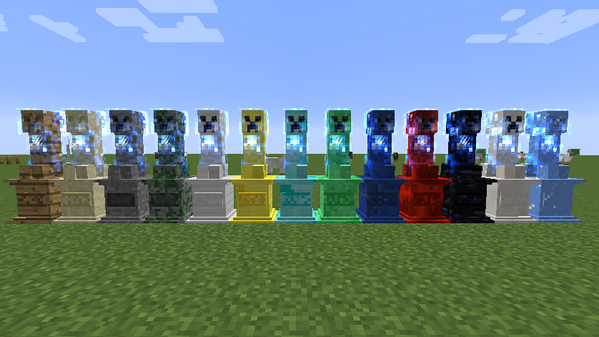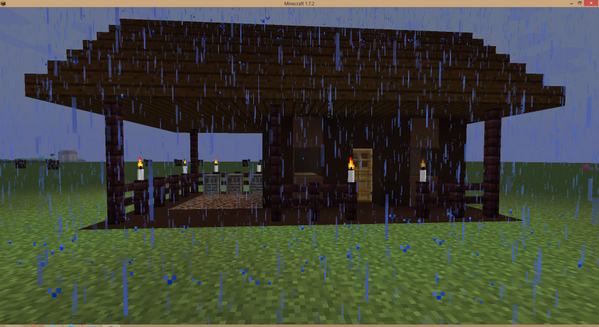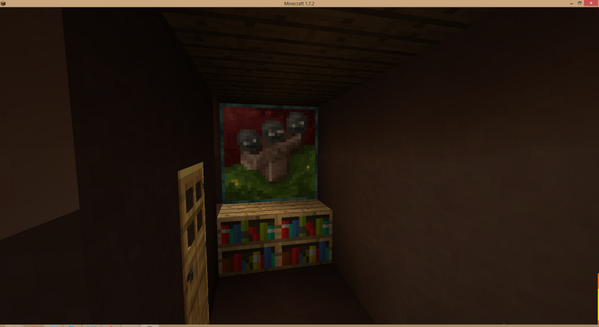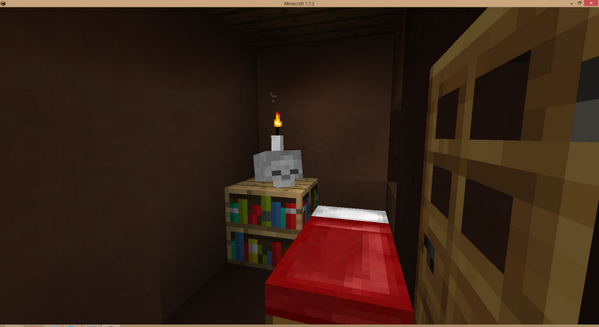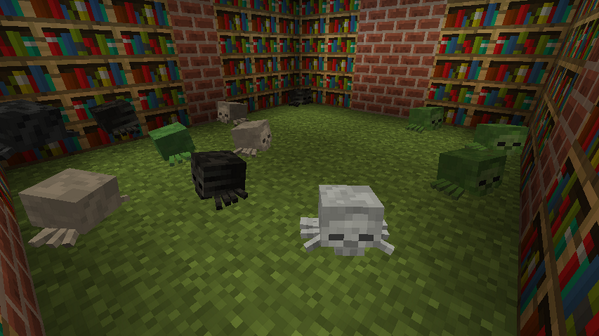 by
BloodveinHD
by
ace_of_aces1
by
ThnxCya
by
Garz
by
DrPlaystation
by
TYROlivegaming
Spanish review by
DexRedskin

by Thescorpi0n


by Uberagon


by TCTNGamiz(unfortunatly without catacombs)


German spotlight by Chaosflo44


by Le11onK


by lolitsthad


Russian review by TheNeonBoom

undefined
Gravestone mod 2.12.2 for minecraft 1.7.10(Forge 10.13.2.1232)
Gravestone mod 2.10.1 for minecraft 1.7.10(Forge 10.13.0.1208)
Gravestone mod 2.9.0 for minecraft 1.7.2
Install Forge.
Run Minecraft once and quit at the main menu.
Place jar(zip) file for this mod into your 'mods' folder
0 - current iteration
rework obelisks - new model and textures for different types of materials
add celtic cross
new graves for some biomes and types of death ( dead man's chest, skeleton on a Lifebuoy or pieces of wooden planks for those who died in a water), piles of bones for some cases(with withered version), small versions of celtic crosses and obelisks.
complete graves and memorials generation - fix type choosing logic.
fully rework gravestones and memorials crafting system.
1 - mobs update
ravens
flying mob which will looks like a "whirlwind" of bones with skull on top of it. it will spawns when player fall to the void, and hold all player's items. This mobs can't be despawned even on peacefull gamemode.
improve crawlers AI + add ability to crawl over the ceiling and disguise oneself as pile of bones.
dead spiders. it will cast a wither effect on you at bite. When it kill something it will spawn few small dead spiders from corpse of a killed creature. Also it will have an ability to create web. and crawl on ceiling. it will drop spider head as a rare drop.
dead spiders spawner(it will looks like a cocoon made of web. Also cave spider spawners in catacombs will replaced by it.
damned warrior - skeleton with iron sword, burning eyes and sinister, green flame in its chest. It will be spawned in catacombs "tresury rooms", and in some cases at player death in catacombs. This mob will be looks like a pile of bone which will start to assemble in a skeleton when you come close enough to it. Also it will be almost immortal - it will have a chance to escape death, it will fall as a pile of bones instead of it, and reassemble again after some time. This mob will not despawn even on a peacefull gamemode(in this case it will breaks on bones)
another mob - flying burning skull )))
vampires
few types of ghosts - first type of it will be looks like a souls of villagers and pets. this ghosts will not be hostile(but it will be ready to kick your ass as far as you shatter peace and quiet of it), also it will cast some potion effects on you at interaction. This mobs will have an ability to interact with some objects - destroy torches, open doors, activate/disactivate levers... Another type of ghost will be hostile. It will cast more harmfull potion effects on you at interaction, but this ghost will not interact with any objects. All ghosts will have ability to go through the walls, and becomes invisible.
ghost spawner
dead wood
wither and lifesteal potions
bone arrmor and bone sword + its versions combined with "normal" armors and swords
wither, poison and lifesteal enchantments for bone swords.
lived armor - hostile mob which will looks like a full set of bone armor. It will spawn ghost on death.
maybe ghouls
giants spawner (it will be destroyed after first activation like a wither spawner)
2 - structures and bosses
dead spiders cave - cave filled with web, few dead spiders spawners and some decorative stuff(like a cocoons with dead creatures) and cocoon with loot.
"cover of darkness" - this object will be crafted from night stone, skulls, nether star and ghosts spawner. It will bring an eternal night at activation.
almost the same thing, but made of thunderstone - it will bring an eternal rain and thunder at activation.
vampire castle + some decorative stuff + vampire spawners + new boss
haunted house + a lot of decorative creepy stuff + new boss.
furniture and some objects(like doors, torches, books shelves...) made of bones
3 - necromancy
special items which allow to absorb and collect souls and life energy of killed mobs
altar will be fully reworked. It will use mobs souls instead of experience. It will provide next features:
ability to resurrect mobs as an undead creatures - zombies/skeletons/ghosts
ability to create a lived armor which will protect your home
ability to use souls instead of experience to enchant items
new "dead" biomes(this biomes will not be generated in the world by default)
new blocks - dead grass and dead wood
spawners, altar, dead grass, and dead trees will transform world around it to the dead biome.
4 - new dimension
undefined
Licence
"GraveStone mod" is an open source Minecraft mod released under version 3 of the GNU Lesser General Public License. What this means is that the source of this mod is publicly available and you have certain rights with respective to the code. Feel free to read up more on Open Source Software and what the GPL/LGPL give you in terms of your rights to software released under that license, but the short version for you folks here is;
you have the right to have access the source code of the mod.
you have the right to be able to edit/use parts (or all) of the source code provided that you provide proper credit to the original authour(s).
you have the right to distribute the source code and/or compiled versions of the source code.
you have the right to use this mod in Lets Plays/YouTube videos however you see fit (monetization, for fun, etc) as long as you provide credit to the original authour(s)(a link back to this thread for example).
Mod Packs
Since "GraveStone mod" is an open source mod released under the LGPL v3, that means you have the right to include this mod in your modpack.


Source Code
All source code for "GraveStone mod" is available on my GitHub.
API



Banner
Copy this code to your signature to get the banner above:

<a href="http://www.minecraftforum.net/topic/1711328/"><img src='http://railfox.ru/GraveStone/banners/banner.png' /></a>