MiracleMouse

Obsidian Miner
Join Date:

12/9/2010

Posts:

1,192

Member Details
With the exception of the latest update notes this thread is currently out of date. Please check back on saturdays for updated content. Updated Download Comming Soon! Advise and Ideas are welcomed and encouraged!
For those of you who have commented both here and my youtube channel your words are greatly appreciated! I am back now, and I will be updating this pack for 1.3 and the future 1.4. Thank you all again and I hope to bring you more of what you like!
-------------------------------------------------------------------------------------------------------------
First, this pack is skinned over another texture pack. So please do not rage if you see someone else's texture pack. We all skinned over notch's origionally, I just skinned over someone else's =). You will be able to tell whats been skinned.
o1uBvWz-bRk
Here is the link to the origional concept
Its not FINAL yet and all suggestions are welcomed. The video is best viewed at 1080p
Latest Build (PLEASE NOTE THIS IS NOTE AN UP TO DATE BUILD!)
NOW WITH BETA DOWNLOAD!!!
http://rapidshare.co...Tron_Custom.zip
OR
Dun, DUN DUN! MediaFire
http://www.mediafire...66cjm433woo16io
Still a work in progress. You will need MCPatcher to load.
You can find it here
http://www.minecraft...pic.php?t=46173
INSTRUCTIONS
1: Download and Save My Tex Pak to a familiar location.
2: Download and Run MCPatcher using the link provided above.
3: FOLLOW THE INSTRUCTIONS LOCATED IN THE SAME THREAD THE ABOVE LINK TOOK YOU TOO.
4: In the event Monecraft turns Black when you start it up and will nto load, you will need to update your version of MCPatcher and or uncheck animated wate and animated lava.
Screens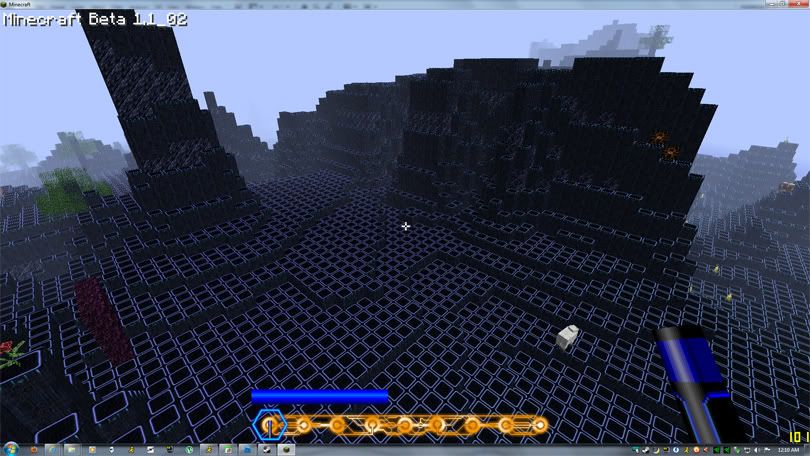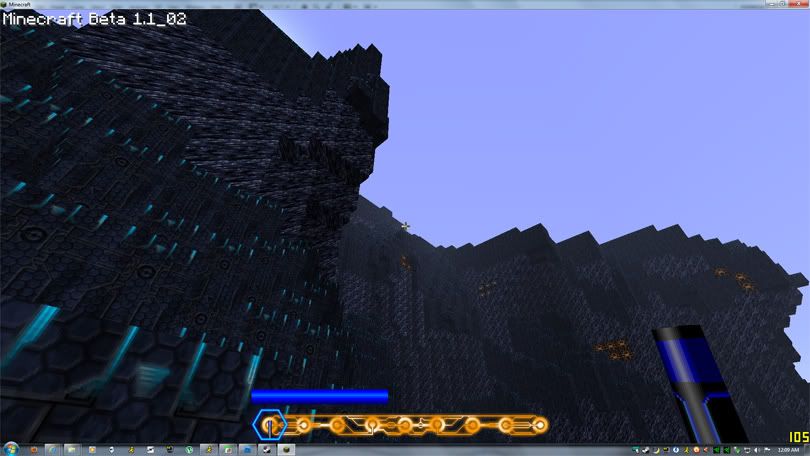 Edits;
8/28/2012
THE MOUSE HATH RETURNED!!!
It is the year of our lord 2012, in the 8th month on the 28th day. It was told that from the ashes of nothing a rodent would arise and to update and finish what was started so long ago. The world around him would be different. The lands would have evolved! And all he once knew would be forever lost to him.
But from this will arise a new era of awesome! The rodent will once again reshape the world into the image of Tron and all of Minecraft shall know his name!
MiracleMouse TronCraft 0.1 Comming soon for Minecraft 1.3!
1/1/11 A Whole LOT OF ONES! LOL
Anyway, I reinvisioned my tex pac, and sat back and asked myself. Do I feel like I am in the tron univers when I play. The Answer was, NO. Sure its a great looking pack, but my headstrong efforts to stay away from rezcraft, (an equally awesome Tron Styled Texture pack by Soulscribe) has kept me from being able to apply the layer of "Tron" which I so desperately desired to layer.
First and Formost, the Hex pattern which is ABUNDANT throughout the tron movie was implemented by SoulScribe, so I tried to go with a diamond pattern. It was nice, but it took away from the Tron feel.
Second was the derezzing of the Bricks. RezCraft did if first so I coould ONLY be copying if I did it. So I didn't. However "derezing" is also an abundat idea within the Tron universe. My derezing is quit unique compared to SoulScribes and as you will soon see, Unique to Minecraft as well.
As I, err, I mean, WE, continue the stages of evolution towards a complete texture pack, you will not only enhance your MineCraft playing experience, but also allow you to reimagine the Tron Universe in your own MineCreations.
12/25/10
Merry Christmas to EVERYONE!!!! Happy Holidays!!! I've Finally uploaded my beta and NO its not complete but my time is limited. ENJOY and I will continue to upload updates.
(if a+a = b and c+c = a then c+c+c+c = b; If b = g+h and h+i = j and j+j = g then b = 2(h+i)+(j2))
Understanding this is the first application of understanding redwire and logic circuts. SOMEONE help me please! Took me FOREVER to get those double iron doors to open w/ two switches... Then... I found the youtube video

Dec 13 2010, after considerable feedback, I have upgraded my texture pack to add to the feel and overall theme. I was unaware that soulscribe had RezCraft untill earlier this week and I was origionally going to cease my work as to not duplicate.
I decided to continue with my current texture pack and hopefully add my own unique touch to this theme. Some Ideas WILL be duplicated as is the case with the derezzing of the bricks, I was going to go with a pinwheel style counter for brick breaking because Soulscribe had already done the Derezzing, but again I feel mine will be unique enough.
My pack is also 128 x 128 which will allow for more vibrant and detailed textures as this tex pack progresses.
End Of Line
________________________________________________________________________________________
Apparently UMG has a C right on all things said by Jeff Bridges. Soooo I've changed the audio track on the video and that should fix things. I am now embarrassed. This is the oddest thing I know and it has aggrivated me to no end.
Video should work now. The link works for me. Yes its a bit more cinematic than necessary, but its all a learning experience and a lot of tests in one short video. =)
The origional texture that I used for a base is the AaGeOn's BumpMaft HD texture Pack[v1.3.5].
Here is the link
http://www.minecraft...hp?f=25&t=65936
. I merely used it as a reference for placing the new skins.