MinecraftArt

Out of the Water
Join Date:

12/17/2010

Posts:

918

Minecraft:

MasterLuke2

Xbox:

BadVinegar

Member Details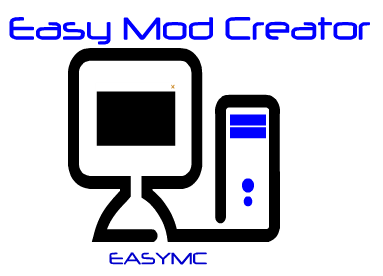 Hello everyone and welcome to EasyMC. EasyMC is a tool used to create mods.
This tool is very easy to use and allows creating a new .java file to be much simpler. Note - This will not create any mods for you. Just the basic outline of a mod. Most likely in the near future this will allow you to create your own mods. Half of me wants to implement that for the modding community, the other half says "no". Because that will cause an outburst of useless mods. No offence to anybody. You DO need ModLoader if you plan on using the code generated by this program.
I've implemented a way to create mods! Everybody have fun creating mods!

In case anybody was curious, this was coded in Python. I've converted the file into a .exe so anybody can run it on windows. Sorry if you're on a mac, but right now it's windows only.
In order for you to use the code generated by this program. You need to download ModLoader.
If you find any bugs with this program, or need to contact me. Please do so by going Here.
Note: If you don't report any bugs, then I won't be able to fix them in further development! Also, I'm excited to hear feedback. You can post feedback on the forums, or send me a PM using
This Link!
Current Bugs: 0
(7/16/12).
Screenshots of the GUI can be found
here.
|
|
For help with future development. You can donate
by using this link.
You can donate any amount you'd like. Whether is half a cent, or just your love and support. Anything is fine with me.
Author: MinecraftArt (Me)
This program works best if you extract it to a folder. Doesn't matter where the folder is, so long as you extract the whole thing.
I'm happy to answer any questions you might have..

Note - This is v.4 & v.3. There are most likely bugs, I just have not found them. Please, if you find a bug. Post it on here..

I've recently issued a website. You can visit this website by going to:
IMG code:
Direct Link:

IMG code:
Direct Link:
IMG code:
Direct Link:
Thank you for your continued support. I hope you love this program.
I also need anybody who is willing to do a tutorial. If you can do one, that'd be very much appreciated!
Thanks,
-Luke
Log In every day!