CarlosBad
Newly Spawned
Location:

Spain

Join Date:

2/5/2013

Posts:

1

Minecraft:

carlosbad

Member Details
INTRODUCTION
The aluminium mod
is a mod that includes aluminum ore and some tools in addition to the armor. The aluminum ore is found in all the lower layers to the height of the sea. Besides being easy to find, is a more resistenta and faster than diamond.
The uses of aluminum include:
-A sword-blade-pickaxe, faster than any tool
-A complete set of armor more resistant than diamond
CRAFTING
This is a aluminium multitool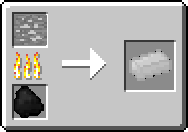 How to burn aluminium ore
The armor is craft as in the game
INSTALLATION
This mod requires minecraft forge installed with the latest version.
Drop the downloaded zip in the mods folder and get ready to rumble!!
DOWNLOAD
This is the download link for the las minecraft version (1.4.7) -->
http://adf.ly/IdPfZ
BUGS
-A visual error in the armor...
THANKS FOR DOWNLOADING!!

Mod review:
<iframe width="560" height="315" src=" frameborder="0" allowfullscreen></iframe>
At. carlosbad