koopachris
Void Walker
Join Date:

1/31/2011

Posts:

1,578

Minecraft:

koopachris

Member Details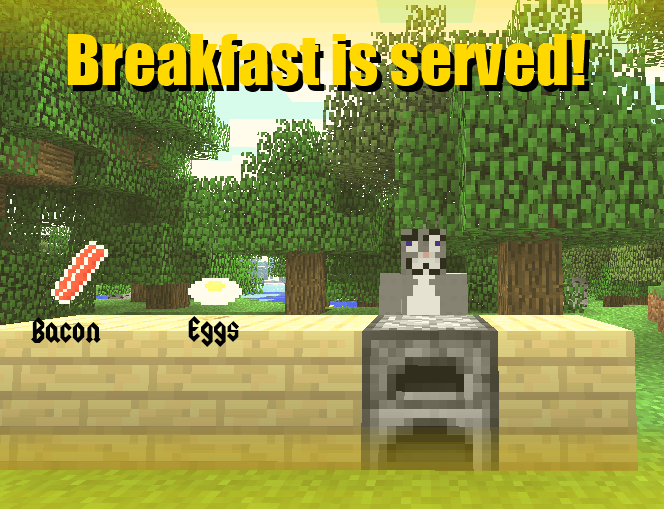 Did I grab your attention with my fabulously edited and glorifyed screenshot?
I sure hope so! So now, you're probably wondering "Why would I actualy
want this mod?" Well, aside from the heavy focus on bacon, which is like
the best freaking thing ever
, it also gives you as of yet 2 foods (planning more)
that are actualy useful in their own seperate ways.
Fryed eggs
Aside from making eggs an actual edible foodsource (Finally!), fried eggs are
an excelent source of all of the nutrients to keep you going. In other words, it
has high saturation. It only heals around 3 muttons of hunger, but keeps you
full for a long time. Take these with you on EVERY adventure!
To get a fryed egg, you simply cook an egg in a furnace. Simple, right?
And now chickens are finaly a useful food source!
Bacon
Bacon is like the opposite of eggs. It heals a load of hunger, but has very
low saturation and you'll find your hunger draining very quickly. This is more
of a sort of thing you should eat when you're settled down, just waiting out the
night, building some golems, crafting, or generaly layin' low.
To get bacon, all you have to do is put 1 peice of cooked pork into the
crafting spot, and you tear it into 4 strips of bacon. Yes, I realize that's
a completely innacurate representaion of the process of making bacon, but
Minecraft is full of innacurate representations of how things are made
(one does not build a boat at a workbench).
How to Install
First, install modloader. Not gonna explain that here, since there's at least
672 videos on youtube explaining how to do so.
Now, take all of the files out of breakfastclasses and put them in your minecraft.jar
Then take the files in breakfasticons and put them in the gui folder of your minecraft.jar.
Simple as that!
Download link
http://www.mediafire...88m4btg92b3q5er
Here's a banner for all you who like bacon and eggs and stuff.
I've got the real superpower of TEEM-WERK!