Mevans
Obsidian Miner
Join Date:

11/12/2011

Posts:

1,204

Member Details
The Lion King Mod is now available to download at:
http://www.minecraftforum.net/topic/954187-11-the-lion-king-mod-v12/
Greetings from Pride Rock. :wink.gif:
I have been working on a mod which is based on Disney's The Lion King. This mod adds a Lion King theme to the game, with some content based on the Lion King and lots of other things which fit the theme. Among the current features are: 3 new animals, which are breedable and drop useful resources; 2 new monsters (more animals and monsters will be added); new NPC characters who can be interacted with to obtain rewards; new weapons and food; new types of trees, flowers and blocks; and 2 new dimensions, the Pride Lands and the Outlands, which are where most of this mod takes place. I will be adding many more features before this is released.
If you are interested, there are screenshots of some of the new things below.
Note: These screenshots were taken using the
Painterly Pack
. However, none of my textures for this mod's features are derived from the Painterly Pack.
Any suggestions are welcome.
The Pride Lands
The Pride Lands is the main setting for this mod. Accessed through a Lion Portal, it is a dimension with day/night cycles just like the Overworld, and various animals and plants. If you die in the Pride Lands, you respawn there, and because of this I have had to add certain unique properties to the Lion Portal. (see below)
Lion Portals
Lion Portals transport you to the Pride Lands, and back to the Overworld. Stepping in a Lion Portal will reset your spawn point in that dimension to the Lion Portal. Beds will still work in both the Overworld and the Pride Lands, but their spawn will be overwritten should you enter a Lion Portal.
Lion Portals cannot be destroyed in any way and also cannot be placed, except in Creative Mode. So how do you get to the Pride Lands in the first place? Read on...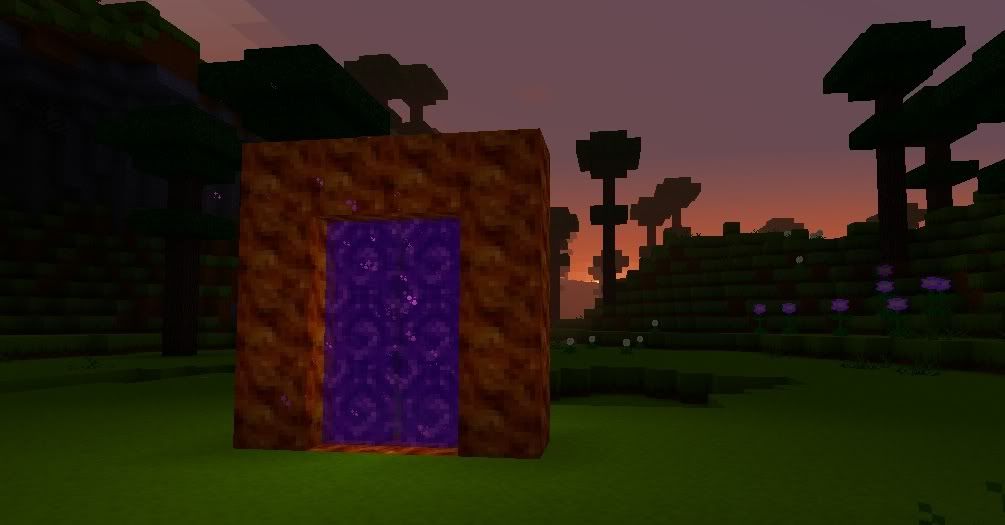 Lion King Ticket Booths
These magical structures are the key to entering the Pride Lands!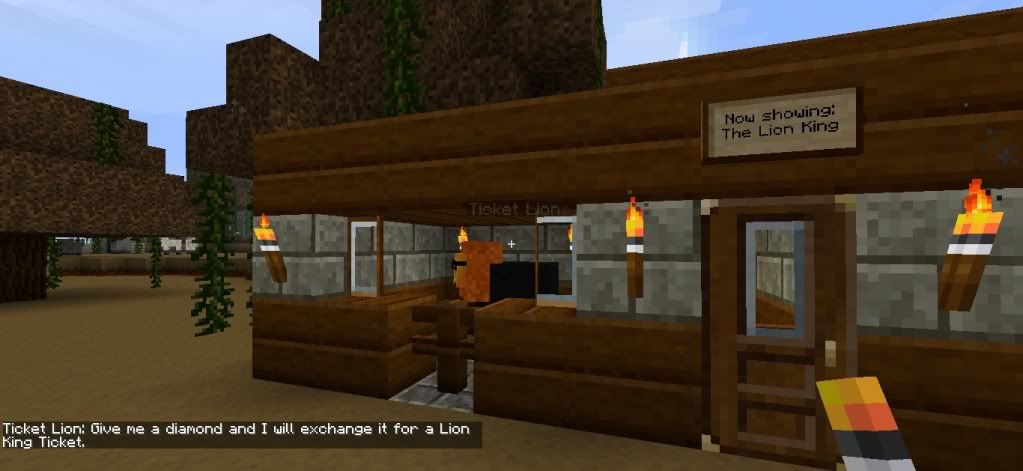 Ticket booths generate in the Overworld very rarely, so you may have to walk a long way to find one. They are most common in Swamp, Plains and Tundra biomes because of their flatter terrain. Each booth has a Ticket Lion, who will exchange a diamond for a Lion King Ticket. Yes, those lions are very greedy, but one ticket has unlimited uses, and so can open any Lion Portal in any Ticket Booth you find.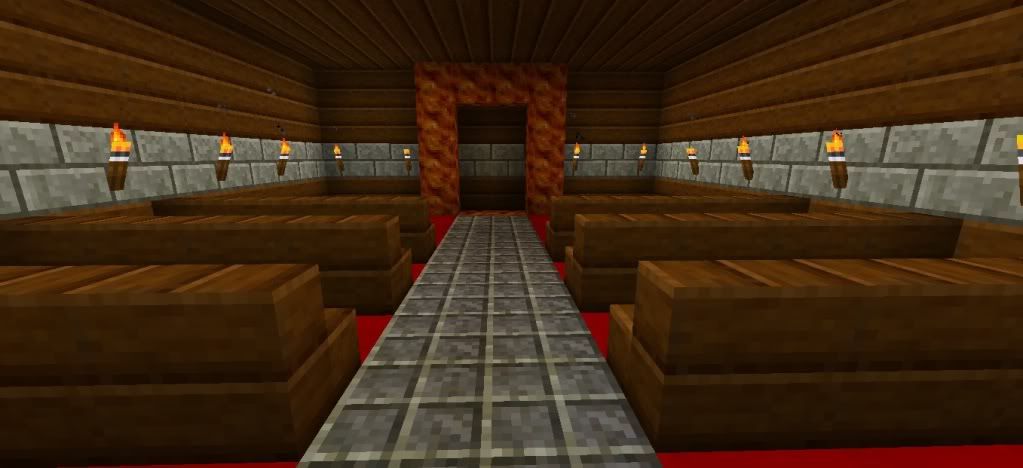 Once you have your ticket, go through the door to the inside, which features the empty frame of a Lion Portal. Just use the ticket on the bottom of the portal, step inside, and away to the Pride Lands you go!
Plants
Left to right: Pride Lands Tree Sapling, Mango Tree Sapling, Mango, Flowers
The saplings grow into their respective tree, whose leaves will drop more saplings. The leaves of a Mango Tree will also sometimes drop a Mango. Mango trees are fairly rare. The saplings only grow in the Pride Lands, and are not affected by bone meal; instead, they can be grown instantly with the Rafiki Stick. The flowers currently do nothing, they just stand there making the place look nice.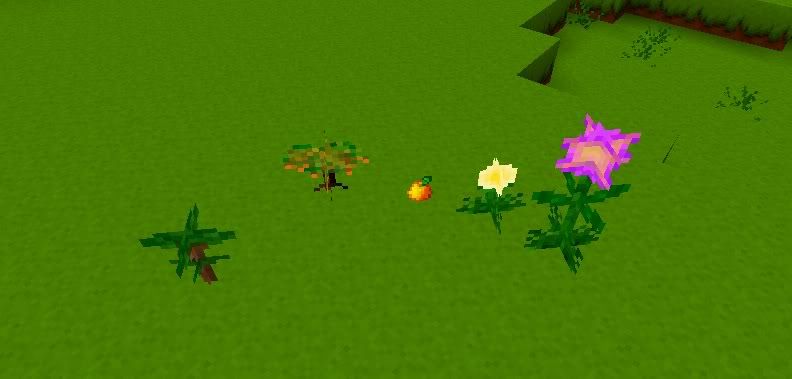 Hyenas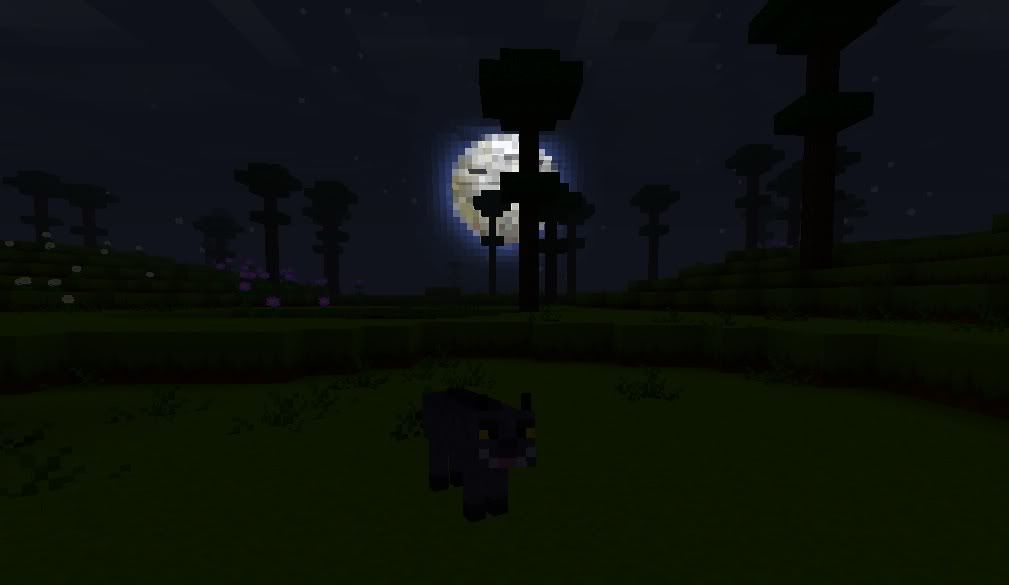 Hyenas are a new monster that comes out at night and underground in the Pride Lands, and they take damage in daylight. They are fast and strong, but if you kill one, it could drop Hyena Bones. Hyena Bones are used for such things as breeding lions, crafting the Grinding Bowl and progressing in the Rafiki Quest. They can also be ground into hyena bone chips.
Zazus, Darts and the Grinding Bowl
Zazus are blue birds that spawn in trees in the Pride Lands, and sometimes on the ground. If you find one in a tree, get it down by breaking the leaves. They can be bred with seeds (melon seeds and pumpkin seeds too) and are useful for crafting various colours of Darts.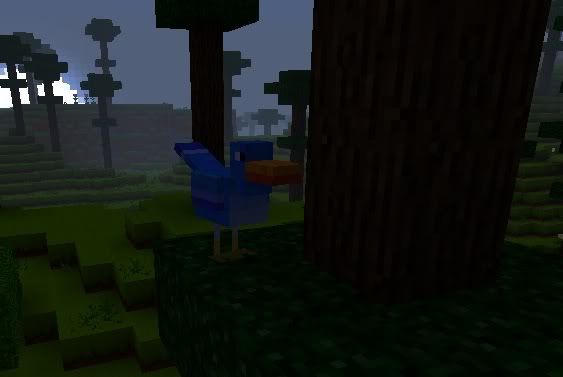 A Zazu has a 75% chance to drop a Blue Feather, an 18.75% chance to drop a yellow one and a 6.25% chance for red. Each of these feathers can be crafted with sticks and hyena bone chips into a dart of its colour.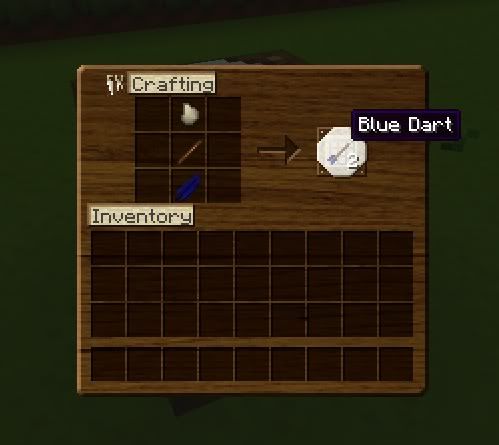 Darts are fired like arrows with the Dart Shooter, and if you have more than one type of dart in your inventory, the rarest type will be shot first. Blue darts have no special effects. Yellow ones are more accurate, faster, and have a knockback effect. Red darts have the yellow darts' abilities, but also set the target on fire.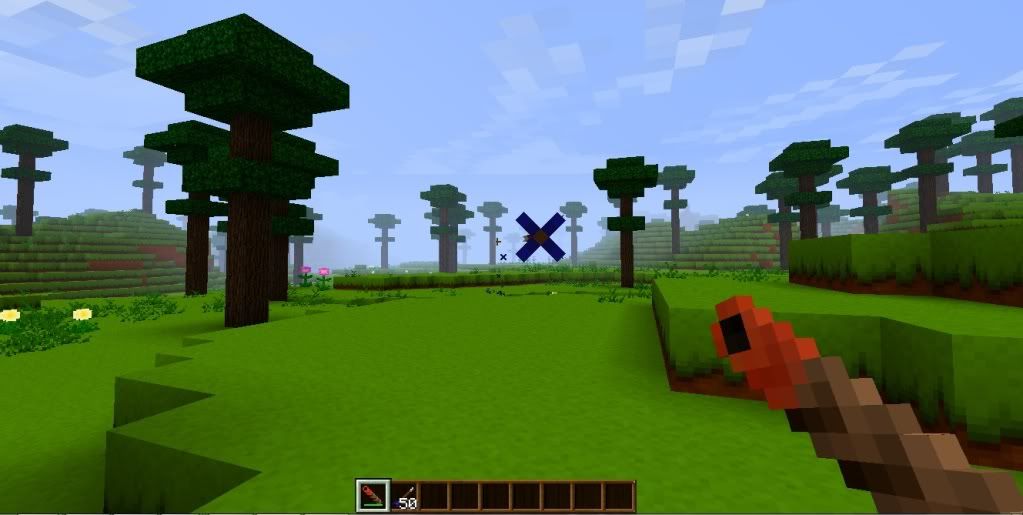 Hyena bones are ground into chips with the Grinding Bowl. This is a new usable block which can transform certain items into their ground down forms.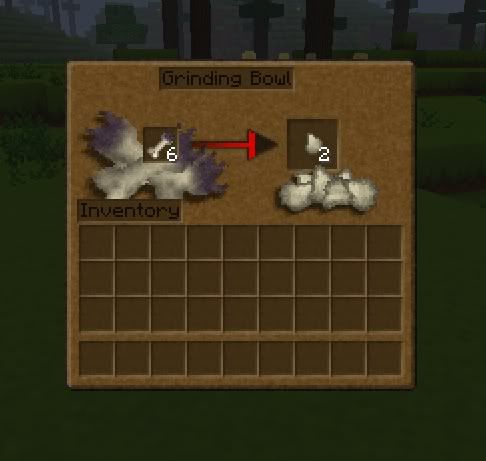 Lions and Zebras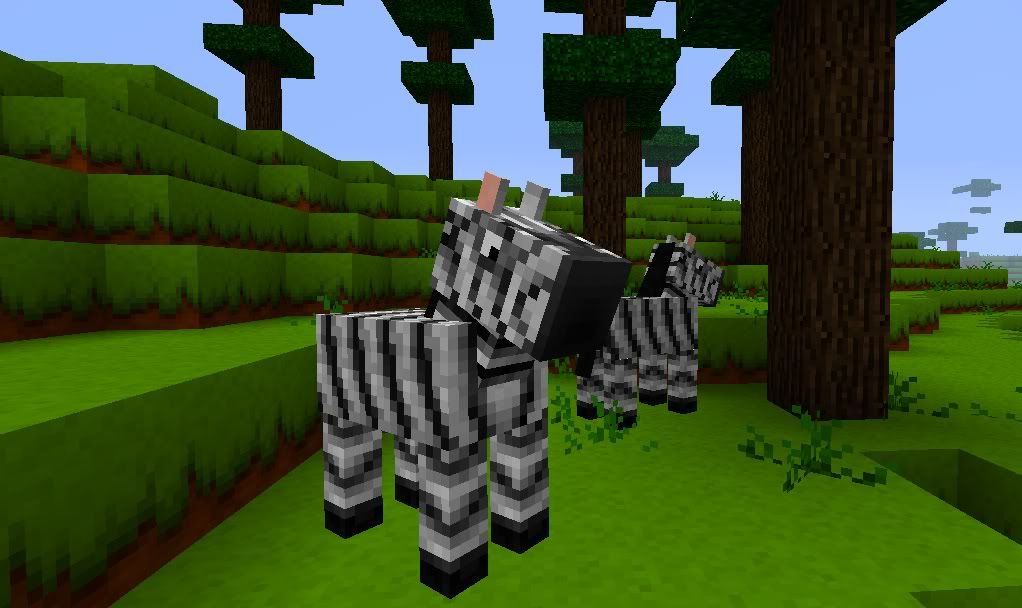 No screenshots for the lions yet, I couldn't find any of the damn things :dry.gif: Lions are bred with hyena bones, and drop Lion Chops which can be cooked to heal more health. Zebras are bred with wheat and drop Zebra Hide, which can be crafted into Zebra Boots. Zebra boots make you run rather fast, so you'll be finding your Rafiki Tree in no time.
Rafiki Tree
Rafiki Trees generate only once per world. The blocks they are made up of are indestructible.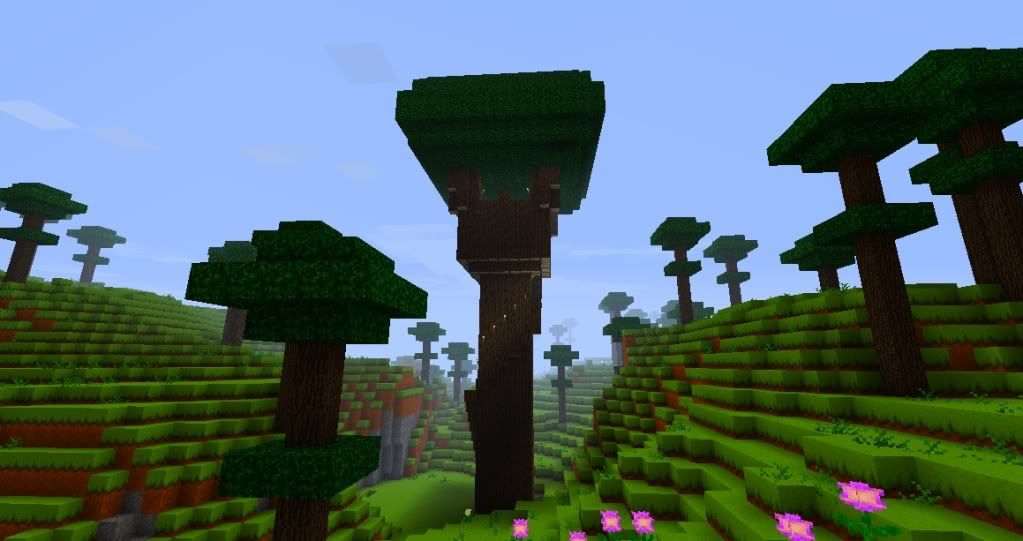 And who should you find at the top but Rafiki himself? Rafiki cannot be killed. (and why would you want to?) He will welcome you to the Pride Lands, and then give you a series of tasks, one after the other, as you progress through his quest. For each completed task, you will get a reward... such as the Rafiki Stick, which can grow trees, summon lightning and is the only weapon that can harm Scar.
The Outlands
The Outlands is a dark, desert dimension which is home to the exiled lions from the Pride Lands, vultures, and exploding termites, used to craft the most powerful darts the Dart Shooter can handle. These creatures attack in packs. This dimension can be accessed after killing Scar and bringing his mane to Rafiki. If you die in the Outlands, you respawn in the Pride Lands.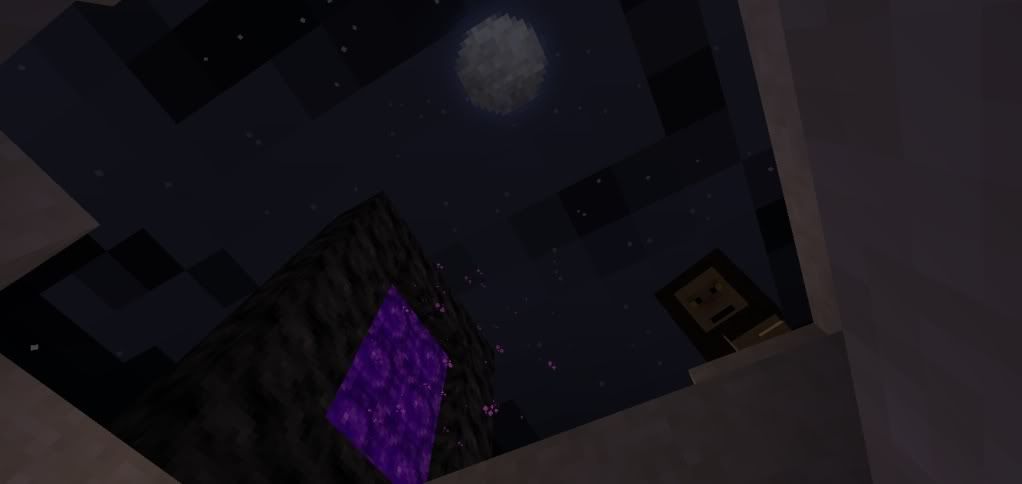 Lots more to come!
Last edited by
Mevans
: Feb 4, 2012